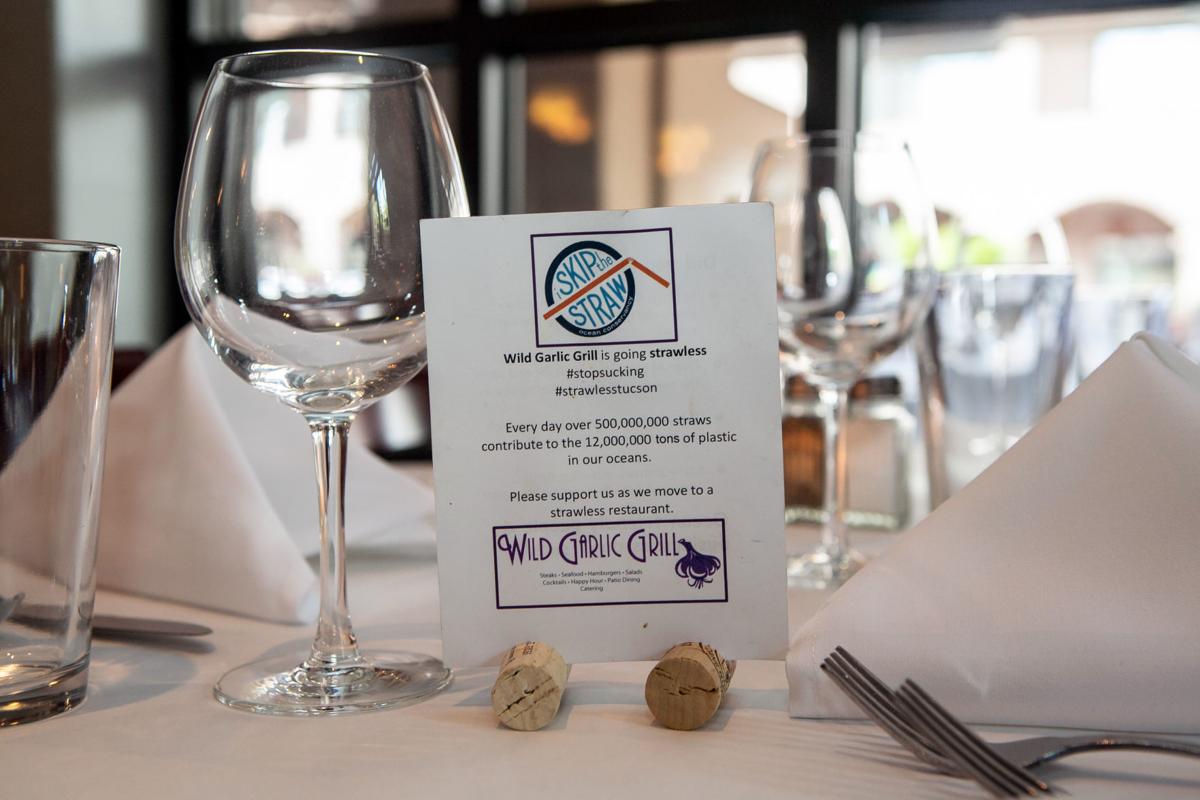 As the national movement to eliminate the use of plastic straws gains steam, some Tucson restaurants are looking at the #OneLessStraw campaign as an opportunity to step up their efforts in other ways to help the environment.
For some, the decision to take a stand has come at a cost, both in terms of customer perception and financially, according to local business owners who have chosen to push forward .
The campaign, which focuses on the impact of single-use plastics on the Earth and on the health of humans and animals alike, struck a chord in the owner of Tucson's Wild Garlic Grill a few months ago.
It was a viral video of a sea turtle with a plastic straw jammed in its nose that made Maudi Gourdin-Schultz decide to stop buying plastic straws, even though the alternative is more expensive.
She now purchases biodegradable straws that are made of plant matter, meaning they break down easily in the environment and won't harm wildlife. At her Catalina Foothills restaurant, Gourdin-Schultz actively educates diners about the environmental impact of plastic straws with signs on the tables.
"You know, the more you inform people, the more open they are to it," Gourdin-Schultz said. "I think initially people thought ... just because we're in a more affluent area and people like all the comforts ... that maybe we were being cheap."
Biodegradable straws have also been found at the Trident Grill's three Tucson locations for the last year and a half, said general manager Drew Knight.
Knight, who has heard similar remarks about being cheap, said that could not be further from the truth.
"It's like, 'No, no, no, we're actually doing this to help the environment,' " Knight said.
"Those straws made of plants are a lot more expensive and they're harder to make for companies, so we have to wait longer amounts of time. We have to order them in very large bulk because it takes so long to make them."
Rocco DiGrazia, owner of Rocco's Little Chicago Pizza, also opted out of plastic straws about a month ago, but has turned to paper straws as an option for customers who need a straw.
"Once we worked through our gigantic box of plastic straws, I said I wasn't buying any more," DiGrazia said.
"We were just going to go without, but my customers complained, so I ended up getting the paper straws."
DiGrazia said while paper straws are not as pricey as biodegradable ones, they are more costly than plastic straws. However, even though those who use paper straws need several per meal — as they get waterlogged, that is offset by the amount of people who don't use a straw at all.
In spite of the hurdles, for these restaurants, the environmentally-friendly changes aren't stopping at plastic straws.
DiGrazia is looking to make a paradigm shift.
"We're doing biodegradable plastic bags now, for a couple of months as well, and they're a little flimsier but you know, it's not that big of a deal," DiGrazia said. "It's a single-use item. If it gets your chicken wings to your house without spilling onto your upholstery of your car, it's done its purpose and there's really not much more that you should ask of a single-use item."
And while Rocco's Little Chicago Pizza is still using Styrofoam boxes, DiGrazia is hoping to move away from those as well.
"When I go to food shows, I look to see if there's something cost-effective that would work with my products, and I haven't really found the right fit yet but I'm always looking," he said.
Gourdin-Schultz is also trying to address the take-out-box problem, and is considering offering a discount for customers who bring their own food containers. She said she's also trying not to give out as many plastic bags and is buying local, organic ingredients from Dirty Girls Farmette in Patagonia.
For those considering joining the #stopsucking wave, Gourdin-Schultz said starting with straws is an easy first step to take.
"I think it's such a simple thing you can do," Gourdin-Schultz said.
"Just skip the straw, and you're fine — you're still going to sip your beverage just like you would anyway."
Marissa Heffernan is a University of Arizona journalism student who is apprenticing at the Star. Reach her at metro@tucson.com