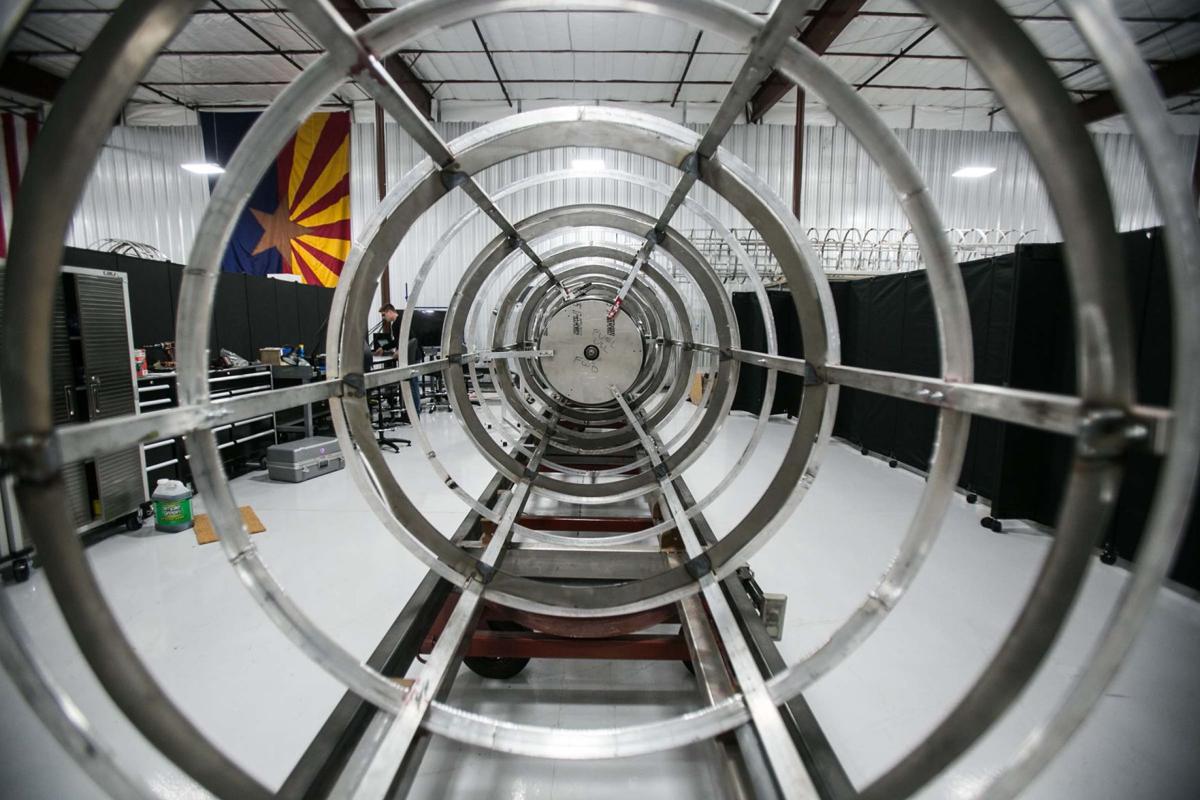 Tucson-based micro-satellite launch startup Vector Launch Inc. will be sold off in pieces this month as part of its bankruptcy case in Delaware.
After announcing in August it was halting operations amid a major change in financing, Vector filed for Chapter 11 bankruptcy protection in mid-December after a key investor, Sequoia Capital, withdrew its support.
Secured lenders later seized most of the company's remaining funds, prompting the bankruptcy filing, Vector said in bankruptcy documents.
The company has reached an agreement under which aerospace giant Lockheed Martin would provide Vector with a secured loan of $500,000 and buy assets related to Vector's GalacticSky business — a planned orbiting computer platform of "software defined" satellites that can be adapted to various software applications while aloft.
Lockheed also has agreed to provide Vector with a $2.5 million secured loan to fund the company through bankruptcy.
Lockheed remains committed to buying GalacticSky for a base purchase price of $4.25 million under its so-called "stalking horse" bid, but if one or more qualified bids are received by Feb. 21, Vector will hold an auction of those assets Feb. 25, the company announced in late January.
Vector also is soliciting bids for its small-rocket launch assets, subject to certain minimum requirements.
If a deal for those launch assets isn't offered in connection with the GalacticSky sale, the company said it would pursue a separate marketing and sale process for those assets after the GalacticSky sale.
The company said it received two other offers for the GalacticSky assets and one for all of Vector's assets, but Lockheed's offer provided substantially more money for creditors.
Vector sued Lockheed in April 2019, alleging the company infringed on three Vector patents for software-defined satellite technology.
Founded in 2016 by SpaceX alumnus Jim Cantrell, rocket engineer John Garvey and other space-industry veterans, Vector was developing small rockets capable of carrying small satellites into orbit.
The company, which had attracted more than $100 million in venture-capital investments, had two successful suborbital test launches and was working on a long-delayed first orbital launch when it halted operations last August.
Vector employed about 100 people at a headquarters office and manufacturing facility near downtown Tucson and a test facility in Marana, along with about 80 people at an engineering center in Huntington Beach, California.
In bankruptcy documents, Vector said it was able to pay off its employees and owed about $1 million in secured debt and $4 million to $5 million in unsecured debt.
Vector says Cantrell resigned as CEO of the company and Vector laid off most of its employees after it ran low on cash and had to suspend its third round of venture-capital fundraising.
"Although the Board explored many other avenues to raise capital, Sequoia's abrupt and unexplained withdrawal of support effectively made it impossible for debtors to raise additional capital in the market," the company said in bankruptcy documents.
Cantrell, who has a pending lawsuit against Vector for unpaid compensation and remains a shareholder in the company, said he was terminated by the board along with other employees at the advice of company attorneys at the time.
Cantrell said the company's lawyers advised him that under federal law, employees had to be notified that the company had less than 60 days of operating funds left, after secured lenders had swept most of Vector's bank funds under default.
Cantrell said he presented an offer of emergency financing to Vector's board, but he believes it was never presented to shareholders.
"It was they who bankrupt the company because they were unable to raise the money" to continue operations, Cantrell said.
Cantrell's state civil lawsuit against Vector alleges breach of contract, citing his "termination without cause," and seeks $165,000 in severance pay, or up to triple that amount including punitive damages as allowed by state law.
In its answer, Vector has denied Cantrell's claims and disputed that pay was properly withheld, alleging that Cantrell breached his contracts and his fiduciary duty to the company. The company has filed a counterclaim against Cantrell.
Shaun B. Coleman, a director and board member of Vector, declined to comment on the lawsuit, deferring to the company's filings in the case.
Meanwhile, Cantrell's lawsuit has been halted since Vector filed for Chapter 11 bankruptcy, which protects a debtor from legal actions while they work out plans to repay creditors.
Two other state lawsuits involving Vector also have been halted by the bankruptcy.
Three investors — Rincon Etal Investments, Broadmont Associates LP and Robert Draper — have sued Vector, Cantrell, Garvey and several former company executives for securities fraud and unjust enrichment.
They allege the defendants misrepresented the company's financial condition when they invested a total of $400,000 in promissory notes from Vector just a few days before the company announced a pause in its operations and laid off all of its employees.
In an initial response to the lawsuit, Cantrell and the other defendants said they were unaware of Sequoia's withdrawal until the day after the plaintiffs finalized their investments and had made statements based on what they knew at the time.
Doug Nelson, Vector's former vice president of facilities, has also sued the company, seeking more than $100,000 in severance pay he said he was due.
Vector has countered that the disputed pay was properly withheld and severance pay was not promised in any written agreement.
The business news you need
With a weekly newsletter looking back at local history.