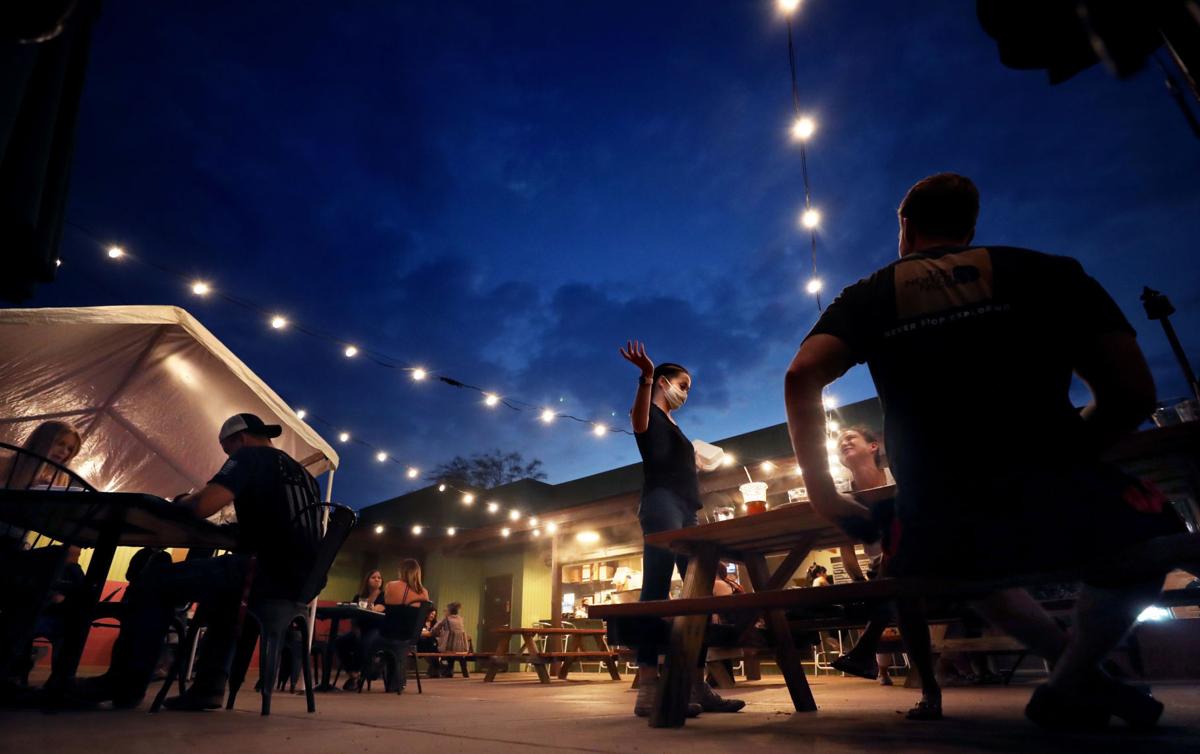 Patricia Schwabe hasn't opened the doors of her downtown restaurant Penca since March, but that's about to change.
In a couple of weeks, she plans to start serving her popular margaritas and sangria roja alongside her Central Mexico cuisine to diners sitting outside.
The expansion is courtesy of a new grant program launched by the Downtown Tucson Partnership and Pima County that provides funding for restaurants to create outside patios in the hope of reigniting downtown dining.
Downtown restaurants are still struggling to regain their foothold months after they were forced to close their dining rooms in response to COVID-19. And even when Gov. Doug Ducey green-lighted their reopening in mid-May, many remained shuttered and offered only takeout because their dining rooms were too small to accommodate social distancing restrictions.
"Every day we wake up in the morning we are thinking what do these businesses need to survive," said Kathleen Eriksen, president and CEO of the Downtown Tucson Partnership, an organization that advocates for downtown businesses. "We understand that the restaurants are really struggling now — all businesses are — but the restaurants in particular because they are required to limit their seating to 50%."
Pima County and Downtown Tucson Partnership's $105,000 Outdoor Café Grant Program provides up to $5,000 for downtown restaurants to create outdoor patios or expand and enhance existing outdoor cafés. The money, which comes from the county's federal coronavirus relief funds, can be used for construction, furniture, marketing or COVID-19 enhancements including social distancing barriers.
As of late last week, 21 businesses had applied for funding and $99,000 in grants had been approved including for Penca. A couple of downtown restaurants have combined their grants to create outdoor dining cooperatives including Ten55 Brewing Company at 110 E. Congress St. and Batch Café & Bar at 118 E. Congress, which combined their grants to build a shared platform café.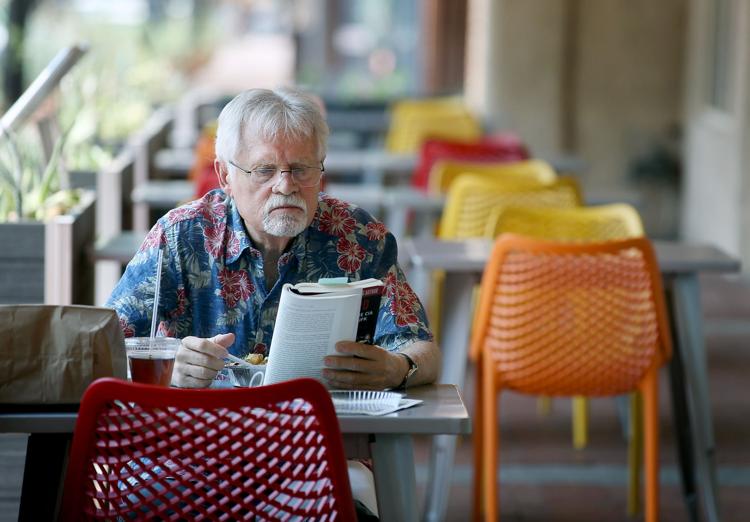 East Pennington Street neighbors Urban Fresh, Raptor Canyon Café and Café 54 — all three of which are only open until 2 p.m. weekdays — put their grants together to create the Pennington Street Outdoor Food Court at the northwest corner of Pennington and Scott Avenue.
Tables are set up beneath a covered area in front of several vacant office spaces and Raptor Canyon owner Dennis Calello said he anticipates when the weather cools, more people will take advantage of the food court.
"We are very excited about it for the future prospects," he said.
Calello, who opened Raptor Canyon Café with his wife and two sons in September 2018, said the outdoor dining area could be a boon to business, especially with the COVID-19 restrictions that have limited his dining room to half its 70-person capacity and squeezed his tiny storefront patio to just six.
In the months before the pandemic, Raptor Canyon was hitting a stride, setting records in January and February. By March, though, business plummeted and while it leveled off some when the family launched an aggressive takeout program, including its quarantine care meal packages, the downturn was disappointing.
Calello said he is hoping the food court will help put them back on track.
Schwabe is using her $5,000 grant to build a new patio next to her restaurant at 50 E. Broadway. She was expecting last Friday to get the eight tables and chairs that will loosely fill the space, allowing her to seat about 20 people. Inside the restaurant, which she opened in 2013, she had to close off the bar seating and block off some tables, giving her enough room to seat about 35 — half of her regular capacity, she said.
Penca has been closed since March 17, when Mayor Regina Romero ordered restaurants to shutter dining rooms and do takeout only. Penca is not a takeout friendly restaurant, Schwabe said.
And even when the state said she could reopen in mid-May, she chose to remain closed.
"For me it's just finances. I didn't see how it would work," she said. "I didn't want to be losing money through the summer and that period. It is really numbers."
Eriksen said the grant initiative could change the face of downtown. And it's an idea that her organization has been pursuing long before the pandemic.
"We have been pushing for more outdoor seating and a more vibrant interactive atmosphere for downtown since before COVID-19," Eriksen said. "With the pandemic, there's a sense of urgency that has helped us expedite our initial goals of increasing outdoor cafes, providing more shade downtown and making it more walkable."
And Eriksen hopes the changes will stay in place long after we are on the other side of the health crisis.
"This is changing the face of downtown. It's a really, really hard time for people emotionally, physically and financially," she said. "We have this really unique opportunity to reenvision what downtown can look like, to reshape it."
Here are some other Tucson restaurants with outdoor dining:
Saguaro Corners
There's not a hint or glimmer of city lights this far east, which is just fine with Saguaro Corners owner David Musso.
The view from the sprawling patio of his restaurant that started life as a steakhouse in 1956 gently rolls up to the neighboring Rincon Mountains that serve as a backdrop to Saguaro Park East.
In normal times, before COVID-19 dramatically changed life as we know it, as many as 200 people could fit on the patio and adjacent outdoor bar, listening to live music under the stars. But the music stopped in March and Musso has no idea when it will be safe to bring it back. Besides, he would rather devote the space — cut by more than half to meet social distancing restrictions — for diners.
"Our people really like to sit on the patio. We try to make it really comfortable as possible," said Musso, describing the patio with its mix of tables and picnic tables, several covered with umbrellas.
Cooled in the summer by misters, diners mostly from the far east side wash down burgers, steaks or the house favorite scratch-made buttermilk brined picnic fried chicken with cheesy grits and summer greens with a mango and jalepeño-infused margaritas or craft beer. When the weather cools, Musso brings out a dozen or so heaters.
Since reopening his dining room and patio in May, Musso has seen diners coming from throughout the city.
"I think people are coming from all over because there are not as many choices" especially for patio dining, he said. "They want to go someplace where they feel safe."
Open: 11 a.m. to 9 p.m. weekdays, 10 a.m. to 9 p.m. Saturday and Sunday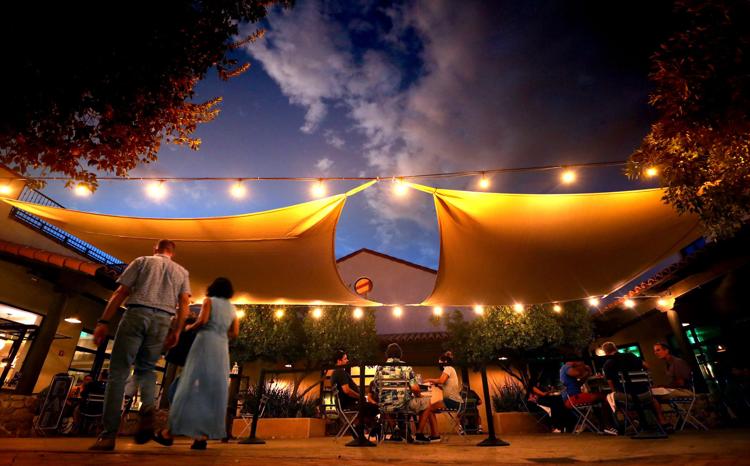 Agustin Kitchen
The folks at Agustin Kitchen in the Mercado San Agustin are taking fine dining to the great outdoors.
From the cool of the Mercado's courtyard hugged by a handful of boutique shops and restaurants, you can slurp raw oysters in the half shell while sipping a glass of crisp and refreshing white wine.
Since reopening its dining room in May, the restaurant has seen a steady flow of diners looking to escape their quarantine routine. At Augustin Kitchen that may look like a big bowl of cioppino swimming within a smoked tomato ocean of penn cove mussels, pacific shrimp, diver scallop, salmon, calamari and more.
In the past couple weeks, General Manager Neal Scott has seen an uptick in reservations, especially on date nights .
"Friday and Saturday nights, we have been hitting a time that if you don't have a reservation we have not been able to accommodate people, and that's a good problem to have," Scott said.
The sprawling courtyard has about 15 tables scattered throughout, all physically distanced. Misters and vegetation help cool the space.
Agustin Kitchen is one of several restaurants in the Mercado, but it is the only one that has reopened for full service al fresco dining. Seis Kitchen & Catering, Sonoran Sno-Cones, Presta Coffee Roasters and La Estrella Bakery are open for takeout only.
Open: 11 a.m. to 8 p.m. Monday through Thursday, 10 a.m. to 9 p.m. Friday and Saturday and 10 a.m. to 8 p.m. Sundays
Beaut Burger
Husband and wife owners Ari Shapiro and Kerry Lane didn't skip a beat when the state went into quarantine in late March and restaurants were forced to close their dining room.
"That was kind of the running joke before the COVID — it's all al fresco," Shapiro said of the couple's 2-year-old vegan burger restaurant. "All fresco, let's call it."
The couple runs the restaurant from one of the modified shipping containers that comprises the boutique shopping and dining MSA Annex, located next door to the Mercado San Agustin. There's not enough space for indoor dining, so customers take their food to go or sit at a handful of tables in the courtyard, a loose maze of patios set up with tables and umbrellas.
Shapiro has created a little green-grass oasis near his restaurant, with blankets spread out on astroturf, a kiddie pool for your four-legged friends and shade sails to keep the punishing sun at bay.
It's the perfect ambiance to tuck into Beaut's scratch-made 100% plant-based burgers — "They don't taste like Beyond, they're not Impossible and they're not meat," Shapiro explained. The burgers are sandwiched in a housemade rave-worthy bun that eats like an English muffin on pillowy soft steroids and paired with fries cooked in sunflower oil that have the perfect crunch to potato ratio.
The hand-cut fries come in russet or sweet potato with dipping sauce on the side.
As the sun starts its descent, sit back and sip a refreshing homemade limeade with prickly pear or an ice cold beer.
Shapiro said Beaut has seen an increase in business in recent weeks as people are becoming a little braver about eating out.
"I think people are really looking for places to eat in," he said, or in Beaut's case, eating out.
Open: 11:30 a.m. to 8:30 p.m. daily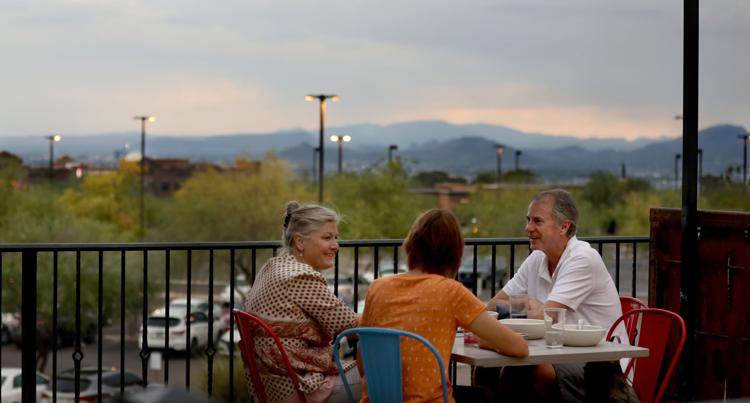 Blanco Tacos + Tequila
There's a genuine slice of shaded heaven tucked into the back end of La Encantada.
Blanco stands out among the shopping center's cluster of restaurants courtesy of its spacious patio, shrouded in shade sails and cooled by misters.
Once you settle into one of the 17 tables that can seat 70 at most, order the fresh guacamole with housemade tortilla chips and salsa, or a refreshing shrimp and crab cocktail that will have you envisioning a seaside cafe on the California coast.
This time of year, the cocktail of choice and one your server will surely recommend is the smashed watermelon margarita, which pairs nicely with grilled shrimp or Mahi tacos. If you're in the mood for a little spicy kick, order a sweet and spicy jalapeño pineapple margarita.
Open: 11 a.m. to 8 p.m. Sunday through Thursday, until 9 p.m. Friday and Saturday
Contact reporter Cathalena E. Burch at cburch@tucson.com or 573-4642. On Twitter @Starburch