A shipping-container housing project is ready to break ground just north of downtown Tucson.
Located on Stone Avenue, just south of Speedway, Stackhouse will have up to 44 units for sale. The 320-square-foot homes cost about $45,000.
Originally the project was going to be developed near Broadway and Euclid Avenue, but the zoning at 941 N. Stone Ave. allows for more height, said founders Ryan Egan and Janelle Briggs.
The steel structure, with slots for the shipping containers, will be about 75 feet tall, with 30 parking spaces on the ground level.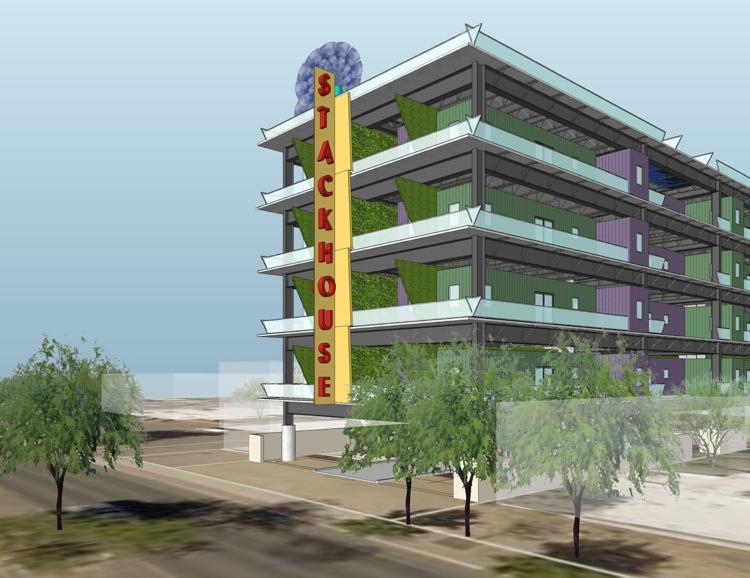 A rooftop deck will have lounge chairs and a grill, and the living spaces include 150 square feet of private outdoor space with waist-high railing.
The Tucson couple has been working on the project for about two years and finally settled on the 13,000-square-foot lot next to the Sahara Apartments, a student-housing complex that focuses on international students.
Egan and Briggs recently closed on the $125,000 sale of the property, which was formerly a parking lot.
Sales of Stackhouse units begin April 15.
"I'm so excited that it's finally here and that it's starting in Tucson," said Briggs, who works in sales for This Is Tucson — a digital publication of the Arizona Daily Star. All of Stackhouse partners are Tucson-based: architect Randel Jacob, manufacturer PVB Fabrications and web designer Nine25 Design LLC.

They plan to build in Colorado next and foresee homeowners taking their shipping containers with them to other states where they can rent a Stackhouse slot. The homes can be moved by truck.
The developers say they were motivated to create a unique living project close to downtown that was affordable.
In addition to the cost of purchasing a shipping container, rent for a slot in the Stackhouse, which will include utilities, cable and internet, will be between $650 and $1,100 a month, depending on the floor.
Rents in and around downtown have been rising steadily since the arrival of the streetcar and subsequent development and are now the highest in the city.
"This is a great thing to have in the downtown core," said Tucson City Councilman Steve Kozachik, who represents Ward 6. "It's a constant theme, 'How do you balance the great progress we've made downtown with rising housing costs?'"
He said the city does not have many resources to compel developers to build affordable housing and applauded the Stackhouse project.
"It recognizes the fact that we want to have an eclectic mix of residents near downtown," Kozachik said. "We don't just want kids who want to go to bars or elderly people who are downgrading from the Foothills.
"This concept is creative and fun."