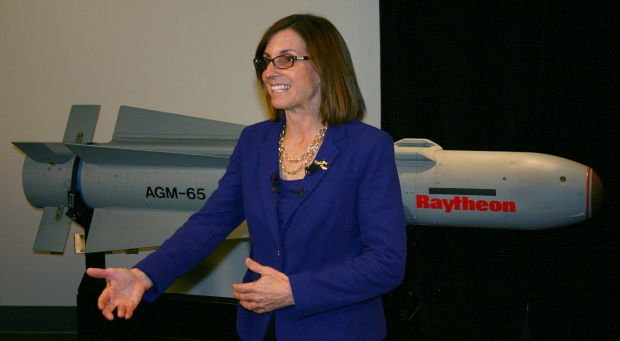 Before moving to a podium to speak to employees of Raytheon Missile Systems on Wednesday, Arizona Rep. Martha McSally moved stage right to the display of an inert Maverick missile.
"I think I'm the first congresswoman or person from your district that has actually shot your missile," the freshman Republican lawmaker told a crowd of Raytheon missile-makers at the company's facility at the University of Arizona Tech Park.
McSally, a retired Air Force colonel who fired Mavericks as the first female fighter pilot in combat, said her experience piloting A-10 Thunderbolt II ground-attack jets gives her a unique perspective she plans to use to push for a stronger defense budget, save the A-10 from a planned retirement and boost Raytheon's role in national security.
She vowed to work for a strong defense budget and to keep defense jobs in Southern Arizona.
"It's great to have someone who has her experience and can speak as a warfighter," Raytheon Missile Systems President Taylor Lawrence said as he introduced McSally.
"She knows firsthand about the complex needs of the warfighter and understands the importance of our work here at Raytheon."
McSally thanked the Raytheon workers for their "service to country," noting that the technologies Raytheon is developing are needed to keep pace with evolving threats including Islamic State militants, Russia's move in Ukraine and China's provocations in the South China Sea.
"We're not going to talk these guys into becoming Boy Scout leaders — there's times when we need to destroy and defeat them with weapons like you develop right here in Tucson, and take these guys out so we can keep our country safe," she said.
McSally said she welcomed her assignments to the House Armed Services and House Homeland Security committees.
"My wheelhouse on the national level, my expertise, is in national security and military readiness, so it was a great fit," said McSally, who served 26 years in the military and has two master's degrees — one from Harvard and one from the U.S. Air War College — focused on national security.
She said the relatively high-paying jobs Raytheon provides are important as the region's economy recovers.
"It's very, very important in a very difficult and struggling economy," she said.
paying jobs here, professional jobs, that allow opportunities for people graduating from high school and college to stay here in Southern Arizona so their graduation doesn't have to be at the airport."
McSally said she will fight to reverse the federal budget sequestration process, which requires broad cuts to defense and domestic programs if budgets exceed certain deficit-reduction levels. The automatic cuts will return in fiscal 2016 unless Congress acts.
Sequestration is "a long word for 'failure of leadership,' from my perspective," McSally said.
The Tucson congresswoman also said she will work to keep production lines at Raytheon running, alluding to the Pentagon's proposal last year to halt production of Tomahawk cruise missiles pending a new missile that is years off.
Congress instead appropriated $82 million for the Navy to procure 96 Tomahawks and, after firing off nearly 50 of the missiles at the outset of the action against Islamic State militants, the Navy has asked for 100 more Tomahawks in fiscal 2016.
"Those are the types of capabilities that we need on a moment's notice and you usually need a lot of them, so you can't just say 'Oh, we'll hit a pause and ramp back up later,' " she said.
McSally also vowed to continue her fight against retirement of the A-10 — a mainstay of operations at Davis-Monthan Air Force Base — noting that the Air Force spent $1 billion upgrading the "Warthogs" in recent years and maintaining that there is no effective replacement.
McSally said the move to allow the Air Force to put up to 36 A-10s in "backup aircraft inventory" under a compromise with Congress last year is akin to retirement, since no resources or personnel will be assigned to maintain them for combat.
"You might as well just put them in the Boneyard, for crying out loud," she said, referring to the military aircraft storage center at D-M.
McSally said a recent conference the Air Force held to study options for close air support produced suggestions that F-15 and F-16 fighters could be dedicated for the troop-support role, or perhaps light reconnaissance planes could be adapted to the task of low-altitude support.
But McSally said the F-15 and F-16 will never match the A-10's ability to loiter low and slow over a battle, providing cover fire, forward air control and combat search-and-rescue support.
"There are situations in which only the A-10 can keep you alive," she said.
McSally also said she strongly supports missile defense, a key business for Raytheon.
She noted that she had worked on the staff of former Arizona Republican Sen. Jon Kyl, a fervent supporter of missile defense programs.
"The cost needs to be brought down, but this is a very difficult mission," she said. "We can't afford not to do this, as we're seeing North Korea, China, Russia, Iran and others who want to do us harm developing capabilities that could be a threat to our homeland."
Contact Assistant Business Editor David Wichner at 573-4181 or dwichner@tucson.com. On Twitter: @dwichner