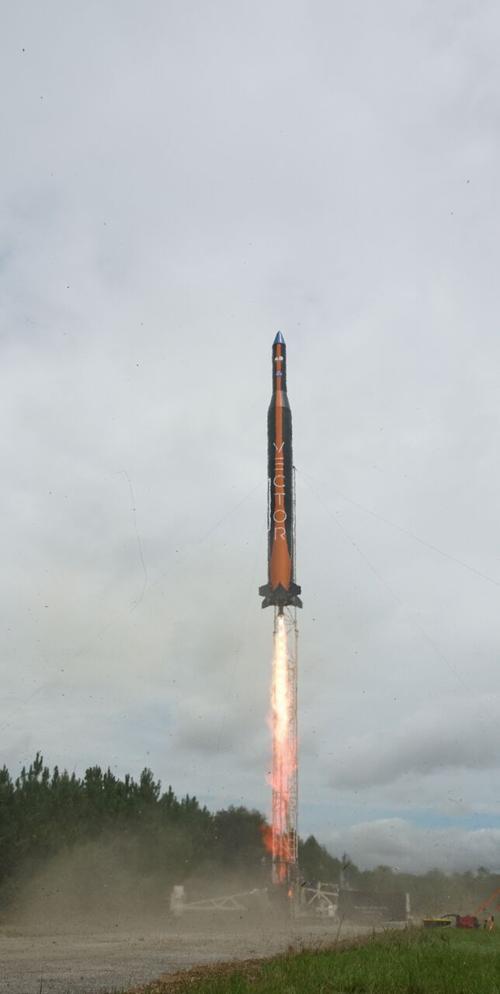 Tucson-based Vector successfully launched its latest prototype rocket for micro-satellite space launches Thursday, Aug. 3, at Spaceport Camden in Georgia.
Vector's suborbital flight of a full-scale prototype of the company's Vector-R launch vehicle was the first customer-funded launch operation for the new space commercial launch industry, the company said.
It also was the first launch out of the historic Spaceport Camden, near the Atlantic coast in the southeastern corner of Georgia, which was originally used by NASA in the 1960s for ground-based testing of large solid rocket motors.
"Our historic launch today is a testament to the hard work of the Vector team, as well as support from NASA and Spaceport Camden," Jim Cantrell, CEO and co-founder of Vector, said in a news release. "Together, we're on the fast-track to get to an orbital capability in 2018 and look forward to continuing momentum and unprecedented growth through the course of this year."
Vector is building a rocket manufacturing plant and offices on Pima County land south of Tucson International Airport. The company already is building rockets at its current site near downtown.
During Thursdays launch, Vector's rocket was scheduled to fly below 10,000 feet and return under a controlled parachute descent, with the primary aim of testing an engine injector made with 3D "additive manufacturing" and developed through a collaborative research program with NASA Marshall Space Flight Center.
The flight also was the first time spark-igniter technology developed with University of Alabama-Huntsville and NASA was used to start the booster main engine.
Also aboard were test packages from California-based Astro Digital, which uses small satellites to provide real-time satellite imagery; the Florida-based Center for Applied Space Technology; and NASA's Ames Research Center.
"This is a significant accomplishment for Vector and for NASA's initiatives to advance enabling technologies for suborbital and orbital small launch vehicles," said Ron Young, manager of NASA's Flight Opportunities program, which is working with the industry to help develop the small-payload market.
Vector hopes to build a business launching micro-satellites into orbit, and also plans to develop its own satellite constellation for communications and research.
This most recent test of the Vector-R launch vehicle comes after Vector inked a $21 million Series A funding round led by Sequoia Capital, with participation from Shasta Ventures and Lightspeed Venture Partners.
Vector said the funding will help the company accelerate its flight-test series, develop its first GalacticSky satellites, open a Silicon Valley headquarters for its satellite network and break ground on its rocket factory.
Contact senior reporter David Wichner at dwichner@tucson.com or 573-4181. On Twitter: @dwichner
The business news you need
With a weekly newsletter looking back at local history.