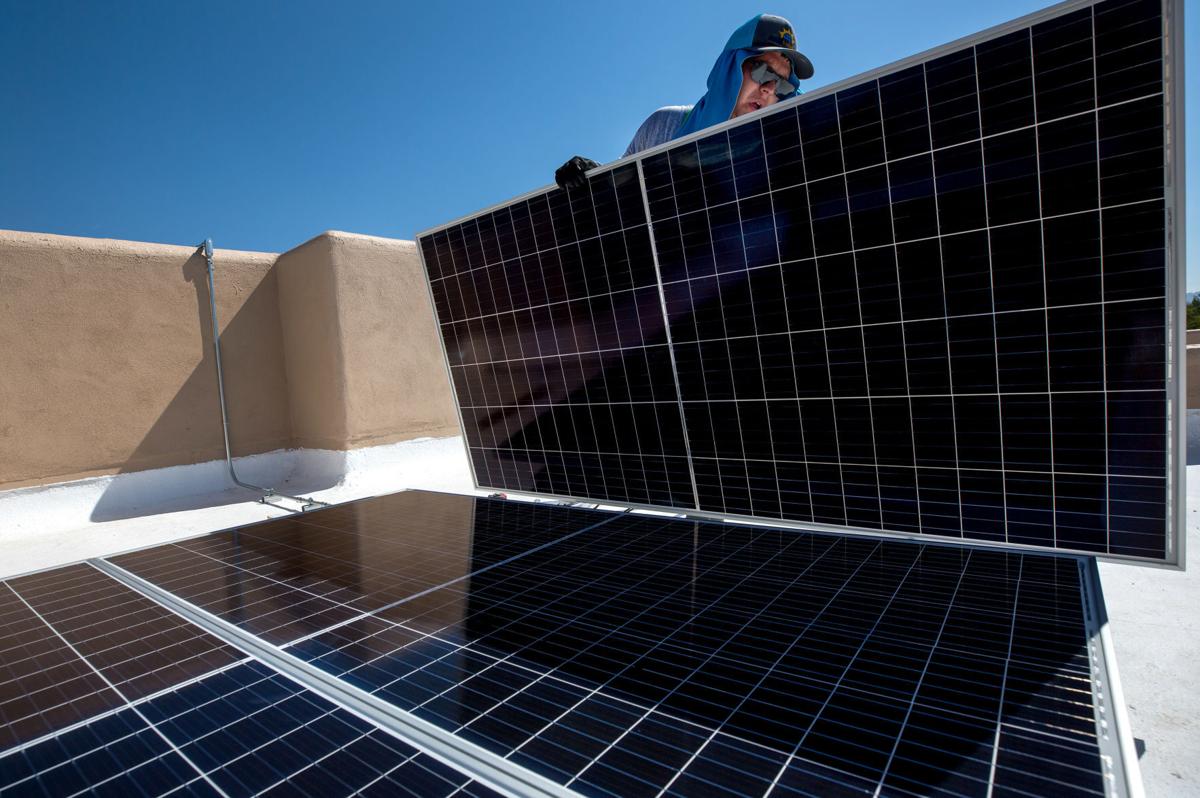 Customers of Tucson Electric Power will soon be able to apply for upfront cash incentives to install battery storage systems on their homes, and more customers will be able to buy into community solar installations, as part of plans approved by state regulators last week.
The Arizona Corporation Commission approved two-year plans filed by TEP and sister rural utility UniSource Energy Services to comply with the state's current renewable-energy standard, even as they wrestle with more ambitious new clean-energy rules.
The utility panel approved TEP's proposed annual budgets of $65.9 million for its 2021 and 2022 implementation plans under the state Renewable Energy Standard and Tariff (REST), which was adopted in 2006 and requires state-regulated power companies to get at least 15% of their power from renewable sources by 2025.
Besides the energy-storage pilot, TEP won approval to expand its GoSolar Home community-based solar program, which allows customers to buy power from a dedicated 5-megawatt photovoltaic solar facility at a small premium and receive a fixed bill for up to 10 years. That program is fully subscribed at 841 participants, with about 500 on a waiting list, a TEP official said.
Regulators approved a plan to extend the program to renters and expand the facility supporting the program by 10 megawatts, which would clear up the waiting list and allow for more program growth, TEP said. For more information and updates, go to www.tep.com/gosolarhome.
The TEP budgets also include the recovery over two years of about $3.4 million in undercollections from a surcharge that funds renewable-energy programs, and $2 million over three years to fund a pilot program offering incentives to customers who install their own battery-storage systems.
TEP has not yet finalized details of its home energy-storage pilot but plans to roll the program out sometime this fall, company spokesman Joe Barrios said.
A similar pilot was approved for Arizona Public Service Co. last year that offers incentives of up to $2,500 to customers who install home battery systems to store power from the grid or rooftop solar systems.
Home battery systems currently cost about $7,000 to $15,000 depending on capacity, not including federal tax credits for storage systems attached to solar installations.
The Corporation commission also approved UniSource's renewable energy plans with a budget of about $9.6 million for 2021, when it will also collect about $484,000 to cover a prior collections shortfall, and a 2022 budget of about $9.1 million.
But the Corporation Commission rejected a residential energy-storage pilot program proposed by UniSource, balking at its proposed two-year cost of about $300,000.
Both UniSource and TEP filed their energy-storage proposals at the request of the commission's staff last year among discussions of the state's renewables and energy-efficiency rules.
TEP's new renewables budget will increase the monthly surcharge TEP residential customers pay to fund REST compliance programs to an average $6.74, from $5.95 currently, starting next month, with the cap on the residential surcharge rising to $8.90 from $7.50.
The monthly surcharge for businesses will go up commensurately.
Most of the REST budget goes to the above-market cost of renewable-energy power generation from utility-scale power purchase contracts, with the rest paying for performance-based incentives on commercial solar projects, credits for excess production by rooftop solar customers, research and administrative expenses.
The TEP and UniSource REST plans were approved on 3-2 votes, with Republican Commission Chairwoman Lea Marquez Peterson joining Democrats Anna Tovar and Sandra Kennedy in supporting the plans.
Republicans Justin Olson and Jim O'Connor voted against the plans, with Olson saying he opposed any special programs that raise rates while benefiting a relatively small number of participants.
Marquez Peterson successfully pushed amendments requiring TEP and UniSource to come up with plans by July 2022 to phase out the REST surcharges.