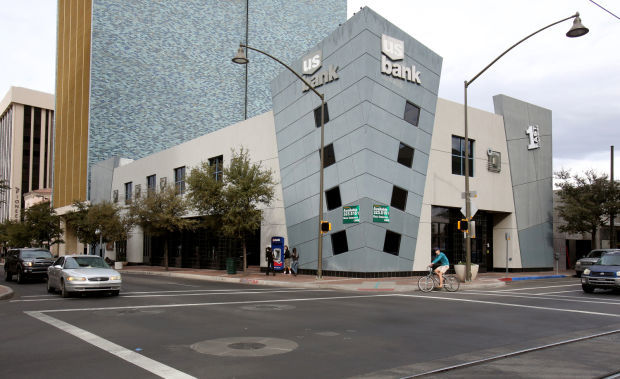 Minnesota-based U.S. Bank is planning to close one of its two traditional bank branches in Tucson — and its only one downtown — along with three of its eight local branches located in Safeway stores.
The downtown branch, with the distinctive slanted facade at 1 E. Congress St. and the supermarket sites are scheduled to close in December, U.S. Bank spokesman Evan Lapiska said, as part of a larger consolidation to respond to an ongoing consumer move to online banking.
The automated teller at the downtown site will also be removed, Lapiska said.
The Safeway store banking sites slated for closure are at 6360 E. Golf Links Road, 1767 E. Prince Road and 9050 E. Valencia Road.
U.S. Bank's standalone branch at 7685 E. Broadway will remain open, along with five Safeway branches.
US Bank's CEO said in April the bank is planning to close 10% to 20%, or 300 to 450 of its roughly 3,000 locations, over the next two years.
"Customers' preferences and behaviors are changing, including a rapid migration toward digital and mobile banking platforms, and a desire for greater simplicity," Lapiska said in an email.
"As we evolve along with our customers, we are reevaluating our physical footprint, and in some instances, consolidating a limited number of branch locations in select markets."
As part of the same process, Lapiska said, U.S. Bank plans to reinvest in core retail banking markets "in the form of new, relocated or redesigned physical locations" by the end of 2020.
Lapiska said the bank will try and help affected branch workers find new jobs nearby with U.S. Bank.
Major banks nationwide have been closing more branches than they have opened in recent years amid the shift to online services.
Bank branch closures in the United States reached a new high in 2018 as consumers continued to migrate to online and mobile banking options, according to S&P Global Market Intelligence.
Minus new branch openings, banks closed 1,947 branches in 2018, up from 1,919 in 2017, and Arizona had a net loss of 38 banking sites last year, S&P found.
Among major banks with operations in Arizona, Wells Fargo had the biggest net decline in branch count last year, shedding 293 sites nationwide, followed by Bank of America with a net drop of 193.
Wells Fargo has closed a dozen banks in Arizona since 2017, including at least one in Tucson.
U.S. Bank closed 76 branches companywide last year, the S&P report said.
In S&P Global Market Intelligence's mobile banking survey, a better mobile app experience was the fourth-highest cited reason customers gave for considering a bank switch, topping more bank branches.