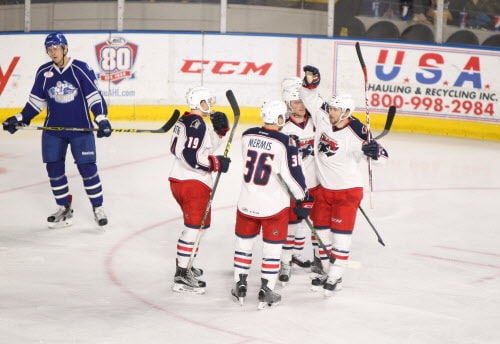 The Tucson City Council voted Tuesday night 7-0 to approve a 10-year agreement to lease the Tucson Convention Center arena to a minor league hockey team.
The lease deal is the last of three agreements the Arizona Coyotes need to bring the American Hockey League's Springfield (Massachusetts) Falcons to Tucson to start the fall season.
The Coyotes said minutes after the vote that team officials will hold a news conference on Thursday at the TCC. They also announced a "name-the-team" contest for fans to enter.
The agreement includes provisions for the city and the downtown redevelopment authority Rio Nuevo to get some taxpayer money back if the team leaves early.
Under the terms, the team could leave town after five years if home-game ticket sales are below 2,500 tickets per game, and giveaway tickets would not count toward the total.
But if the team leaves, it would have to pay back a portion of the $3.2 million in Rio Nuevo money that will pay for arena upgrades needed to get the facility ready for the team by October.
AHL regular-season games attract an average of 5,982 fans per game. The downtown Tucson arena can seat around 7,000 hockey fans.
The team would pay the city $300,000 per year for the license agreement, and the amount would be adjusted for inflation each year.
The city would be responsible for the utility bills; the event staffing, except for game officials; and the infrastructure.
Net revenue from the concession sales, parking, advertising and arena-naming rights would be split 50-50 between the team and the city. The team would keep all of the revenue from other merchandise sales, like souvenirs.
The city could collect annual net revenues ranging from $249,270 to $476,445, City Manager Michael Ortega told the Tucson City Council in a memo.