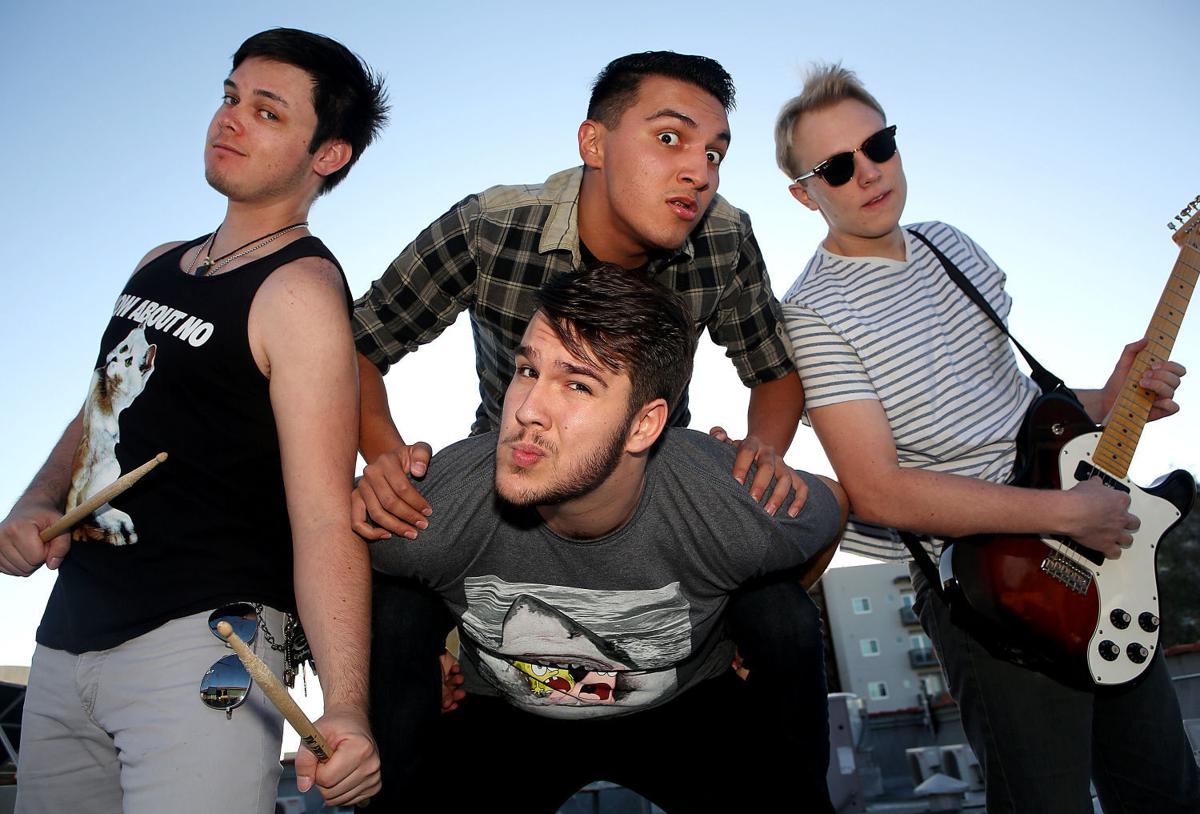 When the discussions were concluded and the debates settled, the judges selected Weird Guilty Pleasures, Roman Barten-Sherman and the Interstellar Blues Orchestra, Creating The Scene, The Looks and Kyle Gallardo to compete in Saturday's battle — the rejuvenated contest of a similar battle the hotel hosted in 2010. Prizes include a headlining gig at Club Congress, studio time, a spot on community radio station KXCI and music gear gift cards.
The battle takes place at 3 p.m. Saturday in the Hotel Congress Plaza, 311 E. Congress St.
Here's a look at the finalists:
---
Genre: Alternative pop/punk rock.
Members: Lead singer, guitar Adam Ruhl, 19; lead guitar Dylan Nanney, 21; bass guitar Cristian Boneta, 20; drummer Michael Bauman, 21.
The music: "Our music is pretty hard to describe. I do most of the writing for the band and I tend to be all over the place," said Ruhl, the band's co-founder with Bauman. "But ultimately what it is is really fun, upbeat music. Really fast-paced, energetic, stuff that gets you moving."
Where you can see them: 191 Toole, 191 E. Toole Ave. in the old Scrappy's space; The Rock, 136 N. Park Ave.
Recordings: The EP "Summertime Lovin'," recorded in a home studio last July.
How it all got started: Ruhl and Bauman were friends who started jamming together and discovered they had some strong musical chemistry. In January 2012, they recruited Nanney, who was a bass player in another musical life. Ruhl and Bauman convinced him to switch gears to lead guitar when they brought Boneta into the band.
Not just a hobby: "We are all in it for the long run. Michael is in school for a backup plan, but all four of us are really committed to music and there's nothing we would rather do than make this a career." — Ruhl.
What the judges said: "We chose Weird Guilty Pleasures based on their high energy and experience in the Tucson scene, with past shows at the Rock, Hotel Congress and 191 Toole. These gentlemen are just getting started as all the band's members are around 20 years old. The pop-punk outfit will be closing out the main event ... in style." — Libman.
---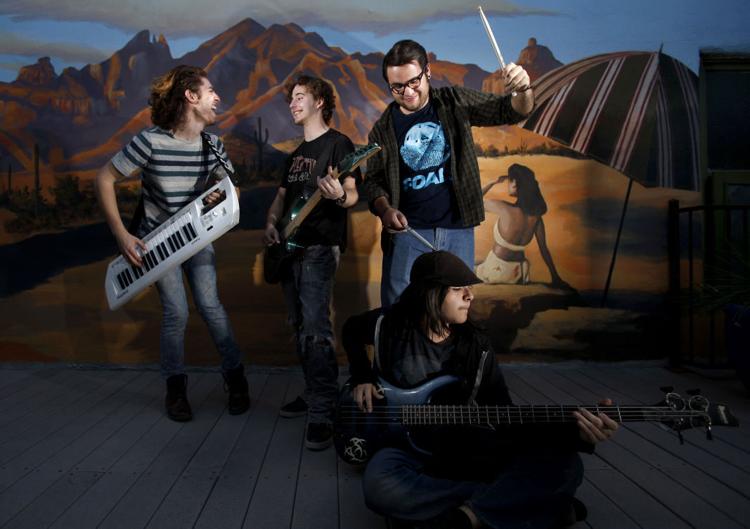 Members: Keyboards and lead vocals Jake Walters, 17; guitar Austin Kent, 18; drummer Andres Beltran Del Rio, 18; bass player Nic Fricke, 14.
The music: "I've always been in musical theater so I feel like the music that comes out of the band is very influenced by music theater," said Walters. "Everything is dramatic and tells a story. I write based on my personal experiences. Teenage angst. It's a very emotional experience. I want people to go on a journey and realize it's pretty bad but it's OK."
Where you may have seen them: The Rock, 136 N. Park Ave.; Sierra Vista; the Rialto Theatre, 318 E. Congress St.; Gary's Place, 125 W. Ventura St.
Recordings: The band is working on its debut album to be released on local indie imprint Wolfgang & Sons.
How it all got started: The band formed in 2011, although not with its current lineup. The constant has been founder Walters, a senior at Academy of Tucson charter high school with Del Rio. Fricke and Kent are both taking high school classes online.
Not just a hobby: "I want to keep doing this. I feel like we've all put in so much work it's not just a hobby. It used to be, but now it's become the one thing we can all agree upon." — Walters.
What the judges said: "Jake Walters is a prolific 17-year-old songwriter from Tucson. It was difficult to choose between Jake's solo material and his band Creating the Scene, as both projects evoke broad-spectrum emotion that one rarely finds in an artist his age. At the end of the day, we chose his full band so we can see how Jake performs in a full ensemble." — Libman.
---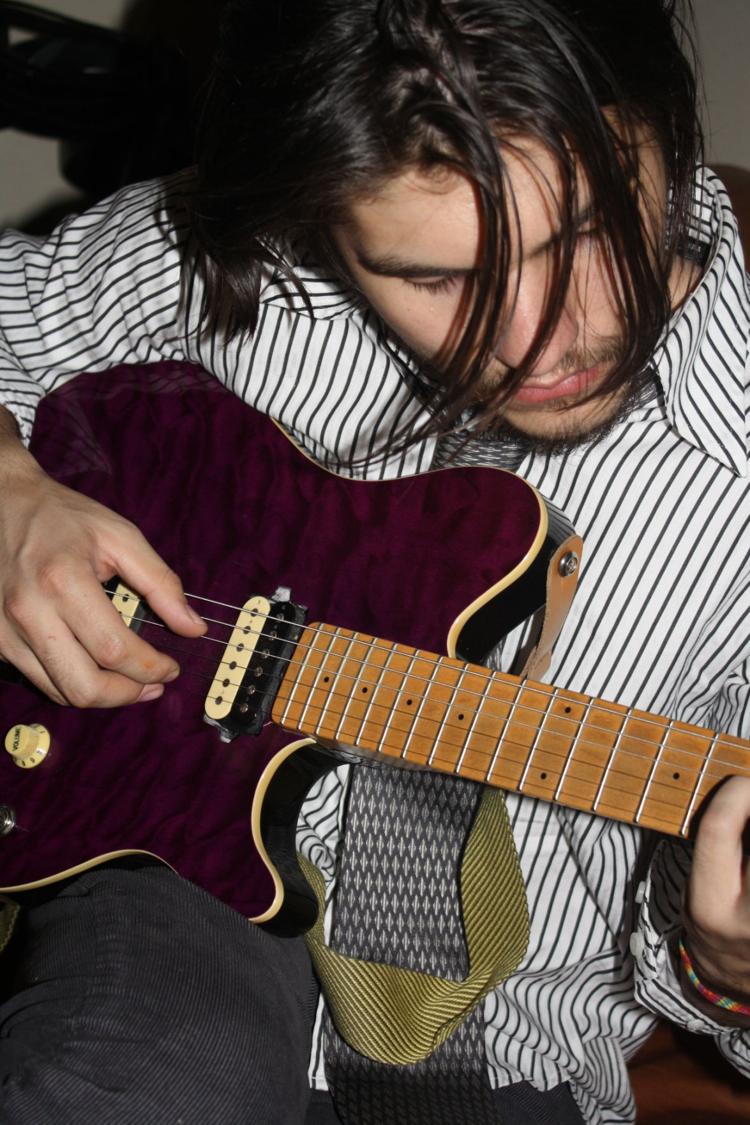 Genre: Pretty dark, mainly sad music.
Members: Guitar and synthesizers Kyle Gallardo, 19. (Tyler Gillihan will join on keyboards for this performance.)
The music: "A lot of the tone is very sad and the notes are typically low. Mostly everything is very guitar-based. It's all very dark and I'd like to think some parts are very catchy as well and that the lyrics will reach people. Dark and moody. It just seems easier to write for me. I've always leaned toward the angst kind of music. I find it pretty fascinating when you hear a dark song and it reaches you in a way that you can't stop listening to it."
Where you may have seen him: "This is actually going to be my first show," Gallardo said. "I'm kinda nervous mainly because I'm playing before a lot of strangers. I think it's all going to hit me when I'm on stage."
Recordings: Finished debut EP "Uneventful" on Jan. 31. The concept recording follows a self-penned story of a man killing his wife. "It feels like I can express myself without necessarily being a murderer," he explained.
How it all got started: Gallardo started writing music last August. "I've always been quite musical. I started in middle school. I was in a band with some friends doing some heavy stuff, but I branched off on my own."
Not just a hobby: "It started out as a hobby. I thought I would go to school and study to become a filmmaker and make movies. But after I started playing music. I think music has definitely (become) something that is going to stick with me a very long time. It would be amazing to be a musician the rest of your life, but I know you don't just become a famous musician and tour the world." — Gallardo.
What the judges said: "Kyle Gallardo's introspective bedroom recordings may make him the most unique and mature entry we received this year. We found ourselves streaming the 19-year-old's 'Uneventful' release on Bandcamp multiple different occasions while we were still in the submission stage. We're very excited to see Kyle joined by a keyboard player for his battle performance." — Libman.
---
Roman Barten-Sherman and the Interstellar Blues Orchestra
Members: Guitar Roman Barten-Sherman, 12; drums and percussion Rylande Dodge, 15.
The music: "When I entered the collaboration I was thinking more about the country bluesy stuff. But the great thing about working with a collaborator is that they change your style. So we are working on some other things including hill country, kind of trancelike music from north Mississippi," said Barten-Sherman.
Where you may have seen them: This is the pair's first public performance together, but Barten-Sherman is a regular at Club Congress as an opener for Tucson Delta bluesman Tom Walbank and has performed at the Rialto Theatre, Café Passe and blues festivals around the country.
Recordings: None yet, but Barten-Sherman, who has been performing for several years, has a YouTube channel (youtube.com/user/totalmobilehome) where you can see dozens of his performances.
How it got started: About three months ago, Barten-Sherman, who has been playing banjo and baritone ukulele since he was 2 and guitar since he was 6, teamed up with Dodge, a member of Tucson High Magnet School's Jovert steel drum band directed by his father, Khris Dodge. "It's just been such a blast. It's going to be absolutely wonderful when the judges see that the Intersteller Blues Orchestra is two people."
Not just a hobby: "I hope to be playing with Ryalnde the rest of my life. I enjoy playing solo but playing with Rylande has really opened my eyes. And playing with Rylande is my first time playing with a musician of this talent level that's my same age." — Barten-Sherman.
What the judges said: "Roman Barten-Sherman and the Interstellar Blues Orchestra was an easy choice for us, not only because we are familiar with the young artist, who plays with Tom Walbank on the Hotel Congress plaza every other week, but also because he is one of the most gifted 12-year-old guitar players we have ever seen. Most people have seen him perform solo, but now we get to see him accompanied by 15-year-old Rylande Dodge on drums for a multi-dimensional take on hisperformance that we all know and admire." — Libman.
---
Note: We couldn't reach The Looks through emails and social media. Here's the bio information provided by Hotel Congress.
Members: Ben Offerman, Brian Kelly, Charlie Harden, Toby Chivers; three of the members are 17, one is 18.
About the band: The four-piece rock band has been playing for a number of years and has recording experience.
What the judges said: "The Looks are a four-piece local rock 'n' roll band, with all members in the 17- to 18-year-old range. Based on their age, they're the exact demographic we'd like to see submitting to the youth Battle of the Bands in future years. When listening to The Looks, just imagine four young rockers jamming in their parents garage, writing music, having a great time. For them, it seems that that's what it's all about." — Libman.
Contact reporter Cathalena E. Burch at cburch@tucson.com or 573-4642. On Twitter @Starburch
Stay up-to-date on what's happening
Receive the latest in local entertainment news in your inbox weekly!