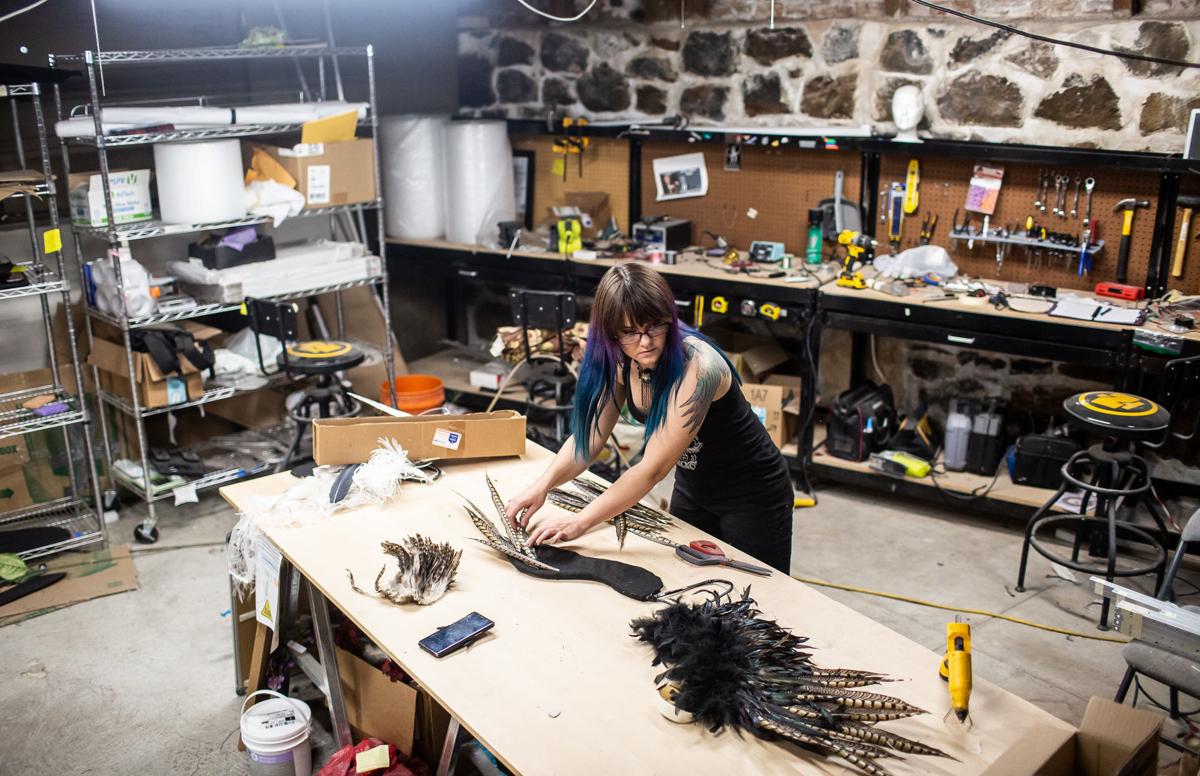 It's no joke when customers tap Alexis Noriega to help give wings to their creative ideas.
It's what she does for a living.
Noriega is the owner of The Crooked Feather, a fantasy wing-making business based in the Steinfeld Warehouse Community Arts Center downtown.
For $300 to $3,600, Noriega and her team will create a custom set of wings, some with the ability to move and expand, allowing customers to be anything from a fallen angel to a bird of prey.
Pre-pandemic, The Crooked Feather was making three to seven sets a month, with wingspans ranging from 6 to 16 feet.
Less expensive models are set in place.
"Photographers will get the static, pretty feather models because they don't necessarily need them to move," Noriega said.
Higher-priced pairs are powered to open and retract. Those are used by cosplayers, and in everything from drag shows to pageants to theatrical productions. One set served as a prop in a pitch to Netflix.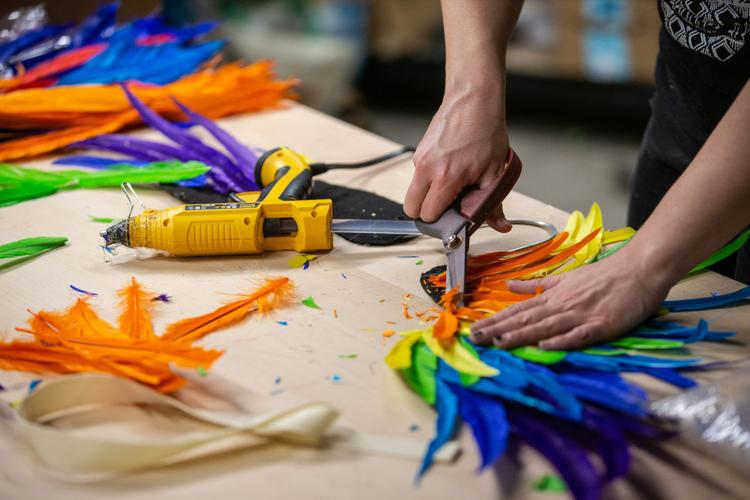 "The fun part for me is designing something new," Noriega said. "Making something that seems totally impossible at least semi-possible."
TAKING OFF
Ten years ago, Noriega's life was going in a much different direction.
Originally from Scottsdale, she came to Tucson as a student at the University of Arizona, where she earned a master's degree in soil, water and environmental science.
She fully expected a job with Tucson Water after graduation.
Then the Great Recession hit.
"There were supposed to be people retiring, but they didn't," Noriega said. "Their retirement was gone. They needed to keep working."
Noriega took a job as a geo-technician, testing soil for a local solar panel company, and she was good at it.
But it was a lot of work with little satisfaction
"I was working 60 to 80 hours a week for three years," Noriega said. "After one stretch of working three 80-hour weeks without a day off, I said 'I'm out. Good luck.'"
Without another job in her field available, Noriega turned to one of her passions, cosplay, to help pay the bills.
Before leaving her chosen career path, Noriega spent much of her free time making costumes for conventions like Tucson Comic-Con and Saboten Con, a large-scale Phoenix-based anime convention.
"I started out as a cosplayer," Noriega said, "I would work to make costumes to best emulate a character, even if the character was totally unrealistic. My goal was to make that weird, crazy fantasy thing look as realistic as possible in person."
She began making wings by improving on tutorials that she found on sites like YouTube.
"They said to use 12-gauge wire and that was way too thin," she said, "I had to go with 9-gauge wire. They didn't tell me to clip the quills on top, but I thought that I should do that next time."
Noriega wore her first set of wings, part of an elaborate fallen-angel ensemble, to Saboten Con in 2012.
They weren't perfect, but they commanded attention.
"I had people running up to me asking if I could make them pairs," she said.
Noriega's newfound free time allowed her to hone her wing-making skills. She eventually figured out how to make them move.
She posted one of her earliest examples of articulating wings, powered by air pressure, in a 30-second clip filmed in her mother-in-law's front yard, to YouTube.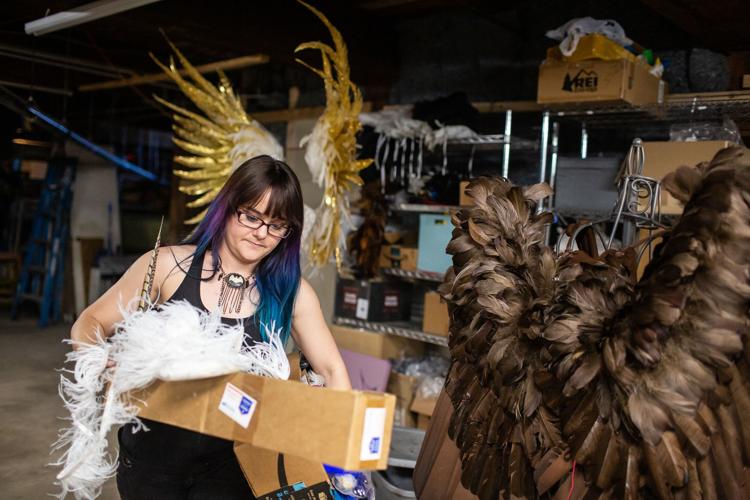 The video went viral, garnering more than 1.6 million views and generating enough business for Noriega to last her months.
Today, Noriega works with a team of three subcontractors in a section of the basement of the Steinfeld Warehouse Community Arts Center that she shares with a fire props and aerial silks supply business called Fire Mecca.
One of her subcontractors, Josiah Higginson, has been making wings with Noriega for the last two years.
Higginson worked for Fire Mecca for a decade before joining The Crooked Feather and now splits his time between the two.
Up until the pandemic, he was also employed at a local gaming store.
Higginson does a little bit of everything at The Crooked Feather, but his specialty is creating the frames that hold the wings together and the circuit boards that help power their movement.
"I don't tend to make things pretty, but I make them solid," Higginson said.
Like Noriega, Higginson enjoys the creative aspect of the job, especially tackling new and unusual custom requests.
His favorite project was an order that called for creating wings with a steampunk theme.
"Most of the time we are working on angel or bird wings that are supposed to look organic," Higginson said. "This was supposed to look mechanical. It was fun to figure out."
Beyond their regular orders, Higginson said The Crooked Feather has a list of prototypes, a wing-making wish list of sorts, inspired by characters like Tyrael, the Aspect of Wisdom from the video game series "Diablo," and Wonder Woman's golden wings from the upcoming sequel, "Wonder Woman 1984."
Noriega said eventually she would like to branch out from wings into other elaborate attire.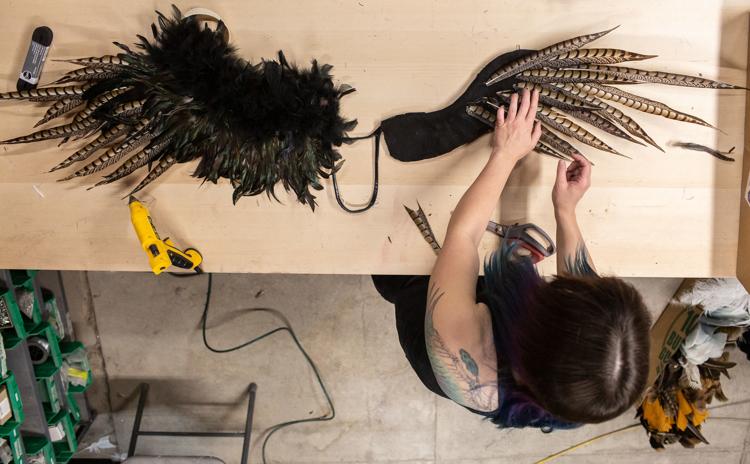 A costumer recently asked if she could create a Kali costume, the Hindu goddess of death known for her multiple arms and sword-wielding capabilities.
"People come to me with wing requests because I am very good at making them," Noriega said, "But there is no reason we can't make those, too."
A NEW ROLE
With the pandemic raging around the world, Noriega has pivoted her efforts in the last two months.
She spends most of her days at Xerocraft, a makerspace in the same building as her studio, working with a team in making up to 1,000 face shields a day for the Pima County Health Department.
Her wing orders have slowed as many of the events and industries where wings might be of use are at a standstill.
"We have six sets of wings meant to go to Princess Cruises that are just sitting there," Noriega said. "There is no one to receive them right now."
One of Noriega's primary sources of income during these times is her Patreon, an online membership platform that allows people to subscribe to online content that she produces. Noriega will answer questions from her fans or conduct hourlong lessons on how cosplayers can make wings themselves.
"I want people to innovate," she said. "If they can springboard off of my knowledge and make wings that are better than mine, everybody wins. The whole community elevates."
Like any small business, Noriega hopes she can make it to the point when the world gets back on its feet.
"Wings are an excess and no one is splurging right now," she said. "Once we can do live events again, that's where they'll shine."
Stay up-to-date on what's happening
Receive the latest in local entertainment news in your inbox weekly!