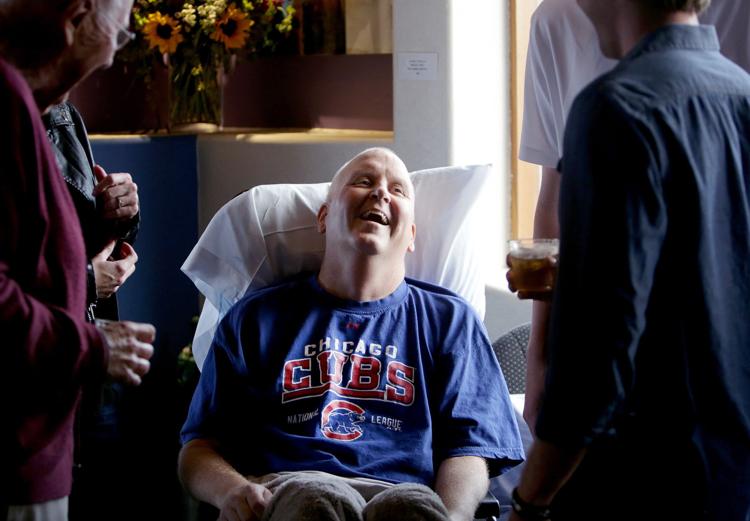 Pat Connors, the longtime Tucson restaurateur who threw his own pre-wake wake party last week to say goodbye to friends and family, died early Sunday, March 6, after a months-long battle with lung cancer. He was 48.
His death came days after hundreds packed his central Tucson restaurant on Tuesday and stood in line for as long as an hour to give Connors one last hug and share memories.
"There is not a restaurateur in this town that has done more for this community than Julie (Connors) and Pat have," said former restaurateur Michael Luria, whose family hired Connors in the 1990s for his first restaurant job at Terra Cotta, where the Connors met. "I don't think there's an instance where Pat and Julie said no. They exemplify what philanthropy in the business community looks like."
"Pat is hands-down the most giving person in Tucson," Doug Levy, chef/owner of Feast on East Speedway, said of his friend of nearly 30 years. "What I would hope is his legacy would be to remember what a kind, spirited, generous person he was."
Connors, who ran Pastiche for 19 years at 3025 N. Campbell Ave., was a founding member of Tucson Originals restaurant group and was instrumental in the Primavera Cooks program that benefited the Primavera Foundation and other charitable Originals initiatives. When his son Cole was 3, Connors and his wife started taking him with them to volunteer at the Primavera Foundation Men's Shelter, where the family served food to the residents.
But it was the quiet moments and small gestures that defined Connors, his friends say. Like the time he closed his restaurant in summer 2015 for the inaugural Bald Beauties Project fundraiser in memory of Luria's daughter Kelsey, who died of cancer that spring. A followup fundraiser was held last summer.
Connors was born in Chicago and grew up in Phoenix, the third of six boys. He attended San Diego State University for a year before moving to Tucson in the 1980s to attend the University of Arizona, where he earned a degree in math.
He had planned to pursue a career as an actuary, but Connors had said he didn't like the idea of moving back East for a job.
He started working for Terra Cotta and later City Grill before opening Pastiche in 1998.
Connors' older brother Chris said Connors fell in love with Tucson and never looked back. Darren Connors, the second-youngest of the brothers, said Connors' passion was the restaurant and the relationships he built in the community,
"I think that's going to be his legacy," Darren Connors said, recalling how his brother would take Darren's two children — son Alex and daughter Abby — into the kitchen whenever they came to Tucson to let them make their own desserts.
"I'm going to miss calling him and talking to him," said Darren, who lives in Phoenix. "He's my brother; I love him."
Connors was diagnosed with stage 4 lung cancer in October, shortly after his father died in September.
He underwent four rounds of chemotherapy before doctors determined his cancer was progressing beyond treatment. He entered Tucson Medical Center's hospice facility two weeks ago.
At his pre-wake party last week, Connors, surrounded by a non-stop stream of hundreds of well-wishers for the five-hour party, said he believed his legacy started with his smile.
"I have a great smile. And in that regard, my smile is my legacy and my smile is what makes people happy," he said, sitting in a wheelchair with a blanket draped over his legs and a smile spread from ear-to-ear.
"I beat cancer on my terms. I'm beating it smiling. I beat it with who I am. I'm not being beaten down as someone who can't do everything. I can do everything I want," he added.
"A lot of times you go to a cancer ward and people can't move because they are in so much pain, so much sickness. To me I'm doing it on my terms."
Services had not been scheduled as of Sunday.