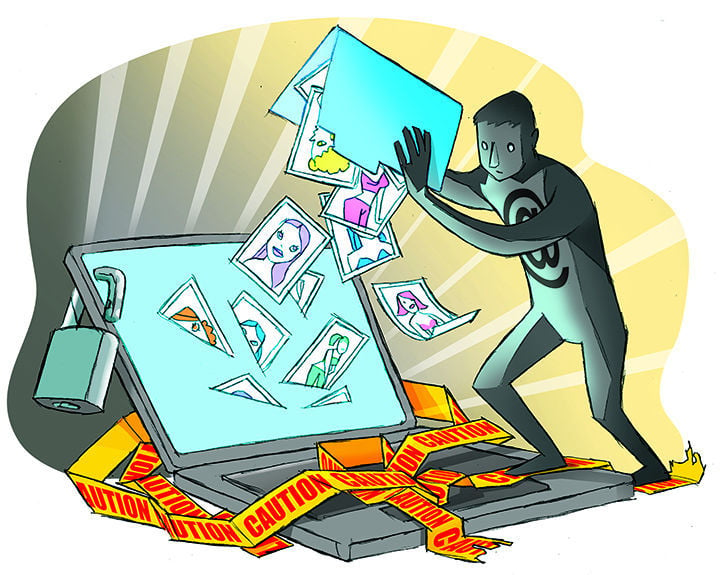 An Instagram account that shows dozens of local high school girls in a provocative light has drawn nearly 3,400 followers since it launched about eight weeks ago.
It has also gotten parents talking with their children about keeping safe on social media — and about how much is too much information to share.
On the Instagram site, photos are posted with the girl's full name, school she attends and, in most cases, a comment such as, "body and booty on point" or "you would be scorin' if you were friends with Lauren.' " Girls are nominated by friends to be featured on the account.
Less is known about the account owner, who claims to be a high school student, and declined to disclose his or her name or age to "a random stranger."
In a direct message responding to the Star's questions, the account's owner said it's all in the name of boosting the girls' self esteem and "making the girls happy.
"We're in high school, so don't worry, we're not pedophiles," says the account owner. "And we post the girls with their school for the same reason Mrs. Arizona or Mrs. California are given their names; to basically show that these girls represent their school."
Of the nearly 90 girls pictured as of last week, a few were identified as University of Arizona students. The rest were from several local high schools.
One Tucson mom was outraged when she found out her daughter's photo, along with her full name and what school she attends, was on the Instagram account. The mother immediately requested to follow the account and sent a direct message to have her daughter's picture removed. The account owner complied after commenting that he or she didn't understand why the mother objected and that the account was set up to bolster the girls' self esteem.
Once the photo was removed, the mother discussed with her daughter the dangers of putting information out there, as well as the degrading nature of such an account.
"I've gone over it with her over and over again," she said. "Don't put your whole name out there, don't put your school. If it's something you're not comfortable having your grandmother see, don't put it out there—and it didn't matter."
Her daughter said she didn't even think about it. Her friends nominated her so she thought it was OK.
The Star is withholding the mother's name to protect her daughter's identity. The Star is also not identifying the name of the Instagram account as to not drive more traffic to it.
Degrading, dangerous
"You always want to be careful and guarded when it comes to your personal information, such as your name, address, workplace and school you attend," said Deputy Tom Peine, public information officer for the Pima County Sheriff's Department.
"Due to the connected information online, it exposes people to fraudulent activity and ill-intended use of your data that you readily make available out there," he said.
There is also the danger of sexual predators, looking for opportunities to groom possible victims, Peine said.
This "grooming" makes the predator appear innocent in the victim's eyes, in turn making the child comfortable with sharing information, which can lead to exposure to a variety of dangers or inappropriate materials, Peine said.
"It lowers the typical threshold that children have in disclosing information about their surroundings, their homes and anything of that nature," Peine said.
Not only can it pose a danger to the victim, but also that person's family. Predators can take it as far as scoping out the family and the family home for "all types of other criminal activity," Peine said.
In fact, 65 percent of online sex offenders used the victim's social networking site to gain home and school information about the victim and more than 25 percent use social networking sites to gain information about the victim's whereabouts at a specific time, says the Journal of Adolescent Health.
"Children may be innocently unconcerned about information they provide," Peine said. "Once information is out there online, we have to assume it's online forever."
Educating children on Internet safety is urgent in our increasingly digital lives — the earlier the better.
"My daughters, who are now 13 and 11, have been on social media and have had cell phones for several years. Some parents shame other parents for posting pictures of their children or allowing their children to engage, but this is the world we live in," said Monica Casper, professor of Gender and Women's Studies at the University of Arizona.
"Our lives are increasingly digital, and at least from my perspective as a parent and teacher of young people, avoidance isn't practical or desirable. But, my husband and I have had numerous conversations from early ages about Internet safety, people with questionable motives, and their own self-representations online. We have their account IDs and passwords, and they know that I can check any time — and I do."
Comments from the girls in the photos on the Instagram account — some scantily clad, some portraits — show they are flattered to be chosen. It's not surprising, since teens are often curious and confused with mixed messages on being sexy or sexually curious.
"What these young women and men see is a universe of pop culture full of precisely this kind of objectification, often cloaked in the language of women's empowerment and self-esteem. This is one of the wages of 'choice feminism,' which essentially says that if women 'choose' it, then it must not be all that bad. Clearly, our young people crave attention and encouragement, but we're impoverished in what we offer them," Casper said.
"For girls wanting to feel beautiful and sexy — and why shouldn't they — we send either mixed messages or worse, the message that they are only there for men's viewing or tactile pleasure. We collectively shame any kind of sexuality, while bombarding children with images of sex."
Bryanna Sanchez, 18, was enraged at what she saw on the Instagram account when she was invited to be a follower of it.
"I think the account is just kind of putting girls out there as sexual objects rather than human beings," Sanchez said. "It's focused more on what they look like rather than what they have to offer. I just don't think it's OK … It angers me again because the girls were OK with it. They're OK with them posting the pictures and saying the comments about them. It seems they feel empowered by it or they like the attention they are getting. So, I think it's also on the girls because they're encouraging this social culture that we have now."
Teaching girls about self-respect and responsibly choosing images to post online is an important part of the solution.
But, it is just as important to teach boys and men "that girls and women are full human beings, and not here solely for their amusement. It's a multipronged process, and it has to start early," Casper said.
Alicia Saposnik, a mother of two boys, said she has talked about respect for girls and women — and everyone — as well as for their bodies and their privacy since they were little.
"This respect goes for them, too, so they are relatively careful to maintain their own privacy in these matters — private pages, no followers if they don't know who they are, etc.," Saposnik said.
Monitor kids' usage
A handful of parents in an online Facebook chat about Internet safety chimed in with their opinions:
"Parents should know all passwords to kids' electronics/social media sites and check them regularly," said Debbie Germain Dotson.
"I've coupled this thing about respect with a healthy terror of social media," Saposnik said. "For example, I've told them, 'Anything you do or say on Instagram you should be willing to have on a billboard with your name and photo on the corner of Grant and Craycroft.' That worked wonders."
"I'm always monitoring (daughter) Kambria's Instagram," said Kim Godinho, a mother of three. "She seems to be following the rules, but, how can a parent regulate friends sending pics to a website as a nomination? The Internet is a curse and a blessing. But for kids, you really have to keep your eyes open."
"The aftermath is what I would be concerned about," said Harry Pollak, a father of three. "Once the post is deleted, who's to say that info hasn't been copied and posted elsewhere? Social media is a parent's nightmare."