While the outside world focused on politics and the midterm elections on Tuesday night, Tucson chef John Martinez quietly opened Tito & Pep, his midtown neighborhood bistro on East Speedway.
"We really want to be a neighborhood spot. A comfortable spot," he said of the modest space at 4122 E. Speedway that gave birth to Feast and was last home to Zayna Mediterranean. "We want to have ambiance and we want to have our neighbors in and be a really comfortable space."
The restaurant seats 65 at tables and another seven at the bar.
From his kitchen, Martinez grills vegetables, meats and seafood on a mesquite wood-fired grill, imparting a flavor that Martinez says is central to the culinary heart of Tucson.
The subtle flavor of the wood — Martinez said mesquite is part of the culinary terroir of the region — is imparted in the grilled trout perfumed with fresh garlic with a hint of sweet heat from guajillo chile. A tarragon chimichurri complements the grilled salmon while steak skewers are paired with a chipotle tomatillo salsa.
"I have beans and salsa; is it Mexican food? No, not really," said Martinez, whose influences are informed by memories of cooking at his grandmother's side as a kid, working in Tucson kitchens in high school and spending more than 20 years in the culinary stable of nationally celebrated chef Jean-Georges Vongerichten. "I just wanted to make something that resonates with our region and is contemporary with what's going on in other parts of the country."
And in an age where restaurants are more focused on fast-casual in price and concept — assembly-line, pick-your-toppings pizzas, sandwiches and burritos averaging $8 — Tito & Pep is positioning itself as a modest neighborhood bistro.
Entrees run from $14 for the fall vegetable pasole made with root vegetables to $24 for a grilled New York strip steak; appetizers start at $9 for queso fundido and run as high as $16 for the grilled octopus.
Tito & Pep, which takes its name from a story his grandmother made up to tell her sister in the 1920s and '30s, was more than a year in the making.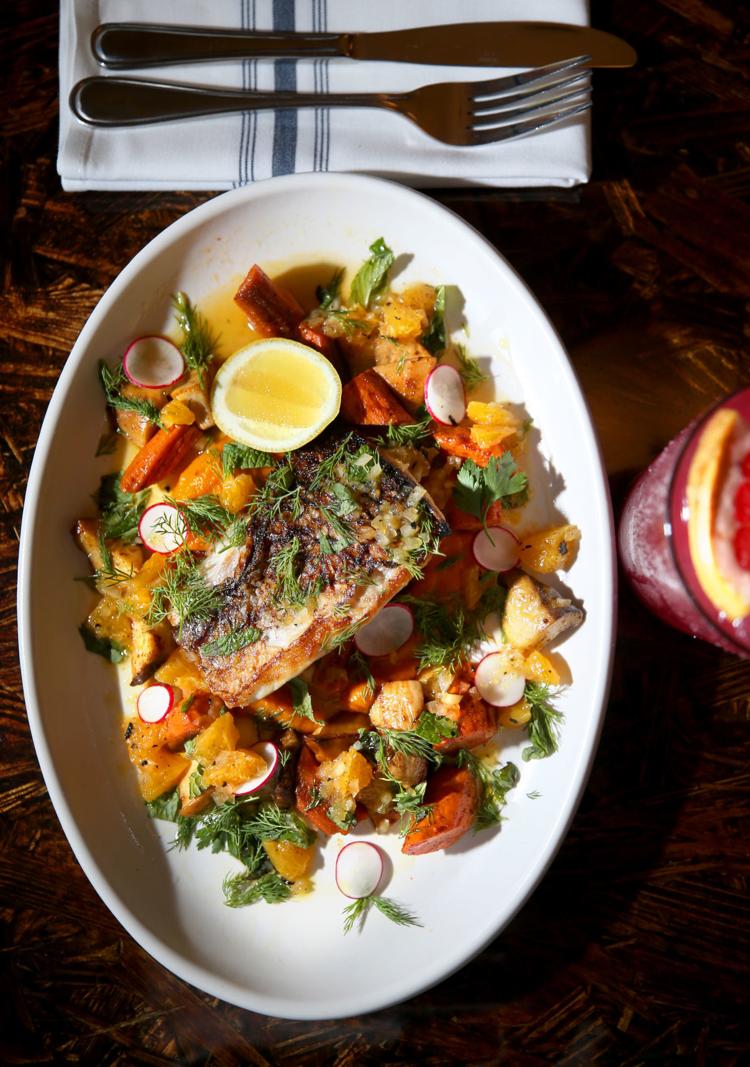 Martinez, who returned home to Tucson from the East Coast in spring 2013, signed the lease for the space months after Zayna relocated to the old Molina's Midway building on East Belvedere Avenue.
It took months to draft his blueprint to build out the space and then do the construction.
Tuesday's quiet opening gave his staff a chance "to get their legs underneath them."
Martinez said that restaurants can be caught off guard when they open by large crowds and he wanted to make sure his staff was ready.
"I don't consider myself to be in the restaurant business; I am in the hospitality business," he said. "When people walk in the door I am welcoming them into my home. If people have a nice place to sit down, they are receiving great hospitality; we want to take care of them."
Tito & Pep is open from 5 p.m. to 11 p.m. Sundays through Thursdays and 5 p.m. to midnight Fridays and Saturdays.
Restaurants that have opened in Tucson in 2018