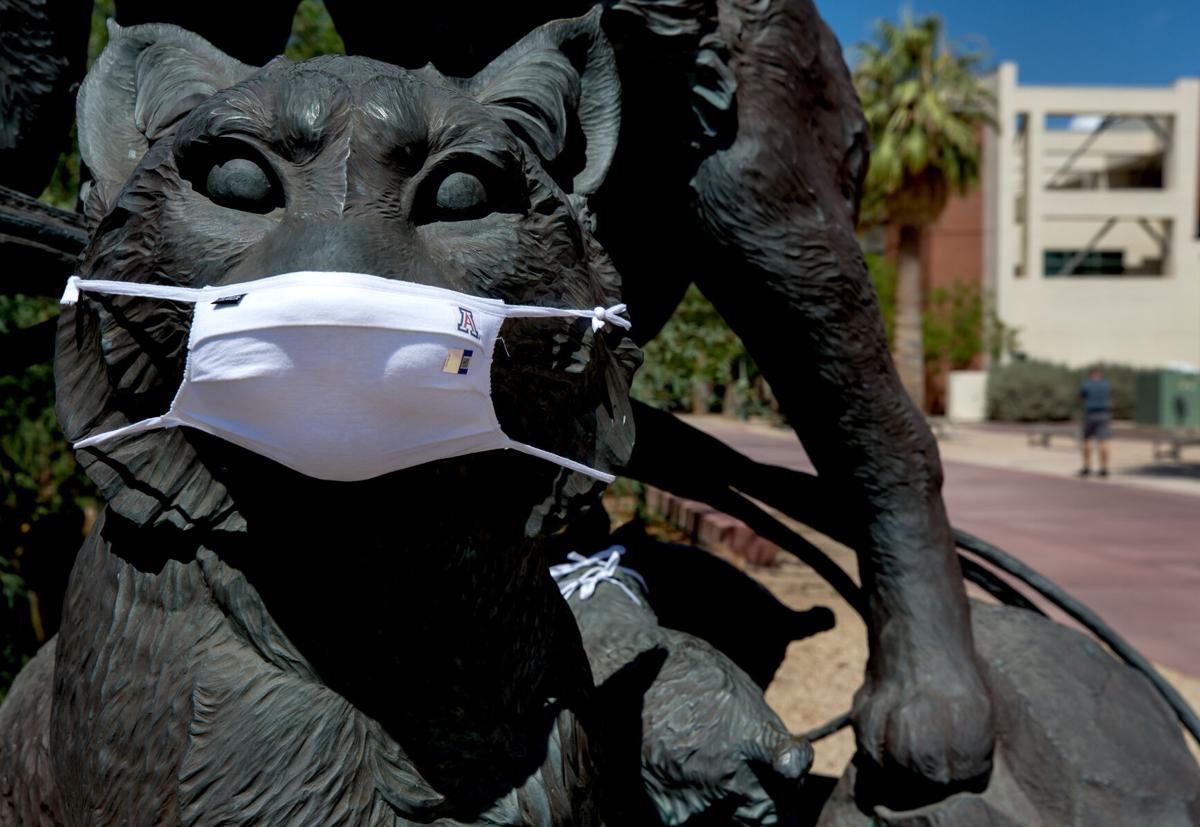 Weeks after Arizona Gov. Doug Ducey said public schools can't require masks or vaccinations, the University of Arizona has a message for the campus community ahead of the fall semester:
"As long as the community is going to allow people to go out and go to bars, I think you're going to see our students doing that. My only request is to get vaccinated. And if you go around other people, cover your face," UA President Robert Robbins, who is also a medical doctor, said at a virtual news conference Monday. "I obviously can't mandate either of those things, but it's just good public health practice."
Classes at the UA are slated to start at full capacity two weeks from Monday in a mostly in-person format, which is far different from the primarily remote learning offered last year.
A few more things have changed since then, too, including the release of an effective COVID-19 vaccine and the UA's ability to require some of the COVID-19 precautions it relied on last year, like testing and mask-wearing.
Ducey's recent executive order has "removed some of the tools that would be effective at mitigating and fighting this virus, so we've got to work within the framework of the laws," said Robbins. Under the order, mandated testing is not allowed either, unless there is an outbreak in a residence hall, though the threshold of cases is not clear. Robbins added that "it would be the best thing" if the UA could require the vaccine and that getting as many people vaccinated as possible is "the simple straightforward answer," to handling the pandemic on campus.
Last week, the UA Faculty Senate sent a letter to Robbins urging him to implement a mask mandate. Then, on Monday the UA chapter of the United Campus Workers of Arizona asked university leadership for that, as well as testing and vaccination requirements.
But as of Monday's news conference, Robbins said the UA has no immediate plans to issue any such mandates on its campus. Instead, it's working with Arizona State University and Northern Arizona University to develop other uniform COVID-19 mitigation policies.
"We're struggling with the balance (between) personal freedom and choice," Robbins said. "I just want to emphasize to think about those choices carefully because they not only affect you, but they affect everyone around you — even people you don't know."
In addition to strongly recommending all students and staff get vaccinated and cover their faces indoors, the UA is also recommending weekly COVID-19 tests, regardless of vaccination status. The UA has also invested in new air filtration systems across campus and will offer voluntary on-campus COVID-19 testing and vaccination sites.
For any student-resident who needs to quarantine after viral exposure, the university has 150 beds in an isolation dorm, as well as access to additional beds throughout Tucson. Robbins added that although in-person learning will be the standard, students and staff who have reservations about returning to an in-person setting can seek special accommodations through the Disability Resource Center.
"We're obviously in a very very difficult situation," Robbins said, emphasizing the fluidity of the situation and the need for flexibility regarding the reopening plan. "I'm convinced it's better for us to give it our best effort to open the university fully in person. I thought that at commencement we'd be in a different place. We're not. We just are not."
Delta variant
That's partly because of a surge in new cases and the proliferation of the Delta variant.
In Pima County, where 49.6% of residents are vaccinated, the number of new COVID-19 cases have been on the rise since July — it climbed by roughly 50% during one week last month. The U.S. Centers for Disease Control and Prevention estimates the majority of those are cases of the Delta variant, which is both highly contagious and the dominant strain across Arizona, Nevada and California.
And while there are cases of fully vaccinated individuals contracting the virus, 97% of people hospitalized with COVID-19 have not been vaccinated, according to previous Arizona Daily Star reporting.
"Over the last couple of weeks, we realized this variant was taking such a strong hold that it was going to be disruptive in our environment," said Dr. Richard Carmona, 17th U.S. Surgeon General and director of the UA's Campus Reentry Task Force.
"One of the most important things we've learned is that we have the tools to be able to stop the transmissibility of this virus if we all work together collectively. We know that masking is effective. We know that hand-washing is effective. When necessary, social distancing adds to that. And vaccinations are the best things we can do."
Two weeks out from campus reopening, approximately 43% of UA students have uploaded their vaccination results to the university's online system. Those who do so are automatically entered for a chance to win prizes like scholarships, parking permits or lunch with Robbins. Incentivizing faculty and staff to get vaccinated, which scores of other colleges and universities have also implemented, is all part of the UA's strategy to reach its ultimate vaccination goal — 85%.
As the leader of a campus where some 38,000 students were enrolled in fall 2020, Robbins said his biggest hope for this school year "is that we can just convince everybody — as part of our community — to get vaccinated and keep their face covered."
Kathryn Palmer covers local government for the Arizona Daily Star. Contact her at kpalmer@tucson.com