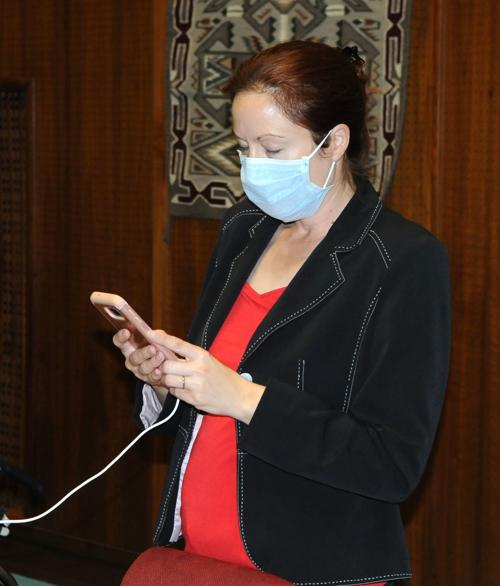 PHOENIX — Efforts to quickly enact an $11.8 billion "baseline" contingency state budget for the coming fiscal year hit a snag Wednesday.
Some Republicans questioned what is, and is not, in the spending plan. And Democrats are holding out for some priorities including relief for people affected by economic fallout from the COVID-19 spread.
The decision by the House to postpone floor debate came as some Democrats accused GOP colleagues of failing to take seriously the threat of COVID-19.
They questioned why House Speaker Rusty Bowers chose to have a vote on a resolution supporting the government of Taiwan if there is a rush to adopt a spending plan and send lawmakers and staff home to get them out of situations where there are large groups and the possibility of contamination.
"My objection is not to Taiwan," said Rep. Jennifer Jermaine, D-Chandler. "It is to bringing this bill forward today."
She said the focus should be on what is happening with the Arizona economy — and what she called the failure of the Republican-controlled Legislature to adopt any measures to help out small businesses and the people who work for them.
"Many of our small business owners only have one month's cushion," Jermaine said. "Many of our workers have only two weeks' of savings. People are coming up on that first missed paycheck, and people are going to become homeless, and businesses are shutting."
Rep. John Allen, R-Scottsdale, was unapologetic about pushing ahead with the Taiwan measure, Senate Concurrent Resolution 1025, already approved by the Senate. He said Taiwan has been an important trade partner with Arizona, and the resolution represents the will of its citizens to remain free of China.
Not all Democrats opposed approval. Rep. Rosanna Gabaldon of Tucson supported the measure, noting it comes as Tucson International Airport is negotiating with the government of Taiwan to promote trade.
But the question of how seriously some are taking the threat of COVID-19 came into sharp focus amid comments by Rep. Travis Grantham, R-Gilbert.
"Not to discount anybody's opinion or concern about what's going on in our country, 0.00000365 percent of the Arizona population is carrying a virus that to many young healthy individuals is no different than a common cold but is dangerous to some of our population," Grantham said. "And those people should be taken care of and should exercise caution."
Those comments were rebutted by Rep. Randy Friese, D-Tucson, who is a physician.
"Mr. Grantham's comments — I think we need to be very aware of the epidemiology of a viral illness," Friese said, adding that the current low rate of infection does not indicate lack of a hazard.
"The slope of that curve may be quite low right now," he said. "But that slope will be changing rapidly and creating an exponential of mathematical curve."
There also was a tweet posted by Rep. Anthony Kern, R-Glendale, of himself and three other Republicans out Tuesday night at a restaurant, poking fun at the order issued earlier that day by Phoenix Mayor Kate Gallego closing down bars and restaurants to prevent spread of the disease. The tweet was complete with hashtags of #resist and #freedomofassembly. Kern later took the tweet down.
The question remains whether there are the votes to adopt a baseline budget and leave.
On the House side, Rep. David Cook, R-Globe, questioned a delay in approving $20 million to construct a bridge across Tonto Creek where three children were swept away last year.
Across the courtyard, Senate President Karen Fann, R-Prescott, does not have a working majority among Republicans, with two staying away during the outbreak. Unlike the House, the Senate is not planning remote voting.
That means Fann needs the cooperation of Senate Minority Leader David Bradley, D-Tucson, to approve a new budget.
Concerned about COVID-19?
Sign up now to get the most recent coronavirus headlines and other important local and national news sent to your email inbox daily.