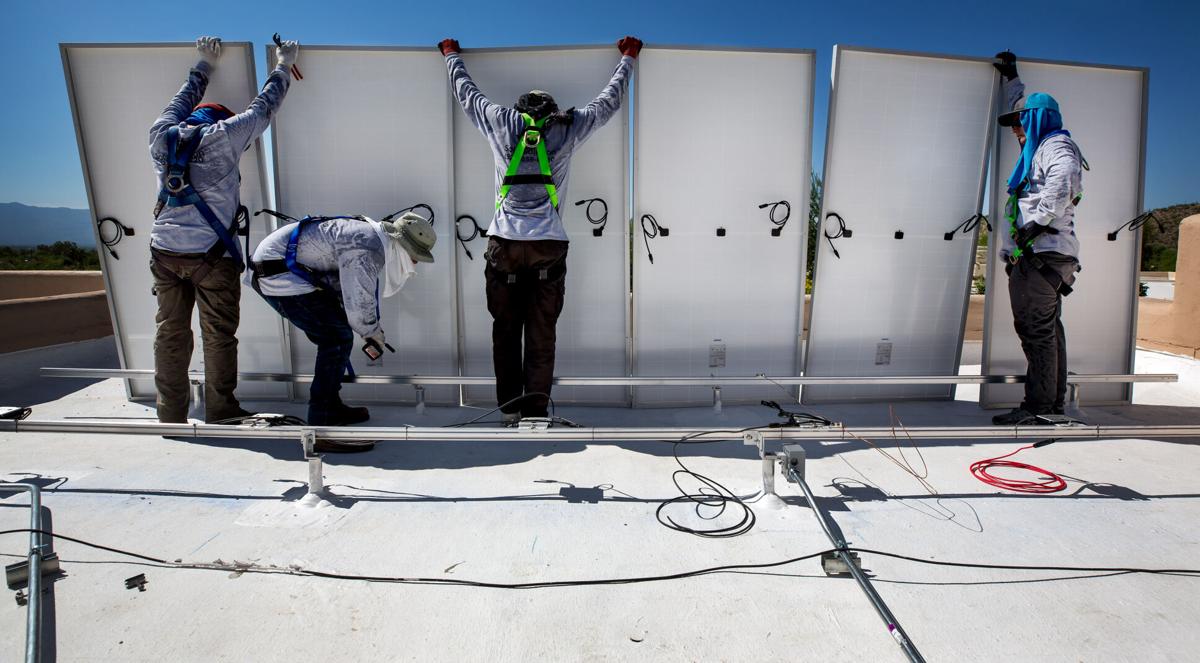 After more than three years of wrangling, Arizona utility regulators have killed a proposal to mandate that state-regulated utilities get 100% of their energy from clean sources by 2050.
The Arizona Corporation Commission late Wednesday failed to pass clean-energy rules approved by the commission in draft form last November, after Republicans successfully amended the rules to remove any mandates and make the standards goals for utilities to strive for instead.
The energy rules — which were supported by environmental and business groups as well as by Tucson Electric Power and other Arizona utilities — failed on a 3-2 vote when Democratic commissioners Sandra Kennedy and Ana Tovar said they could no longer support the rules after they were amended.
The Democrats were joined in opposition by Republican Justin Olson, who had long opposed the draft rules on grounds they would unfairly raise electric rates and had introduced several amendments that would essentially gut the new standards.
With the failure of the new energy rules, Arizona is left with its current renewable-energy standard adopted in 2006, which requires TEP and other power companies to get 15% of their power from renewable sources by 2025 — though TEP and Arizona Public Service already have set much higher corporate goals.
The draft rules rejected Wednesday would have required state-regulated utilities to increase their carbon-free power in annual steps to 100% by 2050, and set new requirements for energy storage and energy efficiency gains for power-generating utilities.
But an amendment offered by Olson and supported by Corporation Commission Chairwoman Lea Márquez Peterson and Republican Jim O'Connor removed the mandates.
Márquez Peterson, a Tucson Republican appointed to the commission in 2019 and elected to a full term last year, had been the swing vote to pass the draft energy rules last November, though she supported removal of a requirement to include rooftop solar in the rules.
Tovar said she was surprised and dismayed that Márquez Peterson seemed to change her position on the rules.
"Maybe you could explain this 360-degree shift from where you were in November?" Tovar asked the chairwoman.
Márquez Peterson said she did not feel she had changed her view and she continued to study the merits of clean-energy mandates, versus goals, along with related issues, as the rules moved forward.
"The accounting and reporting mechanisms we're going to have in place will create those guardrails for the utilities to ultimately achieve the 100% clean energy and (zero) carbon emissions," Márquez Peterson said before the final vote, referring to additional requirements for bidding on energy projects and reporting by utilities that were tacked onto the draft rules.
"I am just appreciative that the utilities are not automatically recovering all these costs on the backs of ratepayers," she said.
Márquez Peterson said she is concerned about the environmental impact of carbon emissions, but as public utility commissioners, "regulating climate change is not what we were put here to do."
She said the Corporation Commission could revisit the rules after examining utility studies on the cost of renewables and other generating resources.
Tovar countered that amendments supported by Peterson had drastically changed the draft rules, and she and Kennedy said they could no longer support them.
Time lost, a look ahead
Kennedy cited the more than three years of workshops, hearings and meetings among stakeholders to come up with the new rules.
"Today we have taken all the hard work that was put into the draft and gutted it," Kennedy said. "Standards drive technology; technology doesn't drive standards. The lowest rates aren't always just and reasonable if you look at the big picture."
Tovar said the commission's retrenchment from the originally proposed rules sends the wrong message at a time when companies are looking to move to the state.
Olson said he was pleased with some of the amendments added to the rules ahead of the final vote, including one requiring studies of the impact of the rules on ratepayers, but he remained concerned about the cost to ratepayers.
He cited studies showing the rules would cost ratepayers about $500 million annually in higher rates by 2035, though other studies cited by the Sierra Club and others have concluded that adding more renewable energy would save ratepayers money in the long run.
Olson also noted that in 2018, Arizona voters overwhelmingly rejected a ballot proposition that would have required state-regulated electric utilities to generate 50% of their power from renewables by 2030.
"They want us to pursue the objective of expanding renewable energy without breaking the bank, without placing an additional burden on the backs of ratepayers," he said, vowing to continue to fight for "keeping rates as low as possible."
But supporters of the draft clean-energy rules — including community groups, environmental organizations, local governments, large and small businesses and faith-based groups — lambasted the commission for killing the proposed standards.
"The failure of the Arizona Corporation Commission to adopt a robust energy rule is a huge setback for clean energy and holding utilities accountable for their climate-harming pollution," said Sandy Bahr, director of the Sierra Club's Grand Canyon Chapter.
Rev. Doug Bland of Arizona Interfaith Power & Light, a faith-based group focused on measures to forestall climate change, said the commission missed an important opportunity to move away from fossil fuels.
"We believe that establishing bold energy rules is one important way we can love our neighbors," Bland said. "Sadly, the Arizona Corporation Commission has not advanced the bold energy rules we had anticipated."
A leader of a nonprofit group supporting energy efficiency lamented the failure of the rules, which would have prompted utilities to adopt enough energy-saving measures by 2030 to offset 35% of their 2020 peak demand, up from an existing 22% requirement.
"Yesterday's decision was a sad day for all Arizonans, and we will pay for it through our wallets," said Ellen Zuckerman, utility program director for the Southwest Energy Efficiency Project. "The Commission failed to advance key consumer protections to eliminate energy waste and give a much needed boost to energy-saving programs that make everyone's bills more affordable."
Meanwhile, the state's major utilities plan to go much farther than the longstanding state renewable energy standards.
TEP has pledged to deliver more than 70% of its energy from solar and wind and cut carbon emissions by 80% by 2035, while APS has a goal of providing 65% carbon-free and 45% renewable energy by 2030, with a goal of 100% carbon-free by 2050. The companies also are adding utility-scale storage.
TEP felt the draft rules were fair and achievable but will press ahead with its own clean-energy plans, company spokesman Joe Barrios said.
"Yesterday's vote will not slow our progress toward achieving the cleaner energy goals we've set for ourselves," Barrios said. "We're certainly willing to continue working with commissioners and staff on updating Arizona's renewable energy standard, which we've already surpassed with energy from our new wind and solar systems."
TEP recently switched online its largest solar resource, the 100-megawatt Wilmot Energy Center just south of Tucson, and plans to bring its 250MW Oso Grande Wind Project in New Mexico online later this month.