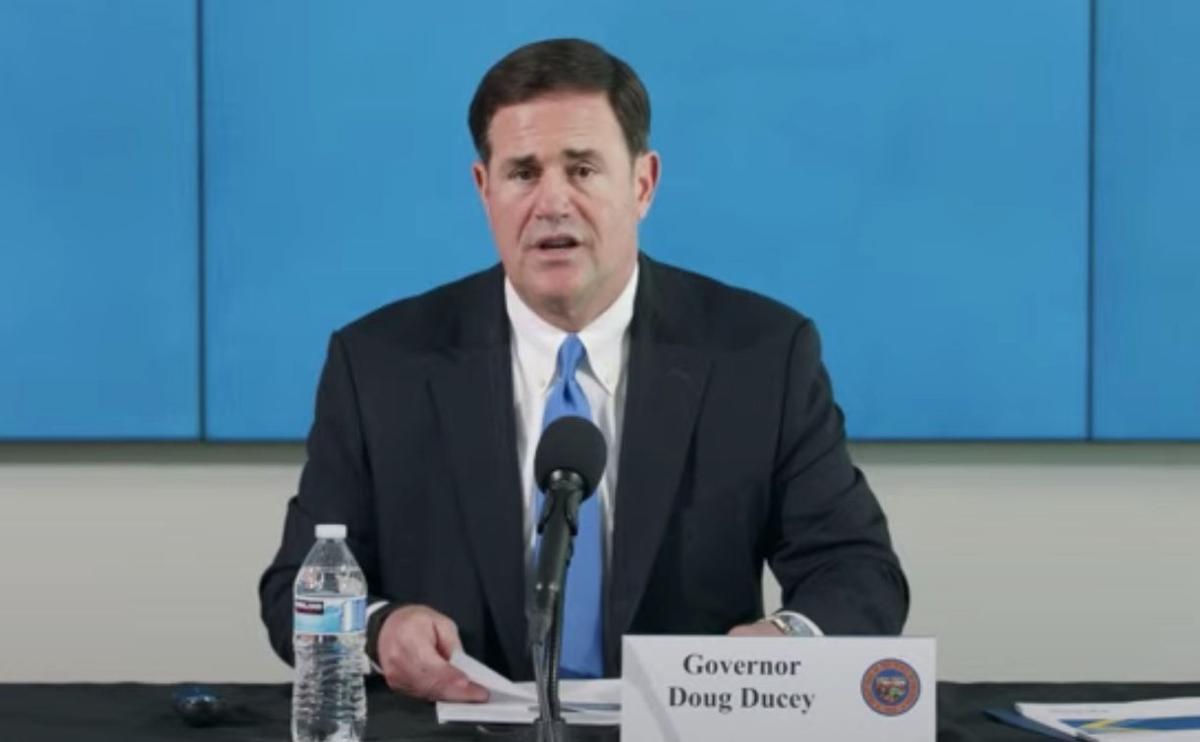 Come Saturday morning, Arizonans will no longer be living under a stay-at-home order.
Gov. Doug Ducey said Tuesday that the state has reached certain milestones suggesting a downward trend in COVID-19 outbreaks, making him comfortable in allowing the order, issued on March 30, to expire on May 16.
Ducey also announced that pools, spas, gyms and fitness centers — those that are public or in hotels and apartment complexes — will be allowed to open Wednesday, May 13.
However, Pima County officials said they will not yet open county-run pools and splash pads.
Ducey also said that beginning Saturday, major league teams are welcome to start playing games in Arizona, but spectators won't be allowed in the stadiums and arenas for now.
One key figure the governor is using to support his decisions is a decline in the percentage of tests for the virus coming back positive. At one point the rate was in the 10% range; the most recent figure is 5%, says the Arizona Department of Health Services.
However, the initial tests performed for months in Arizona were only of people who showed symptoms of COVID-19, at least in part because of limited testing supplies.
In the past few weeks, however, state Health Director Cara Christ has allowed testing of all who think they may have been exposed. By definition, that increases the pool of those tested to include more who are less likely to have the virus.
At his news conference Tuesday afternoon in Phoenix, Ducey reacted angrily to questions about whether relying on those test results was a mistake. "I'm not going to allow you to manipulate the metrics that have been presented,'' he told reporters.
Both Ducey and Christ, when asked Tuesday whether COVID-19 has peaked in Arizona, said they did not know, but that the state will continue to increase testing and to monitor data.
"Arizona is headed in the right direction," Ducey said, adding that the state is also "prepared if things were to turn for the worse."
His stay-at-home order allowed people to go out for "essential" services or work, and the governor has gradually allowed certain other businesses to reopen over the last couple of weeks — with restrictions and safety measures — including stores, salons, barbershops and restaurants.
Ducey acknowledged that not all Arizonans will feel comfortable returning to their pre-pandemic activities.
"I would like them to feel safe by following the decisions that we've made over the course of time to protect public health, to ramp up what was necessary to disperse these large groups, the information that we have that shows the slow of the spread of this disease, and how we, as a state, working together, on each problem in its turn, have solved it,'' Ducey said.
"What an Arizonan decides to do is up to them,'' he added.
The number of new confirmed COVID-19 cases in Arizona reported Tuesday was 356, bringing the total so far to 11,736. There also were 20 deaths reported Tuesday in Arizona; the state's death toll to date is 562.
If more people mingling in public results in an uptick in infections, Ducey said the state is more prepared than it was two months ago. "We know much more," he said. "We know where the vulnerable populations are.''
That category includes those who are 65 and older and with underlying health conditions. Ducey said there will be more testing of residents as well as staff at nursing homes and other assisted-living facilities. And he is not ready to lift his prohibition against outsiders visiting residents living there.
Along the same lines, Ducey had some advice for the most vulnerable.
"The best practice they can have is to stay at home,'' he said. "They should avoid returning to work where distancing is not practical and every precaution should be taken.''
He also praised the Arizona residents who have practiced physical distancing. "Please continue it,'' he said.
For businesses, Ducey advised continued social distancing, protective equipment, temperature checks where necessary and contact tracing.
In allowing pools and gyms to reopen, Ducey issued guidelines calling for physical distancing and enhanced sanitation.
Pima County officials immediately responded that they haven't yet decided when to reopen county-run pools and splash pads.
The Pima County Board of Supervisors will vote Wednesday, May 13 to add a number of protective measures into the county's health codes as businesses reopen.
Earlier this week, the Pima County Health Department issued a list of guidelines for restaurants, pools, gyms, fitness centers, hotels, resorts and attractions, which are intended to protect employees and customers even as the state's stay-at-home order lifts. If adopted, many of the new measures would be enforceable by law for the duration of the pandemic.
"It is important that we understand that the COVID-19 pandemic is not a transitory issue and it will be with us for some time," said County Administrator Chuck Huckelberry in a memo Tuesday.
For restaurants and bars, this means that facilities must limit their indoor occupancy to 50% or lower, keep a minimum of 6 feet between tables and that dine-in services only be allowed if a party calls ahead first, among other things.
For places such as pools, fitness centers and other attractions, the guidelines are similar. Under the proclamation, indoor occupancy at these facilities will also be limited to 50% capacity unless 6-foot physical distancing standards can be achieved with higher occupancy. There must also be proper distancing between any equipment, chairs, tables or desks.
All facilities would also be required to take precautions such as daily wellness and symptoms checks, frequent hand-washing and being equipped with cloth masks and gloves at all times. In addition, all facilities will need to post their cleaning logs online to document the cleaning of public areas.
If the amendment to the county's health code is passed, health inspectors will inspect facilities to ensure they are complying with the new measures. Civil penalties will be issued for those who do not adhere. The first two violations will consist of written warnings and the opportunity to correct the issue. The third and subsequent violations will result in a $500 fine.