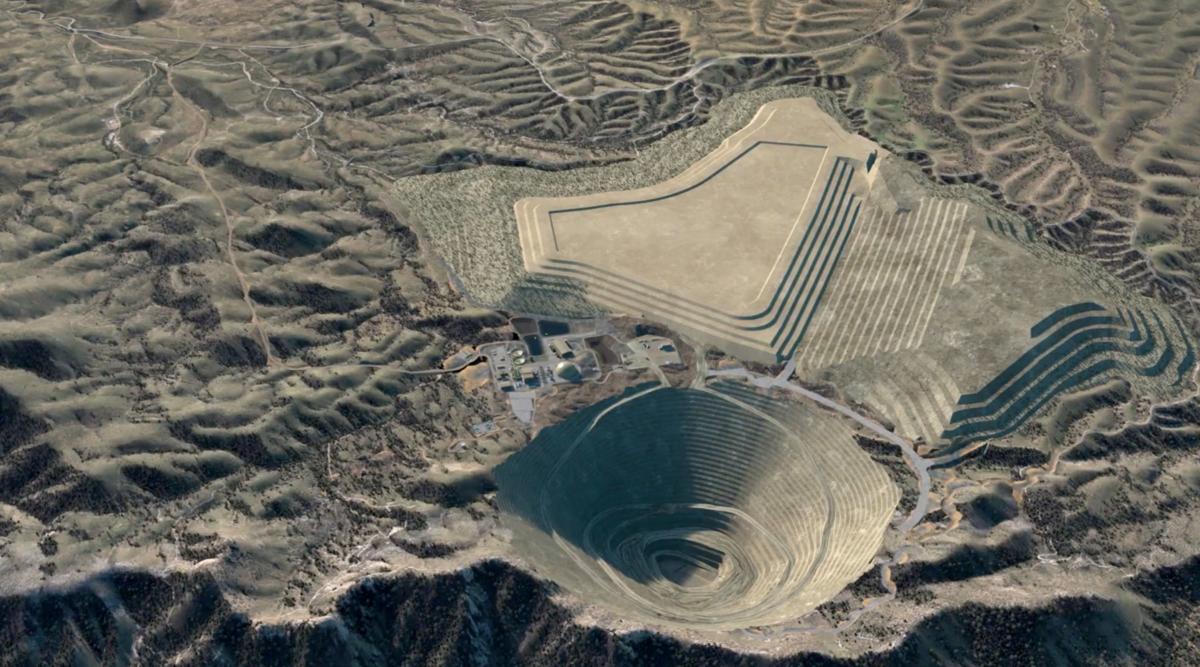 The U.S. government is joining a Canadian mining company in letting the courts know that it will appeal a federal judge's ruling blocking construction of the proposed Rosemont Mine.
The Justice Department filed its formal notice of appeal Monday with the 9th U.S. Circuit Court of Appeals. It's an early step toward challenging a U.S. District Court's ruling that found the Forest Service's approval of the open-pit mine "arbitrary and capricious."
At issue is Toronto-based Hudbay Minerals Inc.'s plan to dispose of 1.9 billion tons of waste rock and mine tailings on Forest Service land in the Santa Rita Mountains southeast of Tucson.
The mine waste disposal is an integral part of the company's proposal to build the country's third largest copper mine at the Rosemont site, lying in the eastern Santa Ritas along Arizona 83.
U.S. District Judge James Soto in Tucson ruled at the end of July that the Forest Service's approval was "inherently flawed" by its failure to establish that Hudbay possessed valid mining claims for the 2,447 acres of public land where it plans to dump its waste rock and tailings.
His ruling came the day before Hudbay had planned to start land-clearing for its $1.9 billion Rosemont construction project.
Under the federal 1872 Mining Law, such claims aren't valid unless the company shows that valuable mineral deposits lie underneath them, Soto ruled. To date, Hudbay hasn't made that showing.
Soto's ruling came in response to separate lawsuits filed by the Tohono O'Odham, Pascua Yaqui and Hopi tribes, and by four environmental groups including the Tucson-based Save the Scenic Santa Ritas and Center for Biological Diversity.
The Justice Department, like Hudbay, made no mention in its appeal notice, filed Dec. 23, as to what legal grounds it will cite to challenge Soto's ruling.
It filed the appeal notice on behalf of the Forest Service, the U.S. Department of Agriculture, the U.S. government in general and several federal officials, including Coronado National Forest Supervisor Kerwin Dewberry and U.S. Agriculture Secretary Sonny Perdue.
Hudbay filed its appeal notice on Dec. 20.
"We don't comment on pending litigation. Our positions on appeal will be stated in any briefs we file during the course of the appeal," said Andrew Smith, a senior Justice Department trial attorney, in an email to the Star on Friday.
Such an appeal notice is a "placeholder" used to indicate the readiness to appeal, in anticipation of a briefing schedule to be set later by the 9th Circuit, said Glenn McCormick, a spokesman for the U.S. Attorney's Office in Phoenix.
"It's our responsibility to lay out the government position in our brief. It's not something we're going to put in a press release up front," McCormick said. "We have to write the brief and research the law and there's a lot involved in that."
Hudbay officials have repeatedly said, as they did in filing their appeal notice, that Soto's decision "misapplied mining laws and regulations that have been in place for decades to authorize and even encourage mining activities on public lands." They haven't elaborated on that point.
Environmentalists have expressed confidence that what they call Soto's "well-reasoned" decision will be upheld on appeal.
Originally, the environmental groups and tribes sued on a wide range of issues, including the potential for serious damage to tribal cultural resources, for depletion of groundwater supplies and pollution of surface water, and for significant impacts to the jaguar and other endangered and threatened species.
So far, Soto has ruled only on the mining claims issue and given no indication as to when or whether he'll rule on the other issues at stake in the lawsuits. One of the suits challenged the Army Corps of Engineers' approval in March of a federal Clean Water Act permit for the mine, but the Corps has since suspended that permit because of Soto's ruling.