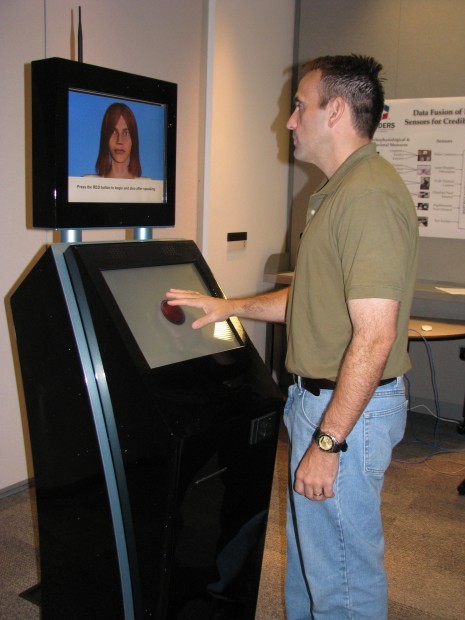 The avatar kiosk is being designed for use at border ports and airports to help Customs officers detect people who are lying. The kiosk features an artificial intelligent agent embedded in an avatar that questions people while a battery of instruments unobtrusively measures your pulse, blood pressure, blink rate and retinal response.
Researchers have already investigated more than 300 psychopysiological and behavioral cues ranging from vocalic, linguitistic and kinesic to cardioresiratory, eye behavior, and facial skin temperatur. They are hoping to conduct field tests at airports and ports within a year, said program manager Riley McIsaac.
On Sept. 28-29, they'll be presenting the kiosk to Frontex, which is the European Union's equivalent of Homeland Security. The center has been developing international partnerships to gauge how other countries handle border and immigration issues, McIsaac said. A representative from Frontex invited Center officials to Poland to share the technology.
The Center opened its UA headquarters in late 2008. The UA and co-partner University of Texas El Paso lead a consortium of 14 research universities who are taking part in the center under a six-year, $16 million grant from the Department of Homeland Security. The goal is to research and develop new technologies and tools to balance  immigration and commerce with effective border security.
Here is a story my colleague, Tom Beal, wrote last year about the avatar kiosks:
And here is a story I wrote when the Center opened in 2008:
Get local news delivered to your inbox!
Subscribe to our Daily Headlines newsletter.