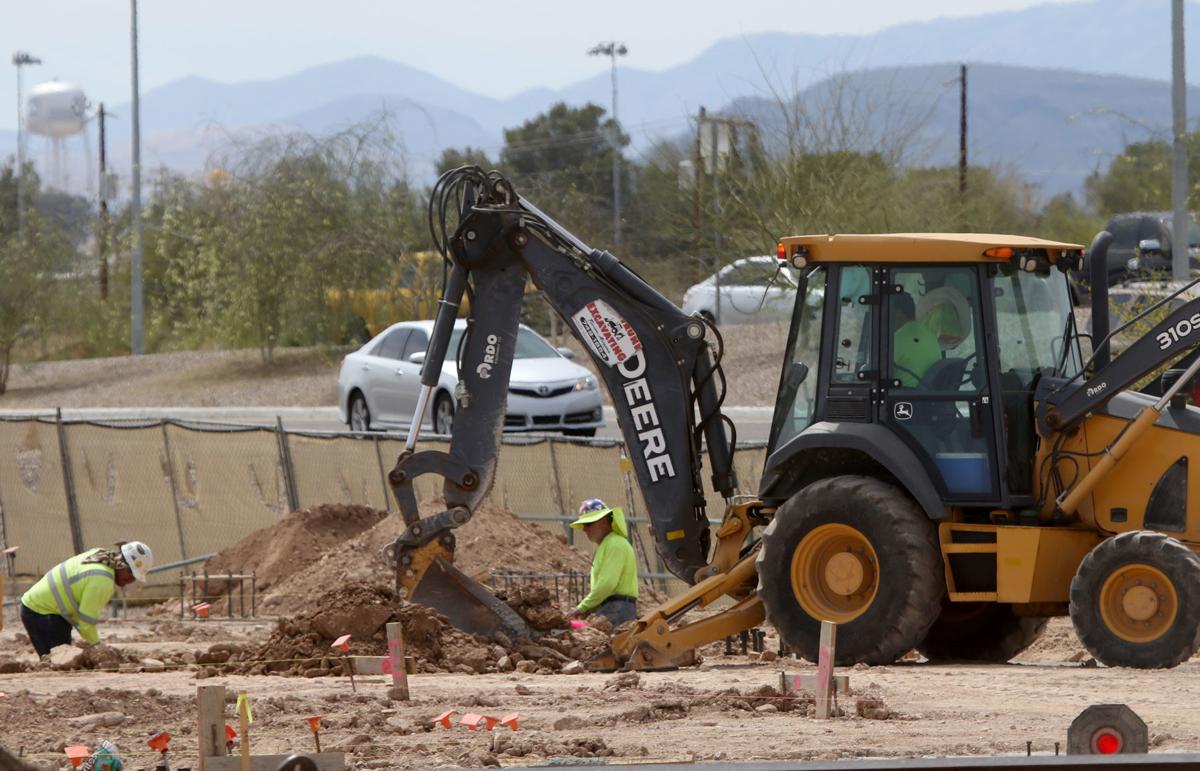 Thousands of construction projects across Arizona have faced potential delays in recent months because telecom provider CenturyLink has fallen behind in marking its underground phone lines.
The Arizona Corporation Commission recently ordered CenturyLink to clear up a backlog of thousands of line-location requests that piled up after the Louisiana-based company changed locator service contractors in April.
By May, CenturyLink had a backlog of some 32,000 requests to locate and mark its underground equipment as required under Arizona's "blue-stake" laws. The requests are handled through Arizona 811, a Tempe-based nonprofit.
That prompted the commission to call the company to an open meeting in mid-June to explain itself, after it missed a self-imposed June 8 deadline to catch up.
The company had more than 11,000 locator "tickets," or line location requests, outstanding in early July.
But after adding staff, it winnowed that down to 3,900 by mid-July, according to status reports filed with the commission.
Long delays also have been reported in other CenturyLink markets, including Minnesota, where as of early July more than 68,000 blue-stake requests were delayed, according to a construction industry group.
CenturyLink says it's working diligently to relieve the backlog.
Catching up
The company provides landline phone, internet and other telecom services across much of Arizona as successor to the state's legacy phone carrier, Qwest Communications.
"CenturyLink has taken multiple steps to address this issue, including training a large number of our technicians to do locates and assigning technicians to specifically address the backlog, and our vendor has hired additional employees," CenturyLink Arizona spokesman Mark Molzen said in an email.
"We are working as quickly as possible to address the current backlog."
The company expects to meet the Aug. 2 deadline to clear up its backlog of blue-stake tickets, Molzen said.
Besides excavators and other contractors who dig, the issue may affect homeowners or anyone requesting utility line marking through Arizona 811.
Utilities are required by state law to mark their lines within two business days after a request is filed with Arizona 811.
Though figures on construction delays caused by blue-stake issues are not available, each delayed location request represents a potentially costly delay on a construction project.
Bryan Johnson, manager of Desert Earth Contracting in Tucson, said he waited about a week and a half for CenturyLink to mark its lines on an excavation job in early July.
Johnson said since contractors can't start digging until all utility lines are marked, delays in marking can hold up a whole project and unnecessarily add costs.
"I've got guys standing by, I'm paying for a crew, so you don't like to wait," said Johnson, who has 40 years in the business. "They'll be there waiting and that's after calling them the day before and saying 'we're going to be out there tomorrow,' and the ticket was due a week and a half ago."
Locators working to mark CenturyLink lines have told his crews they are overloaded with daily job tickets, he added.
"I don't blame the locators, I blame the management" Johnson said. "The locators get so many tickets they can't do it all in a day's time."
Called to carpet
The matter came to head at the commission in June, after member Sandra Kennedy, a Phoenix Democrat, cited the backlog of 32,000 location tickets and asked for formal proceedings to investigate the line-location delays and potentially penalize the company.
During its July 10 open meeting, the commission ordered CenturyLink to clear up the backlog by Aug. 2.
Under state law, the company could face penalties of up to $5,000 per violation and be liable for all damages caused because a line was not properly located and marked.
Seven national construction industry trade associations filed a letter with the commission July 9, detailing delays with CenturyLink's blue-stake requests and the huge backlog in Minnesota, where it said 10,000 blue-stake tickets went "completely unanswered."
The letter said that earlier this year, CenturyLink changed its locator services contractor in several states including Minnesota, Arizona, North Carolina, Indiana, Ohio and Wisconsin, all coinciding with the start of "dig season."
CenturyLink's locators receive inadequate training and are often saddled with an overwhelming number of tickets daily, the construction groups said.
"We encourage you to ensure that facility operators in your state are meeting their locating and marking responsibilities, and if they are not, that you take enforcement action in accordance with state law," said the letter from trade groups including Associated General Contractors of America, the American Pipeline Contractors Association and the National Utility Contractors Association.
In her letter, Kennedy said the agency's Safety Division "has commenced assessing fines for noncompliance" against CenturyLink, but no proposed penalties have been filed.
The utility panel could address the matter at its next open meeting, scheduled for Aug. 6-7, though an agenda for the meeting has not yet been posted.
Labor, resource issues
Sandra Holmes, executive director of Arizona 811, said CenturyLink's problems seem to stem from the management decision to switch location contractors with no local input.
Things such as the availability of labor vary across markets, she noted.
Arizona 811 doesn't have complete numbers on the timing and number of blue-stake requests filed, since utilities aren't required to report the resolution of each ticket, she said, but the numbers CenturyLink has provided the Corporation Commission seem to jibe with what she's observed.
Holmes said contractors have been working with CenturyLink to help resolve the delays, and local utility officials are trying to catch up.
"I believe the local CenturyLink people have been doing their best to resolve it, they've been requesting information, they've been going to every meeting they possibly they can, to address it straight on," Holmes said. "It's apparent that they're having a difficult time getting to 100%, but it has definitely improved based on the numbers they provided."
Holmes, who has been with Arizona 811 and its predecessor organization, Arizona Blue Stake, for more than 30 years, said significant ticket backlogs have occurred from time to time in the past but she wasn't sure if the latest issue with CenturyLink is any worse.
Arizona 811's board is comprised solely of utility and municipal officials, including a CenturyLink representative.
A blue-stake expert with Associated General Contractors of America said CenturyLink has been lax in its processing of line-location requests for years.
"It's fairly systemic, from what we see and what we hear from our members," said Allen Gray, director of AGC's utilities infrastructure division.
"They don't seem to have the resources, or put the resources, into their locating system to handle the load."
He said the reported delays with CenturyLink's line-locating systems for the most part have been limited to days, not weeks, but any delay can be costly to contractors.
"Even one day is a lot on a construction site," Gray said, "especially when you've put all the equipment, manpower and road closures, if that has to be done, to get ready."