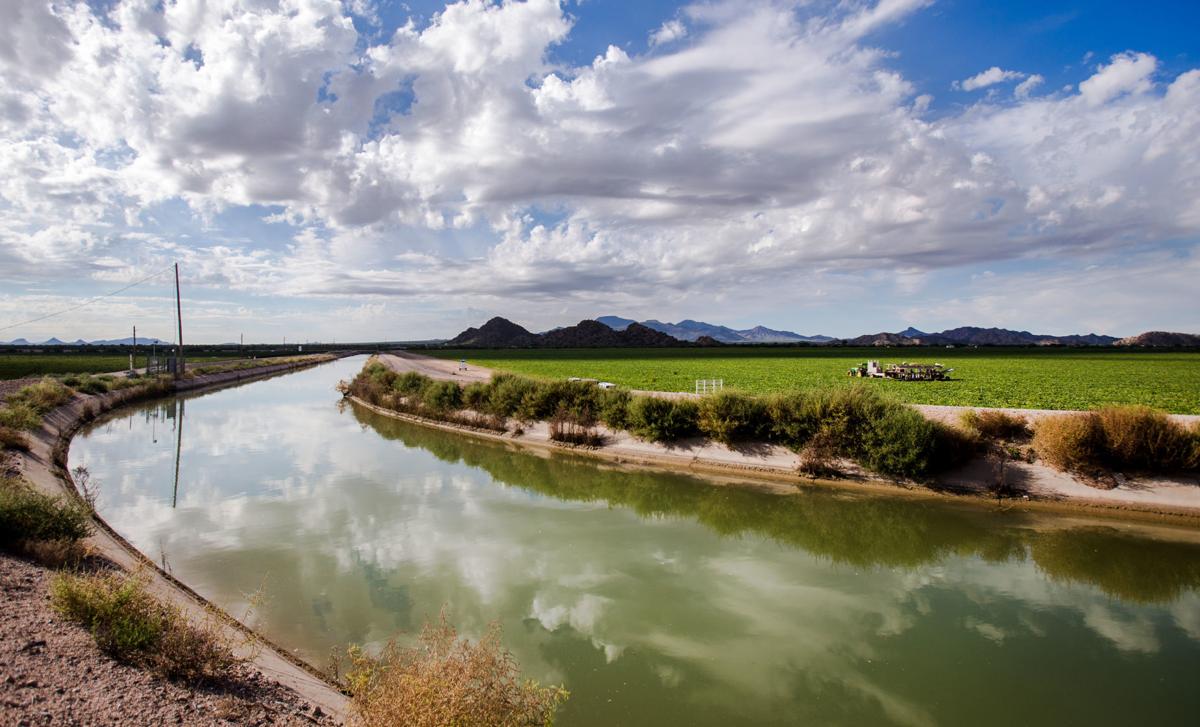 A $135 million plan to keep Lake Mead from falling too low appears headed to the Arizona Legislature after getting unanimous support from the board governing the Central Arizona Project, which gets its water from the lake.
The CAP board's vote last week caps five months of intense politicking over the plan, which was many times in serious jeopardy. In the last few weeks, oft-squabbling interest groups and agencies finally began to coalesce around basic principles for a plan.
As a sign of how much the debate has calmed, CAP's board endorsed a plan introduced only a week earlier by the head of the Arizona Department of Water Resources, with which CAP was at war a year ago. CAP board members also dropped plans to push four amendments to the state's proposal that were unpopular with other water users. The board did, however, condition that approval on making sure that developers and farmers achieve "certainty" about their access to water supplies that would compensate for the plan's proposed cutbacks in CAP deliveries.
The drought-contingency plan would leave one-third to one-half of the CAP's annual supply in Lake Mead from 2020 through 2026, without causing immediate, major economic disruption.
This bit of hydrologic alchemy would be accomplished by replacing some water supplies that would be cut with "mitigation" supplies from other sources. To make the drought plan even more complex, some of those mitigation sources are also controversial, which has forced planners to find still more sources to offset their environmental impacts.
The plan has gained strong support from a U.S. Bureau of Reclamation official, Leslie Meyers. She runs the bureau's Phoenix office and sits on the 40-member steering committee representing water interests that is reviewing this plan.
More importantly, U.S. Reclamation Commissioner Brenda Burman is pleased with Arizona's progress and believes the state has met her goal of producing a plan by the end of this year, Meyers said. "While it's probably not perfect, it's close. It's good," Meyers said.
It's questionable at best whether the plan can be finalized by the end of the year, since everyone agrees that unsettled issues raised by the plan still need discussion. But the blueprint approved by the CAP board almost certainly will be the guts of whatever plan is approved.
The plan got the high sign last week from most major interest groups, including cities, developers, tribes and conservationists.
The lone holdouts are Pinal County farmers. That's largely because no federal money has been allocated to keep them afloat by replacing their CAP water with well water.
The plan would spend $30 million to $35 million in federal funds to pay for new wells and other infrastructure for farmers to transition to groundwater pumping in 2023, after most CAP deliveries to them are halted.
Until there is assured federal funding, the four Pinal County irrigation districts that take CAP water can't support the plan, their lobbyist, Paul Orme, has said. Orme also noted pointedly that even with the mitigation water the farms will get, he expects the cuts will require fallowing 40 percent of farmland inside the districts.
At the same time, rumblings of discontent have surfaced among some Democratic legislators about the prospect of major federal funding for groundwater pumping for agriculture, which is widely viewed by many environmentalists and researchers as unsustainable.
State Reps. Rosanna Gabaldon and Kirsten Engel, Tucson Democrats on the steering committee, said farms should become more water-efficient to avoid what Engel calls "unmitigated" groundwater pumping.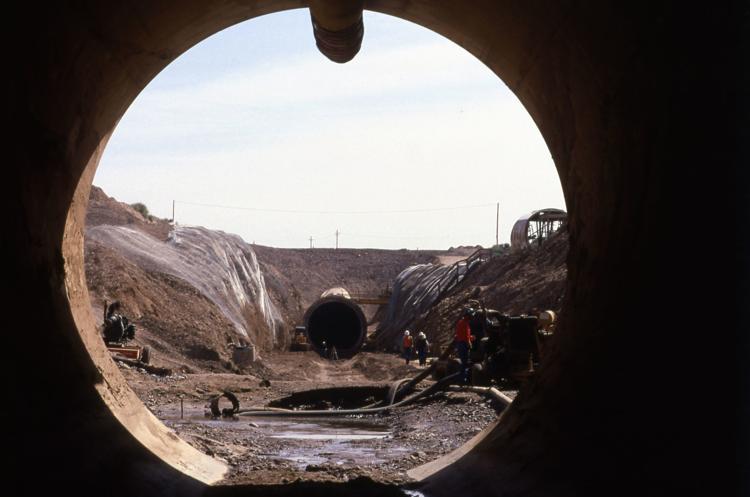 They and others involved in the drought-plan debate are well aware that the CAP was first approved in 1968 in part to get the farms off groundwater. Orme replies that Pinal farmers are already 85 to 90 percent as efficient as possible, adding, "We will continue to look at technological options and cropping options" to use less water.
But the legislators don't want to derail the drought plan; they want these issues addressed once the plan becomes final.
That position makes sense, given comments made by Tom Buschatzke, the Arizona Department of Water Resources director. He said the plan's provisions fit together in a way that "if one or two start unraveling, the whole thing potentially could unravel."
Making the plan's impacts equitable among all water users was negotiated over a very long period, Buschatzke said. "That's one of the strengths of the plan, that it does create that fair and equitable outcome," he said.
Gila River Indian Community Gov. Stephen Ray Lewis agreed, telling the CAP board the plan is a very delicate compromise. Any substantial change "could be fatal," he said.
Gradual squeeze play
As conceived, the drought plan is a gradual squeeze play on farmers and a group of Indian tribes and Phoenix-area cities.
The plan would kick in as soon as Lake Mead drops below 1,075 feet at the end of any year, which will trigger a federal declaration of the Colorado River's first shortage. Federal officials predict a 57 percent chance of that in 2020.
Depending on how full the Colorado runs, Pinal farmers will get a total of 538,000 to 621,000 acre-feet from 2020 through 2026. A separate pool of CAP water serving Phoenix-area cities, the Gila River Indian Community and the Tohono O'Odham tribe will get 524,000 to 543,000 acre-feet. These pools will dwindle over time, and neither pool gets any CAP water by 2026.
These totals are significantly less than those users would have received under guidelines approved in 2007 by the seven Colorado River basin states for divvying up shortages. But they're significantly more than they would have received under earlier versions of the drought contingency plan.
To get this water to the farms and other users while still leaving lots of water behind in Lake Mead, the plan would bring in mitigation water supplies from a half-dozen sources. The plan ends up being Mead-neutral.
The main sources of these supplies are two tribes that control Arizona's largest shares of river water: the Gila River tribe and the Colorado River Indian Tribes. Both would be compensated: $60 million to the Gilas and $30 million for the Colorado River tribes.
Competing interests
Farmers had vowed to block the original drought plan in the Legislature because it would have totally cut off their CAP water. The Gila tribe opposed later versions that didn't compensate for cuts to tribes and cities.
Cities opposed some versions that called on them to voluntarily waive some of their CAP water rights to keep farmers in business.
Developers had opposed versions that offered no CAP water for future suburban growth, water that until now has been funneled through a Groundwater Replenishment District run by the CAP management.
That was taken care of at the last minute, when the Gila River tribe agreed to lease to that replenishment district 33,000 acre-feet of tribal CAP water for 25 years to serve some of that growth.
Homebuilders are pleased with that, but what they really want is for the entire drought plan "to be signed, sealed and delivered, end of discussion, and it's not," said Spencer Kamps, a homebuilders' lobbyist.
"We don't want to be put into the position where my industry has to rely on the Legislature. I would never ask our corporate offices to make any investment action based on the Legislature. Any type of uncertainty just condemns us," said Kamps, representing the Home Builders Association of Central Arizona.
As for the Pinal farms, lobbyist Orme notes that so far, the only pots of money that have been formally discussed for the well drilling were $5 million that farms would put up and $7 million from a state-run tax on agricultural pumping.
"The only identified sources so far are essentially our own money. That's not acceptable," Orme said.
The Bureau of Reclamation's Meyers said she can't guarantee federal money, but is optimistic it will come through.
"I can say that implementation of the (drought contingency plan) is a huge priority of the interior secretary," Meyers said. "I don't have assurances, but I do have support from our administration."