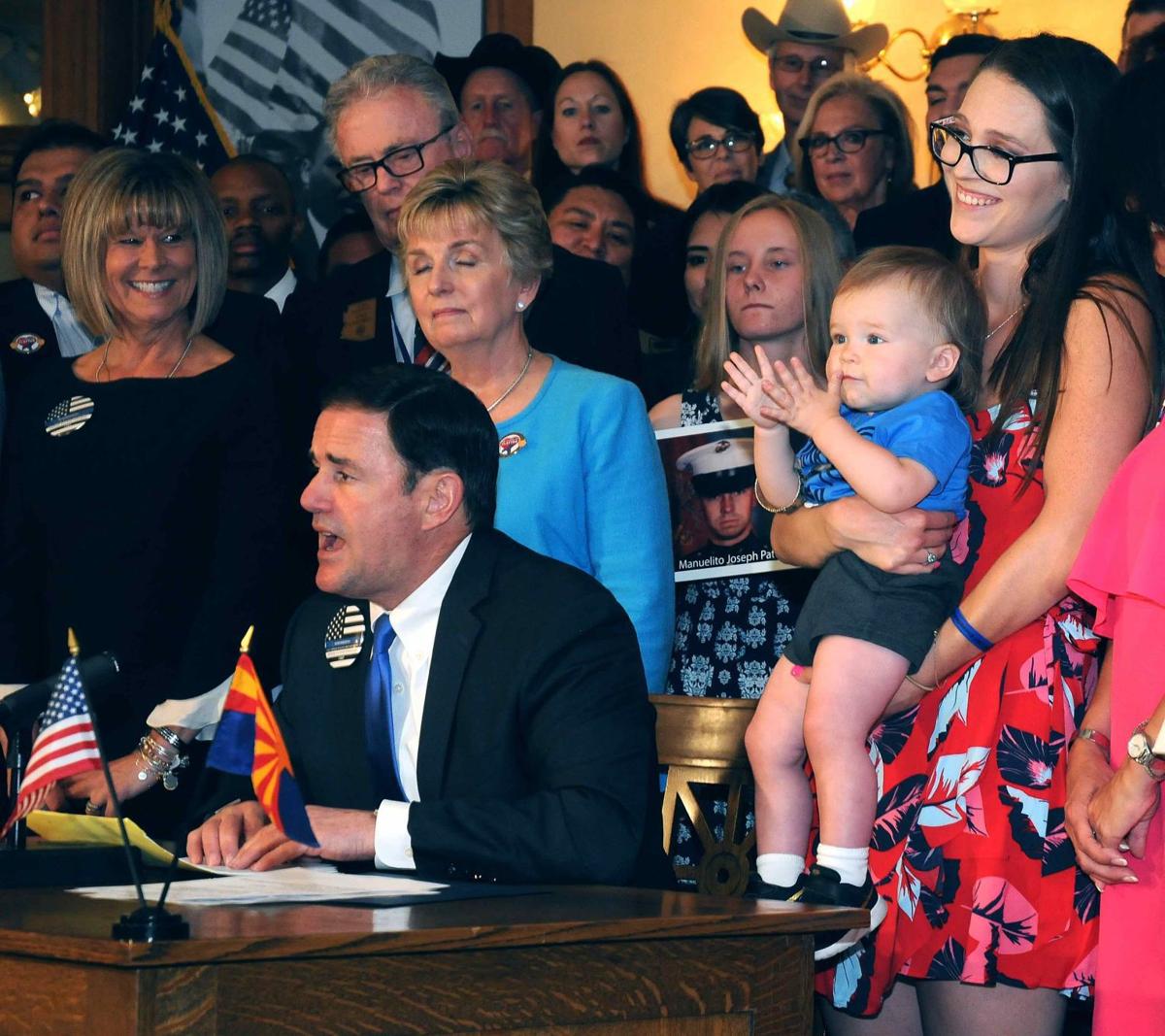 PHOENIX — Saying it could confuse the issue for motorists, Gov. Doug Ducey on Friday vetoed legislation to create a new offense of distracted driving.
In a message to lawmakers, the governor pointed out that he signed a different measure earlier this week that prohibits the use of hand-held electronic devices for calling, texting, watching videos and other activities.
"The hands-free mobile device policy is narrowly tailored to a specific behavior — using our mobile devices while driving," Ducey wrote.
Technically speaking, nothing in the bill, SB 1141, the governor vetoed would have overridden or affected the ability of police to enforce that law. But Ducey said he feared having two new laws on the same subject would muddy the issue.
"I am concerned that SB 1141 does not give drivers clear direction about what activities are prohibited and how the law will be enforced," he wrote.
The governor, however, said he was not closing the door forever on the idea of a broad law to deal with inattention by motorists.
"I want to continue the conversation around traffic safety," he said. "And I remain open to future legislation that addresses distracted driving."
The veto is an apparent about-face for the governor, at least as far as this approach to dealing with the problem.
In January, in the wake of the death of a Salt River police officer killed by a texting motorist, the governor noted that there was "talk of a bill last year of distracted driving."
"Had that gotten to my desk, I would have signed it," Ducey said at the time. "I want to make sure that we prevent and avoid this type of tragedy in the future."
And Sen. J.D. Mesnard, R-Chandler, who crafted the vetoed measure, said what the governor said in his Friday veto "is different than what his office had previously told me about my bill."
Gubernatorial press aide Patrick Ptak denied that Ducey committed to signing any specific legislation.
"We reviewed this bill in relation to the hands-free law signed on Monday and had concerns," Ptak said.
Mesnard said his approach was a preferable way of dealing with the fact that people with phones in their hands — as well as food, makeup and anything else — are hazards. And it was also far simpler than HB 2318, the measure Ducey signed Monday.
In essence, it created a two part-test.
The first said that people cannot engage "in any activity that is not related to the actual driving of the motor vehicle in a manner that visibly interferes with safety."
But even that would not be enough to stop a motorist. That could occur only if the vehicle is being driven "in a manner that is an immediate hazard to a person or property" or the driver does not "exercise reasonable control" to avoid hitting someone or something.
It is those conditions that likely are behind Ducey's concerns about the mixed message.
What approval of SB 1141 would have meant is that drivers could still be texting chatting on a hand-held phone and not fear being stopped as long as they maintained control of the vehicle. And Ducey, in his veto message, made it clear that he believes the simple act of using a cell phone, by itself, creates a hazard.
"Data shows that prohibiting this behavior saves lives," the governor wrote in his veto message.
While HB 2318 takes effect immediately, it is not really enforceable: Police can issue only warnings until 2021. And there are exceptions for using hands-free devices to talk or text.
Mesnard, for his part, has maintained that it's wrong to focus on just one type of distraction. And he said the state Department of Public Safety has estimated that only about a quarter of distracted driving incidents are due to cell phone use.
"That's why I introduced a distracted driving bill," Mesnard said.
The veto comes as Ducey and Mesnard have been squabbling publicly for months about whether the state should be able to collect and keep an extra $150 million from Arizona taxpayers because of changes in federal tax law.
So does Mesnard believe this veto is payback?
"I would hope not," he said. "But I'll let others speculate on that."
Get local news delivered to your inbox!
Subscribe to our Daily Headlines newsletter.