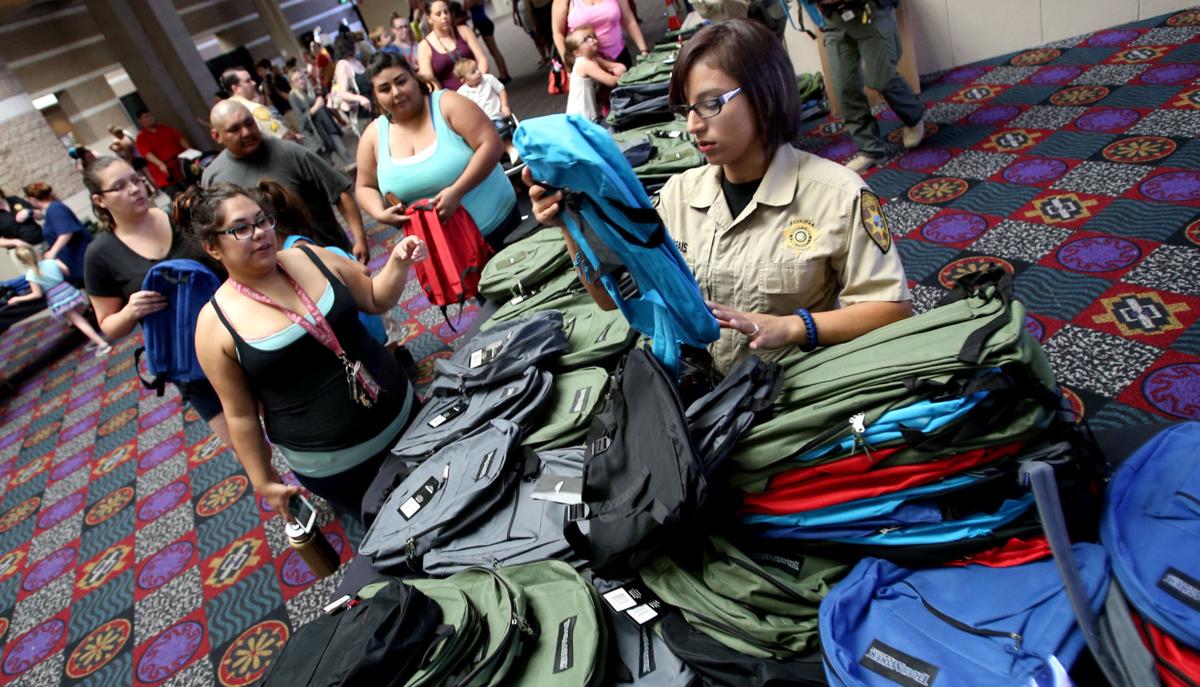 The Pima County Sheriff's Department will hand out backpacks and school supplies to help families prepare for the upcoming school year.
The modified Badges and Backpacks event will allow families to drive up or use a walk-up station, following coronavirus social distancing and safety guidelines.
School-age children must be present to pick up a backpack and supplies. Pick up is from 8 to 10 a.m. while supplies last at the following events:
Aug. 1 at Flowing Wells High School, 3725 N. Flowing Wells Road
Aug. 2 at Sunnyside High School, 1725 E. Bilby Road
Aug. 8 at Cienega High School, 12775 E. Mary Ann Cleveland Way
Aug. 9 at Rincon High School, 421 N. Arcadia Ave.
Banner Aetna donated $13,000 in backpacks and school supplies for the event. Other sponsors are TEP, iHeartRadio, United Healthcare and El Rio.
Tucson teens recognized for anti-tobacco advocacy work
Four Tucson-area teens gained national recognition for their advocacy work to end tobacco use.
Fifteen-year-old Esther Chibasa, 18-year-old Steven Saldana, 17-year-old Nasikah Ahmed and 16-year-old Illiana Islas were among 10 in the state who were chosen as National Youth and Young Adult Ambassadors by the Campaign for Tobacco-Free Kids.
The teens participated in the campaign's Digital Advocacy Symposium, a five-day online training session focused on building advocacy, communications and leadership skills, along with 133 teens nationwide, a news release said.
The teens will continue working with Campaign for Tobacco-Free Kids to advocate for policies to reduce youth tobacco use, including ending the sale of all flavored tobacco products.
"Young people are critical voices in the fight against tobacco because they speak from experience about how they are targeted by the tobacco industry," said campaign President Matthew L. Myers.
"Policymakers should listen and support strong policies to protect our kids, including a prohibition on all flavored tobacco products."
Basis student named National Merit scholar
A Tucson teen has been named a winner of a National Merit corporate-sponsored scholarship.
Madeleine P. Zaritsky of BASIS Tucson North earned the National Merit National Distillers Distributors Foundation Scholarship.
Corporate sponsors generally provide National Merit scholarships for finalists who are children of their employees, residents of communities the company serves, or have plans to pursue majors or careers the grantor wishes to encourage.
Winners are the candidates judged to have the strongest combination of academic skills and achievements, extracurricular accomplishments, and potential for success in rigorous college studies.
The National Merit Scholarship Program 2020 distributed about $30 million in scholarships to 7,600 high school seniors for college.
Cox offers free, low-cost internet for remote learning
Cox is offering two months of free internet for qualifying families.
New customers who have at least one K-12 student and who participate in a government subsidy program can receive the company's low-cost internet free for two months if they sign up between July 21 and Sept. 30.
The service also includes free technical support and costs $9.95 monthly after the free period.
"Distance learning is the new normal, and we're focused on removing barriers so all kids can advance in this environment," said Lisa Lovallo, market vice president of Cox Southern Arizona. "The internet levels the playing field, and there are kids that need us now more than ever."
To apply go to cox.com/c2c.
Contact reporter Danyelle Khmara at dkhmara@tucson.com or 573-4223. On Twitter: @DanyelleKhmara
Get local news delivered to your inbox!
Subscribe to our Daily Headlines newsletter.