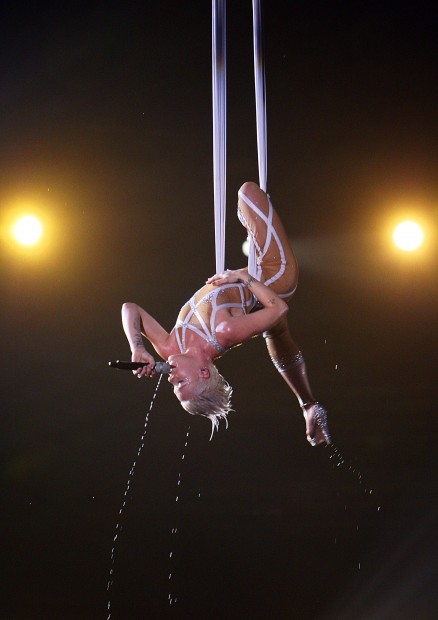 Think of engineering and the first image that pops into your mind probably isn't the acrobatic pop star Pink, singing while suspended above the audience from a silky trapeze at this year's Grammy awards.
Pink and many other rock stars, Broadway actors and, in particular, the performers of Cirque du Soleil, need engineers and computer programmers to help them wow audiences and to assure their safety.
University of Arizona engineering graduate Phillip Toussaint spends his days and some long nights in front of a computer screen, writing code, but he also gets to see the results of that hard work extravagantly performed on stage.
Toussaint, 24, who majored in computer engineering and minored in theater arts at UA, scored a job before he left school with Stage Technologies, a Las Vegas firm that builds and programs machines that operate the equipment for Cirque du Soleil and a host of other entertainment events across the globe.
Toussaint helped write the computer code for Cirque's "Viva Elvis" production and for Pink's "Funhouse Summer Carnival Tour" through Europe this summer.
The demand for engineers in entertainment led the UA's School of Theatre, Film and Television to join with the Department of Electrical and Computer Engineering four years ago to create a class in Advanced Motion Control - where engineers and theater majors get together and put on a show.
Theatrical productions demand more these days, said Peter Beudert, head of the school's division of design and technology.
When he was in college in the 1970s, "A Chorus Line" opened on Broadway.
Its elaborate production was considered state-of-the art. "It moved its scenery around by putting people inside the various pieces," he said.
"Nowadays you just don't imagine doing anything without very complex, computer-controlled equipment. It's not human-operated; it's human-supervised.
"Every production demands something really unique. It has to be imagined, made reliable and safe. It really has to work, and that requires a diverse set of skills." All of that, he said, "is difficult to learn within the constraints of a theater-only program."
Technicians, including electrical engineers and computer programmers, outnumber performers nearly two-to-one at his Las Vegas show, said Paul Kelm, head of automation for "O," Cirque's resident show at the Bellagio.
Kelm operates 100 pieces of automated equipment, weighing up to 60,000 pounds and moving within a few feet of the performers. Safety is the first concern, he said.
The other imperative: The show must go on. "Every night at 7:30, everything has to be 100 percent."
Kelm earned his master's in theater technology at the North Carolina School of the Arts, which he said is the only such program in the world.
The UA would like to build on the success of its one course and eventually offer such a degree, said Beudert.
UA grad Toussaint, inspired and encouraged by his scientist parents, was well on his way to studying computer engineering when he received an introduction to theater at Catalina Foothills High School. "I was required to take an art credit. I found out I could do 'technical theater' and not do anything arty," he said.
He liked the technical side of theater so much that when he enrolled at the UA, he chose theater arts as his minor and began looking for courses that combined the two disciplines. He took three cycles of advanced motion control.
The first time, he helped design moving stage scenery. Then he worked with a group that used robots to mimic the movements of actors on stage. Finally, he helped design the production of "New Genesis," a performance that paired a jazz ensemble from the UA's Music School with moving lights and scenery designed by the students.
Beudert said he told the students at the beginning of class "17-and-a-half weeks from today, we're going to be on stage in front of a live audience with a performance that you are going to create and you are going to invent."
Beudert at first thought the theater majors were getting all the benefit. "I finally realized that what we do is provide something to (the engineers) - our intuitive understanding of what the nature of performance is."
Students learned "the overwhelming need to actually realize a project and get it on stage. 'The show must go on' is absolutely true. To see it on stage and get it before an audience is absolutely our lifeblood. That's what makes it so exciting," Beudert said.
Toussaint said his most exciting day at work came recently, when he was dispatched to Singapore to solve a glitch in a production that featured roller bladers doing stunts on moving half pipes and quarter pipes. His group worked through the night writing new code.
"This was actually really close to the show (opening). They were doing technical rehearsals," he said.
"We come in. It's 9 in the morning. We'd been working for two nights with one six-hour break. The director of the show walked in, hit 'go,' ran the program and it worked perfectly."
Jerzy Rozenblit, head of the UA Department of Electrical and Computer Engineering, said the class has been wildly popular.
"It's a great opportunity to work on a team that's somewhat unconventional. Having the creative component very much sparks their imagination."
It's also an introduction to careers many student engineers have not considered. "It hasn't crossed their mind that such opportunities might exist," said Rozenblit.
On StarNet: Go to azstarnet.com/video to see some of the automation work behind the scenes at Cirque du Soleil.
Be the first to know
Get local news delivered to your inbox!