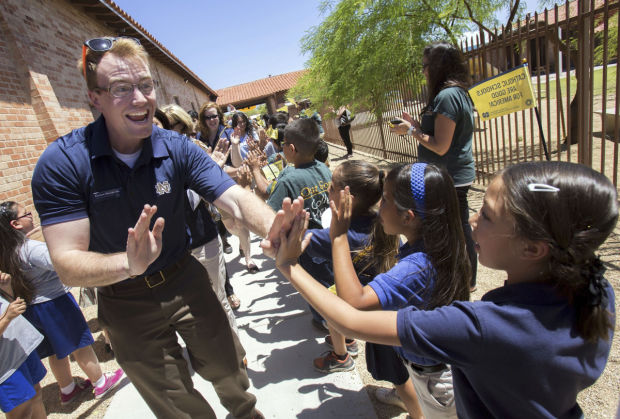 The University of Notre Dame's Alliance for Catholic Education visited three schools in Tucson this week as part of a 50-city bus tour across the country.
The tour is meant to recognize the achievements of Catholic schools and their advocates, says a news release from the university.
Tucson is home to the first three Notre Dame ACE academies, a partnership between the university and the Roman Catholic Diocese of Tucson, which have seen a boost in enrollment and reading and math scores since becoming academies in 2010.
The ACE academies are St. Ambrose Catholic School, St. John the Evangelist Catholic School and Santa Cruz Catholic School.
Notre Dame helps provide support to the schools in several areas to offer a rigorous education to students, particularly in underserved communities.
Christian Dallavis, senior director for leadership programs for the ACE academies, said the Tucson schools have gone from nearly closing to "thriving" since the partnership started.
"It's just a testament to what happens when really strong teachers really have the tools they need to work with kids. We really focus on providing a strong school culture that has high expectations for academic achievement and character formation," he said.
Many students receive financial assistance to attend the schools through the state's corporate tax credit scholarship program.
During the bus tour's stop in Tucson, Richard Brady "Buck" O'Rielly, CEO of O'Rielly Motor Co., was presented with The University of Notre Dame Champion for Education Award for his philanthropic efforts and support of Catholic education.
Sister Rosa Maria, superintendent of Catholic schools in the Roman Catholic Diocese of Tucson, was given the University of Notre Dame Sorin Award for Service to Catholic Schools.
Her work in Catholic education spans more than five decades, and she will retire this year.
"She's been a real champion, especially for low-income kids on the south side of town. She's made it possible for these schools to really become pathways to college, and she just really pours herself into the schools," Dallavis said.