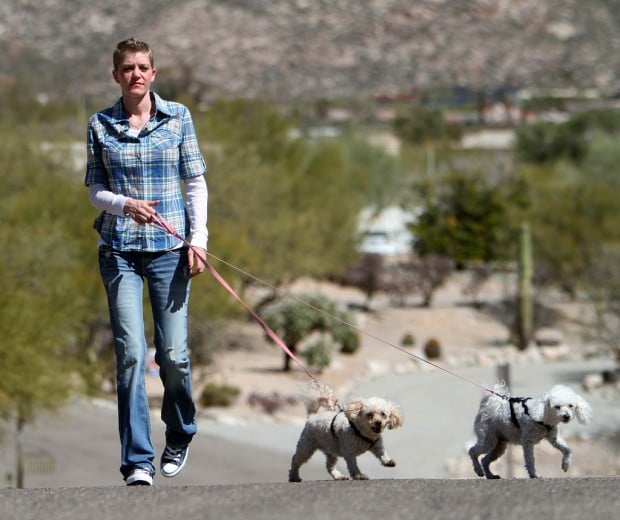 A drop in donations to its biggest fundraiser of the year is creating a crisis for Susan G. Komen for the Cure's Southern Arizona chapter, its executive director said this week.
With the event less than two weeks away, registration this week totaled 4,200, far less than the event's target of 11,000.
The event has a fundraising goal of $700,000 and so far has pulled in $200,000, said Jaimie Leopold, executive director of Komen Southern Arizona, which gives grants to local groups for breast cancer treatment, awareness, research and prevention. Last year's race raised $660,000. The race is the organization's biggest fundraiser of the year.
Leopold said participation is about 30 percent lower than where the organization needs to be this close to race day. Komen Southern Arizona says it needs to add another 4,000 registrations by Monday to meet its grants expectations.
"If 30 percent of the grants we want to give out won't be funded, I think that's a crisis, especially given the recession," Leopold said.
Part of the reason for flagging participation may be that this year's event is earlier than in the past and people aren't aware the race date is coming up. The event is usually held in April. Also, the recession has affected donations to charities nationwide.
But Leopold confirmed another reason for the drop is a recent spate of publicity over a national split between Planned Parenthood and the Susan G. Komen Foundation that created lingering mistrust, even though the relationship between the two organizations was later restored.
The national Komen group retreated and abandoned plans to cut funding to Planned Parenthood for breast-cancer screenings because it was under government investigation. The investigation into Planned Parenthood was launched by a Florida congressman who was urged by anti-abortion groups.
Planned Parenthood of Southern Arizona has never received funding from the local organization because it has never applied. However, if it did, Planned Parenthood would be considered just like any other health-care providers that apply for grants, local Komen officials have said.
"People, donors need to have confidence in where they put their money. We've been working to engage the community," Leopold said. "We are committed to demonstrating we are a trustworthy philanthropy."
As part of that commitment, the local Komen organization selected two young women undergoing treatment for aggressive breast cancer to be honorary co-chairs of the race this year. Both women are not only representative of an increasingly common demographic of younger women seeking help through Komen, but both can also attest to help they have received from Komen during their struggles with cancer.
"We wanted the face of the race to be courage and survivorship," Leopold said. "We are still looking at the data, but we seem to be getting a higher volume of younger women in trouble."
Thirty-four-year-old Mareya Bullard is living the kind of nightmare that has become part of the rallying cry for health-care reform in the United States. The Tucson resident was diagnosed with advanced Stage 3 breast cancer almost exactly a year ago, when she was 33 and had no health insurance, having recently lost her job when the northwest-side cafe she was managing closed down.
She endured 27 sessions of chemotherapy, underwent a double mastectomy in December, and is currently getting radiation treatment.
But her health problems were only part of the battle she's fighting. Bullard was able to secure some help through a six-month temporary coverage plan through Arizona's Medicaid program. The program, often referred to as "spend down," gives temporary health-insurance assistance to people with medical expenses that deplete their incomes to a level that makes them Medicaid-eligible. But when that six-month plan ended, she was unable to get any other government assistance.
Though she had no income, she couldn't enroll in regular Medicaid, which is for Arizona's most indigent residents, because she was single and childless. As part of budget slashing, Arizona's Medicaid program as of July stopped covering single, childless adults - a move that has prompted outrage by some, including a lawsuit because it reversed coverage terms that had been set by voters in 2000. But the state's decision on cutting childless adults was upheld by the courts. The state also incidentally cut the program that gave Bullard six months of help.
Without any other resources, Bullard moved in with her parents and turned to the Pima County Access Program, which is a low-cost health insurance program run by a local nonprofit group. But the plan doesn't cover all of her expenses, and her out-of-pocket medical bills through co-payments and co-shares total more than $10,000. Her friends have been holding fundraisers to help pay the bills. Komen paid for her double mastectomy through the grant it provided to St. Elizabeth's Health Center.
Bullard said more important than financial assistance from the group is that Komen has provided her with much-needed emotional support in fighting a disease that is often very lonely for a young woman to face. Most women are diagnosed with breast cancer in their 50s and 60s - the median age for diagnosis is 61. Only 2 percent of breast cancer cases are diagnosed in women between the ages of 20 and 34, the National Cancer Institute says.
An athlete all her life, Bullard was a soccer standout at Mountain View High School and before her diagnosis would spend hours riding her bike through Tucson's streets and bike paths.
Everything changed after she noticed a painless lump on her breast on Feb. 17, 2011. The lump then progressed to a series of lumps. Not knowing what was wrong and lacking a primary-care doctor, she sought help at local urgent care.
The young doctor at the urgent care examined her and said, "We don't do tumors here!" she recalled. "He literally backed away from me. … I started crying."
Her official diagnosis was last St. Patrick's Day. She walked last year's Race for the Cure, which provided much-needed hope and camaraderie. At this year's race she'll be speaking and riding in the pace car. She'll also make herself available to talk to people with breast cancer, she said.
The other honorary co-chair of the race is Anisette Noperi, a 24-year-old University of Arizona student who has temporarily withdrawn from school because of her breast cancer.
Bullard said in the year since her diagnosis, local Komen officials have regularly checked up on her, sent representatives to her medical fundraisers and provided ongoing help navigating the complex medical system.
"Komen is about saving lives. They pointed me in the right directions," Bullard said. "Anytime I call, they are there for me. I am blessed to have their support."
The Komen crisis - by the numbers
Here's what the Susan G. Komen organization in Southern Arizona faces.
Fundraising goal for 2012 Susan G. Komen Race for the Cure Southern Arizona
Amount raised so far this year for Susan G. Komen Race for the Cure
Amount raised last year for the Susan G. Komen Race for the Cure
Total registrations for race as of this week
Target number of registrations for this year's Race for the Cure
The 14th annual Susan G. Komen Race for the Cure Southern Arizona is scheduled for Sunday, March 25, at Tucson's Reid Park. Go to www.komensaz.org to register