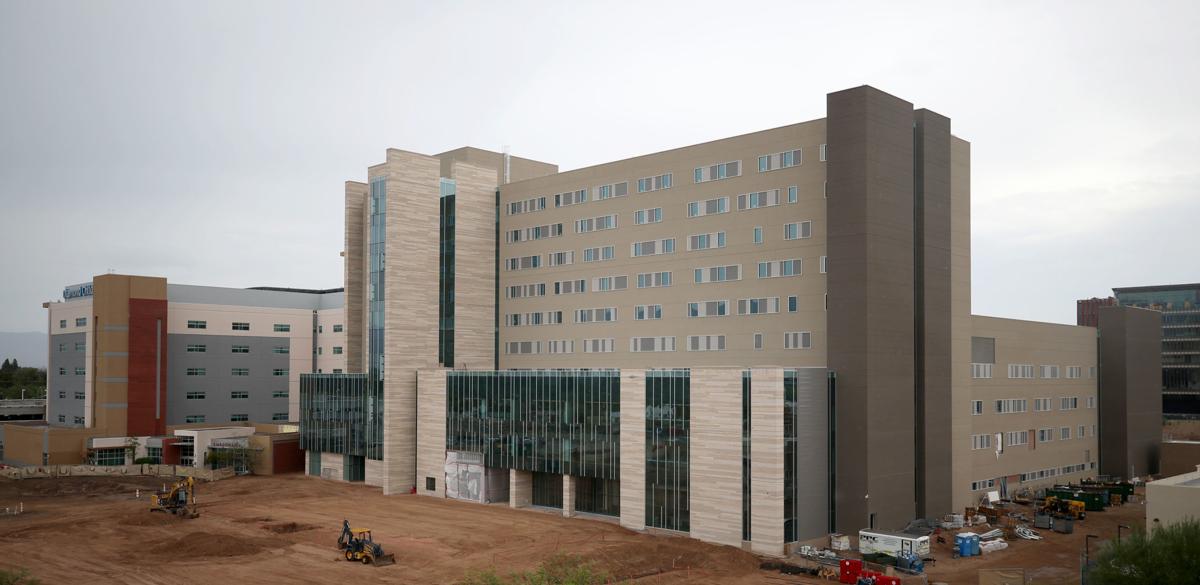 There were "numerous" reports of medical errors after Banner Health's conversion to a new computer system at its Tucson facilities late last year, state records show.
Records of an Arizona Department of Health Services investigation into complaints about Banner's computer conversion released to the Star after a public-records request were heavily redacted.
But the records indicate Banner's Oct. 1 switch adversely affected patients and caused a high level of frustration among some staff members.
One complaint, dated Oct. 19 says, "The biggest issue is patient safety and harm to patients," and that "many of the staff are in tears and frustrated because of the lack of support and empathy to the consequences of patient care."
Hospital leaders acknowledged delays in getting patients registered, delays in ordering and receiving lab results and delays in ordering and getting medications, records say, but said no patients were harmed.
"Hospital leadership denied there were any incidents that resulted in a negative outcome to patients, however, the hospital's occurrence log for October 2017 showed numerous incidents of medical errors reported to be a result of the conversion," state investigators wrote.
The Arizona Department of Health Services did not fine or cite Banner. Banner took "sufficient corrective action" for issues raised in two substantiated allegations about the conversion, records show.
The two substantiated allegations were connected to two October complaints about "the inability to reliably deliver medications, order tests and care for critically ill patients," and "multiple computer/printer glitches" impacting patient care, the state records say.
Banner Health officials declined interview requests and did not directly answer any of the Star's questions about the state records. Instead, the company sent two emailed statements.
The statements, dated July 13 and July 17, say more than 100 improvements to the new Cerner electronic health records system have been implemented this year to streamline workflows and provide better access to information for physicians and staff.
"These changes include dramatic improvements in medications processing and pharmacy; improved administrative operations in our oncology department; and rapid and enhanced access to patient records for our clinical staff; to name a few," one statement says.
"Along the way, we did experience challenges, some of which were significant. However, we are proud of the progress we have made, will continue to refine our systems and technology, and are more committed than ever to making sure the Banner experience is world class."
Banner's conversion to Cerner in Tucson ultimately will allow for advanced clinical research with a large data set, benchmarking of clinical performance, improved quality, patient safety and a better patient experience, Banner officials say.
Fraught transition
On Oct. 1, Banner Health made a $45 million switch — changing its Tucson hospitals and clinics over from the electronic health-records system they'd been using, made by Wisconsin-based Epic Systems Corp., to another system made by Missouri-based Cerner Corp., which was already in place at Banner's other facilities. It's better for patients and providers to have one electronic health-records system for all of Banner, company officials say.
Phoenix-based Banner Health is Arizona's largest private employer, and has 6,700 employees in Southern Arizona. The company owns, leases or manages 28 acute-care hospitals in six states, including two academic medical centers in Tucson: Banner-University Medical Center Tucson, 1501 N. Campbell Ave., and Banner-University Medical Center South, 2800 E. Ajo Way.
Not-for-profit Banner Health is the surviving entity of a merger with the University of Arizona Health Network in 2015. While Banner is one of the country's largest health systems, its foray into Tucson in 2015 marked the first time the company tried to operate an academic medical center, and some employees have said changes under Banner negatively impacted employee morale.
The UA Health Network had switched to the Epic system in 2013 at an estimated cost of $115 million.
While the switch to Epic was massive and expensive, the transition itself was relatively smooth. The changeover from Epic to Cerner, however, proved fraught for some patients and staff.
"The faculty was unprepared and undertrained," says a complaint filed with the state on Oct. 27.
The result has been an "inability to reliably deliver medications, order tests, care for critically ill patients, schedule outpatients" and reliably administer both inpatient and outpatient chemotherapy, the complaint says.
Cerner and Epic are the market leaders in electronic health records for acute-care hospitals, and all acute-care community hospitals in Tucson are on one or the other.
Phoenix-based Mayo Clinic Arizona, which is also an academic medical center, is switching from Cerner to Epic on Oct. 6, said Dr. Richard Gray, who is co-chairing Mayo's conversion effort.
Mayo's research showed Epic has the biggest electronic health-records market share for large academic medical centers, Gray said.
Medication delays
Issues raised about the Cerner conversion in Tucson contained in state documents released to the Star from the Arizona Department of Health Services include:
One report describes a delay in getting antibiotics to a patient because of problems with Cerner, and an inability to treat another patient in a timely manner "due to inability to use Cerner." The complainant goes on to say the patient in that case had a "progression in status" and required intubation.
The Cerner system did not always account for the structure of an academic medical center, failing to distinguish a medical resident from an attending physician, and in some cases reading medical residents as being the physician in charge, which wasn't true. (A medical resident is someone who has graduated from medical school and is in specialized training under the supervision of an attending physician.)
The state's findings included a near-miss, where a physician wrote an incorrect, larger-than-needed medication dose for an infant.
The investigation revealed the mistake occurred because of confusion about weight measures. Under Cerner, weight relative to ordering medications for infants is entered in kilograms, whereas under Epic, infant weight relative to ordering medications had been entered in grams.
A nurse caught the error and the infant did not receive the incorrect dose, state records say.
One complaint claimed that "staffing for the care of patients is low and people are quitting," but state investigators found no evidence of problems with nurse staffing.
Patient frustration
David Christiansen, a kitchen designer who lives in the Benson area, complained to the state about his care at Banner-University Medical Center Tucson during the weekend after his Sept. 29 kidney transplant.
Christiansen was a high-risk transplant patient to begin with, as he's on the blood-thinning medication heparin, he said. But he said he believes the hospital's switch to Cerner two days after his transplant resulted in problems with his care.
"I was bleeding internally because the new (computer) program did not calculate heparin dosage as the old program had done and the nurses were unprepared for this," Christiansen said.
"I don't blame the nurses; they were caught blindsided. I blame it on the way it was rolled out."
Christiansen said he received a donated kidney from his brother and the transplant went well, but two days later he started feeling pain in his back. He ended up staying in the hospital for 10 days, when he should have been there for four or five days, he said.
"They never called anyone to deal with my back pain. They were so busy trying to figure out the computer program — everyone was stressing about it," he said.
Christiansen said he passed out twice, the hospital's rapid-response team was called to intervene and he ended up in intensive care due to internal bleeding. He never got an answer about why his condition deteriorated so severely, and the state did not substantiate his complaint.
"The bleeding I was having had nothing to do with my kidney," he said. "I'm doing much better now, but my recovery was longer than it needed to be."
Christiansen continues to go to Banner for his medical care, which he says in general is "outstanding." His issues were with management and the computer program rollout, he said.
"Such a hassle"
Recently retired physician Dr. Leonard DuPree also encountered problems with Banner's computer conversion, during his treatment for a blood cancer called multiple myeloma.
DuPree had moved to Green Valley from Seattle last summer, a little more than a year after his diagnosis.
In Tucson, DuPree immediately found a hematologist/oncologist he both liked and respected at Banner's University of Arizona Cancer Center north campus. The oncologist had impressive knowledge of his disease and how to treat it, DuPree said.
After Banner's Oct. 1 conversion to Cerner, DuPree said his doctor's standing orders for weekly chemotherapy and twice weekly lab work did not always get processed.
DuPree said he would show up at the clinic, there would be no order, and he'd have to wait two hours or more to sort out the problem.
"It just would take forever. There was a lot of confusion," he said.
In another instance, DuPree said he needed four tests to gauge his one-year progress after a stem-cell transplant, but his doctor's orders for the tests continued to fall through the cracks. At one point the imaging center called to schedule two tests. DuPree informed them he needed four tests. More phone calls and waiting ensued.
"I wonder what would have happened if I was less sophisticated and assumed my doctor's office was doing what needed to be done," DuPree said.
"I may have never gotten the tests at all. We really took the bull by the horns. My wife is a retired RN. She's very bullish on this stuff, too. We just kept on them. But it was very frustrating."
DuPree did not file a complaint with the state. He did switch to the University of Arizona Cancer Center's Orange Grove location and says he's noticed an improvement in recent months.
Still, for the two-year anniversary of his stem-cell transplant next year, DuPree said he may travel to the Mayo Clinic in Phoenix for his workup.
"My Banner doctor is really good, and the Cancer Center staff is excellent. It has just been such a hassle. It upsets me that they went from a really good system to something that doesn't work as well."
"We were wrong"
During an Arizona Board of Regents committee meeting last month, regent and Tucson resident Rick Myers spoke about the angst the conversion had caused among Banner's Tucson staff. Myers added that he'd heard about doctors leaving as a result of their frustrations.
"Being in Tucson, it's hard not to hear all the words that are said. I know we lost a lot of people. You lost a lot of people. And a lot of the doctors I talked to left because of frustrations," Myers told Banner officials during the research, innovation and impact committee meeting on June 1.
"Some of that is rhetoric, some of it's real. ... But is this going to take another year to get it back to where you want it to be?"
Operations are now on a better track, Banner Health's chief financial officer, Dennis Laraway, assured Myers.
"We thought we had the right investments in the data center, in the IT bandwidth — we were wrong," Laraway said. "We had to correct that and we have. ... We've come a long way in the last eight, nine months. Having said that, there is still a disruption on the revenue side. We're not at the clinical productivity level that we'd like to be.
"Even in the best of circumstances when you do these rather massive IT conversions — even the best ones are challenging. We had some added challenges."
Banner officials last week reiterated that the conversion was a complex undertaking, "and it was one we underestimated," but that "We are very proud of our health-care system and will continue to evolve and improve into the future."
"Massive information systems by their nature require continuous optimizing, fine-tuning and fixes, and we are dedicating all of the necessary resources and focus to do this," an emailed company statement says.
"Also, our commitment to making Banner the very best experience for staff, faculty and patients doesn't begin or end with the health records or billing systems. We are making tremendous investments in our facilities, staff, faculty and programs."
Reputation worries
The Cerner conversion cut into physician productivity and revenue as the doctors learned Cerner and its accompanying patient and centralized billing systems, Laraway said during the regents' committee meeting.
"We are now back to the averages of clinic volume pre-conversion," Laraway said. "We've hit a few bumps in the road and we hope to do it better as we go on."
Myers reminded Laraway that the people who work at Banner's Tucson facilities are its most important asset.
"I worry about the reputation of Banner in Tucson," Myers told Laraway during the meeting.
"You and me both," Laraway replied.
Myers later stressed in an interview that he made his comments in the context of a firm belief that the partnership between Banner and the UA is "going to be transformative for the Tucson community."
Myers said the alliance has already proven beneficial for the UA, citing its $60 million National Institutes of Health grant to be part of the national "All of Us" health study, which is collecting DNA and health data from 1 million people across the U.S.
The UA would not have received that grant were it not for the partnership with Banner, Myers said.
"It disappoints me so many people have been upset and have reason to be upset with how the transition has gone," Myers said. "I was a patient at the time this was going on. I could see how people could get frustrated."
But Myers said he hopes the Tucson community will appreciate the bigger picture, that the partnership makes sense on numerous levels — economic, patient care and research, he said.
"I want people to embrace this as something that is good in the long term," he said. "They are strong partners. Both have a social responsibility to improve the well-being of the people of the state. There is a light at the end of the tunnel."
Contact health reporter Stephanie Innes at 573-4134 or email sinnes@tucson.com. On Twitter: @stephanieinnes
Get local news delivered to your inbox!
Subscribe to our Daily Headlines newsletter.