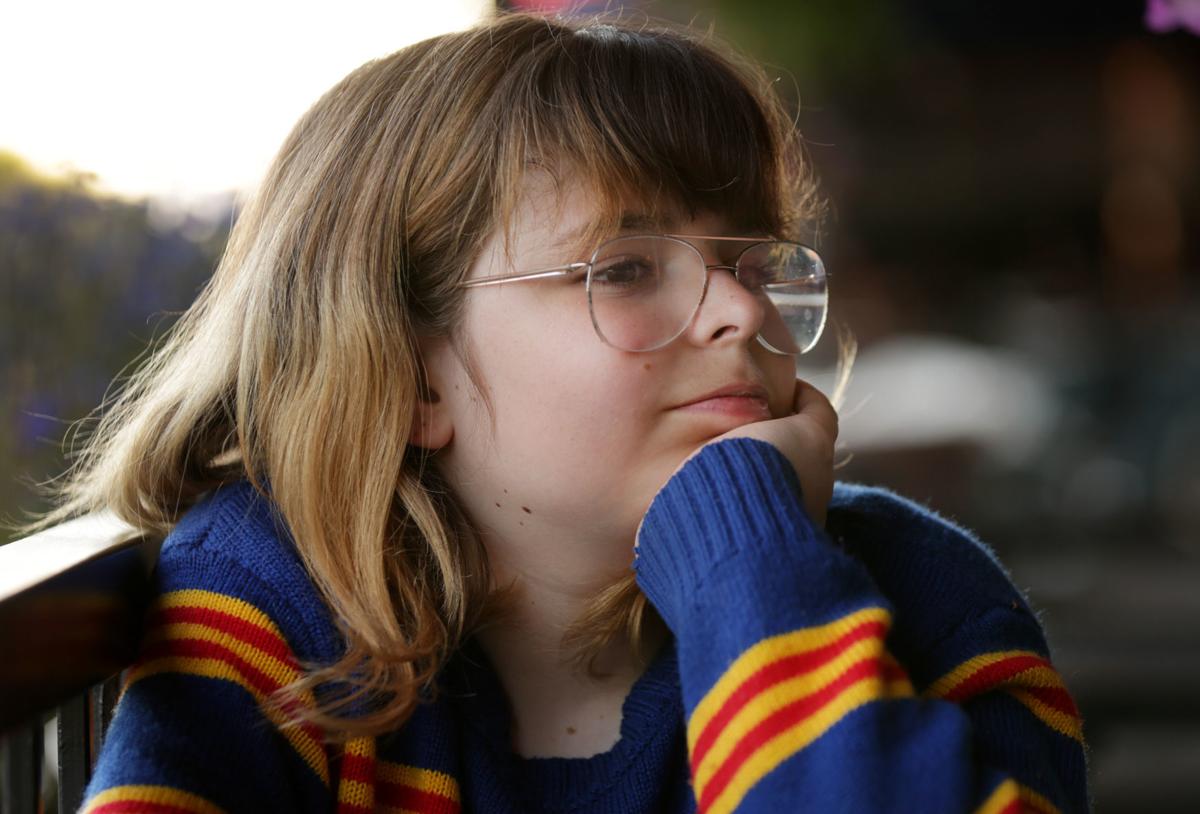 Santi Ceballos, a seventh grader at Paulo Freire Freedom School's downtown Tucson campus, is a typical 13-year-old.
Santi likes hanging out with friends at the Joel D. Valdez Library after school, and is "close-ish" with 14-year-old brother Joaquin despite the occasional sibling spat.
On a cool spring evening sitting outside of Rincon Market, Santi is particularly stoked about the 11th season of the TV series "RuPaul's Drag Race," rooting for Nashville-based drag queen Brooke Lynn Hytes.
Santi gets distracted for a moment, examining a hanging planter full of purple geraniums.
"I like photography, too," Santi says, taking a moment to examine not only the geraniums, but the string of hanging white bulb lights and the setting sun. "This angle … can I take a photo?"
It's clear that Santi is a creative, open-minded, passionate kid. And the more you talk to Santi, the more you will see the teen is in tune with and accepts theirself and their identity, even though the world doesn't always do that.
Santi, who identifies as nonbinary and transgender and uses they/them pronouns, never has a day where they don't think about how their gender identity and expression might impact the way someone perceives or treats them.
Santi isn't afforded the privilege of floating through life without the nagging anxiety that someone could outcast them on the basis of gender identity — something most of us who identify with the sex we were assigned at birth think about sparingly, if ever.
That's why Santi decided to be one of the plaintiffs in the lawsuit suing state schools chief Kathy Hoffman and the State Board of Education for enforcing an Arizona law banning teachers from "(promoting) a homosexual lifestyle" while teaching students about AIDS and HIV during sex education.
The state legislature and Governor Doug Ducey promptly repealed the so-called "no promo homo" law only a couple weeks after the suit was filed by the National Center for Lesbian Rights and Lambda Legal on behalf of the LGBTQ+ advocacy nonprofit Equality Arizona.
Santi wants to have a direct hand in making Tucson, and Arizona at large, more inclusive, accepting places, so joining the lawsuit made logical sense.
"I want to let people know that we're trying to fix the community," Santi says. "I want to make younger queer youth feel comfortable in school during sex ed."
"Well, no one's probably going to feel comfortable during that," the 13-year-old says with a laugh.
Though Santi can joke about sex ed now, their experiences with it have been uncomfortable and traumatizing.
Santi has never seen a place for theirself in the gender-segregated, binary sex education classes offered in Arizona's public schools. For that reason, Santi has always dreaded it.
Santi knew, from older brother Joaquin, that teachers weren't allowed to talk about LBGTQ+ identities or how they fit into conversations surrounding sex ed because of the Arizona law.
Additionally, Santi was bullied in the sixth grade, at a different middle school, for being open about their nonbinary identity. Santi was called a "stupid gay boy" and was frequently misgendered.
This caused a great deal of anxiety, making it difficult to go to school in general, sex ed struggles aside.
Santi would call their mom, Carol Brochin, from the nurse's office in tears nearly every day, begging to be picked up, Brochin says.
One day, when the bullying and Santi's anxiety were at an all-time high, Santi realized they had forgotten to do their homework. Santi broke down before school, crying — the stress had become too much to bear.
"So I said go to your room, go to sleep," Brochin told Santi that morning. "We're never going back there."
Santi got a new start at Paulo Freire where the school community knew about the teen's preferred pronouns and name from the start. For the most part, kids and teachers accepted and supported Santi without any questions.
Still sex ed was — and is — an issue. Santi's sex ed experience at Paulo Freire was better than at the old school, but marginally so. The school was more accommodating of Santi's needs, as a nonbinary person, but administrators still segregated Santi away from peers for sex education instruction.
Santi frowns, recounting the set up.
"Really, the kids need to all be together," Brochin, who identifies as a queer lesbian woman, says. "All kids need sex ed, and all kids need LGBT curriculum. … I think it's pretty simple."
Otherwise, students won't see families like Brochin, Santi and Joaquin's as normal, which hurts the progression of society, as a whole — not just members of the LBGTQ+ community.
LIVING BETWEEN BINARIES
Santi is donning a pair of silver aviator-shaped eyeglasses, black-and-white-checkered Vans sneakers and a yellow, blue and red striped sweater with a Donald Duck logo while talking to the Arizona Daily Star. Santi's caramel-blond hair is styled in a blunt bob with a fringe of bangs.
Santi says they have been presenting more femininely — "leaning more toward female" — in the last couple years, while exploring gender identity and expression more. But Santi still identifies as nonbinary.
Santi first decided to use they/them pronouns the fall of sixth grade while attending Camp Born This Way, a camp for transgender, gender creative and gender-nonconforming kids living in Arizona.
Since coming out, Santi has connected with young members and allies of the LBGTQ+ community in various ways — through MOCA's School of Drag, Camp Born This Way, Paulo Freire and the University of Arizona College of Education, where Brochin is a professor, to name a few.
Santi and Brochin know there is a lot of work to be done, as far as incorporating LGBTQ+ identities into sex ed curriculums, and that repealing one law won't erase decades of homophobic and transphobic sentiments in the legislature.
But the two are ready to do that work.
"There will come a time when we can all be accepted in our community," Santi says, smiling.