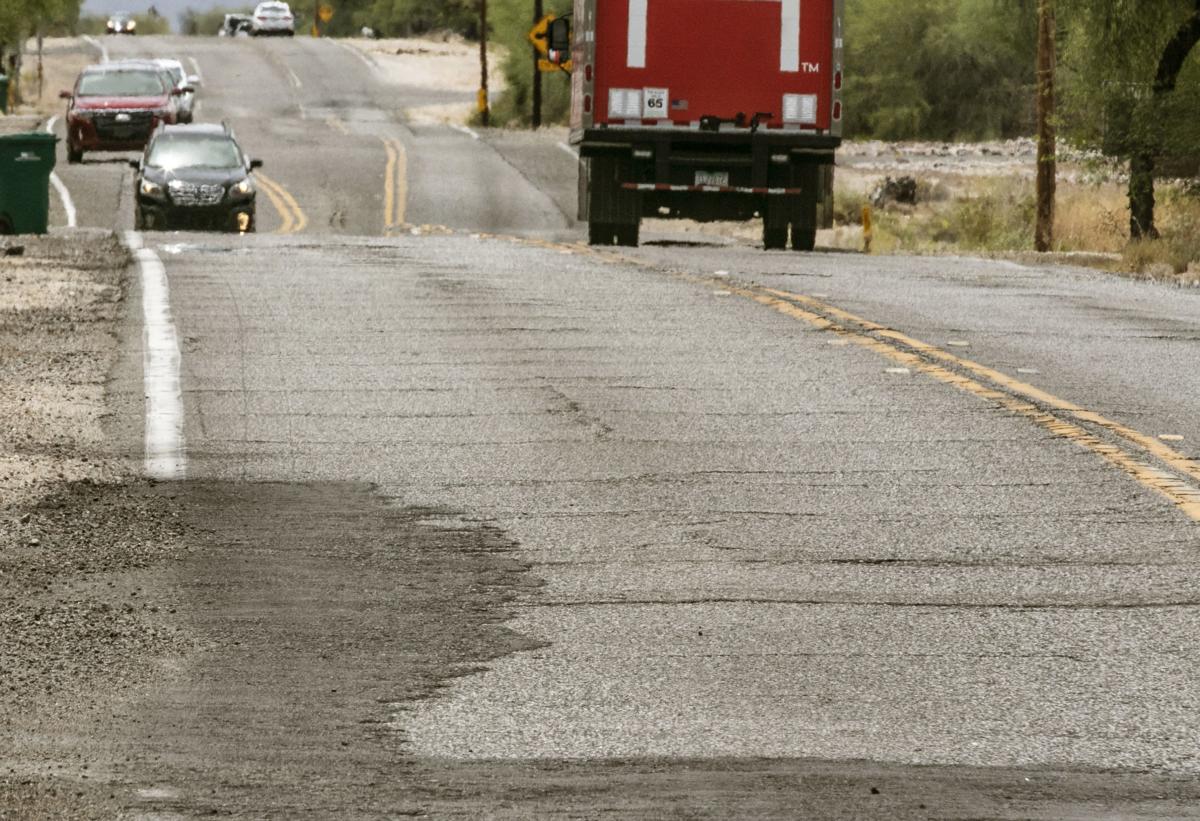 The recently released road-repair lists from the Pima County Department of Transportation shows a group of arterial and local roadways in need of some TLC in the upcoming fiscal year.
About $26 million has been proposed to be distributed evenly among the county's five districts for road repairs. Officials say the list considers the various roads in need of repair and methods to give them a longer lifespan.
The proposed plan would also split funding 50-50 for local and arterial roads — about 118 total miles — throughout the county. The funding for local areas would address the worst roads first.
Most of the fixes involve crews providing a mill and thick overlay treatment to the roads, a process the transportation department says provides a 15-year lifespan but is the "second-most-expensive pavement treatment option" available.
Here's a list of some of the major roads we may see fixed in the future, as long as the individual projects go as planned. A final vote on the budget is expected this month.
District
More than 31 miles of roadway in the 245 square miles of District One would be addressed, according to the list. The area, represented by Supervisor Ally Miller, includes Oro Valley, eastern Marana, Catalina Foothills and land south of the Pima-Pinal county line.
One of the major roads to be worked on is East River Road between North Swan Road and North Camino Rio Soleado. More than 13,000 vehicles pass on it every day, according to the plan.
West Overton Road from North Shiraz Place and North Thornydale Road, which sees nearly 7,000 vehicles every day, is another of the major collector roads.
Both roads would be fixed by the mill and thick overlay construction, costing an estimated $615,000 between them.
Along with various local roads, the plan is to also address West Rudasill Road between North Reliance Drive and North First Avenue. An average day brings 2,380 motorists through it.
District Two
Officials plan to address 18 miles of roads in District two, represented by Supervisor Ramon Valadez, which spans from Sahuarita to parts of Tucson north of 22nd Street.
The intent is to fix busy East Irvington Road from South Country Club Road to South Outlet Center Drive. A total of 18,446 motorists use the roadway on an average day, according to the list.
Road crews would improve travel for 14,000 motorists on South Palo Verde Road from East Mossman Road to the end of the road.
Two sections of East Sahuarita Road would receive improvements. A typical traffic count is nearly 15,000 between them.
Improvements also would occur on Sahuarita Road from South Country Club Road to South Alvernon Way and from South Alvernon Way to South Comsoft Drive.
District Three
Supervisor Sharon Bronson's District 3, whose boundaries run from near Alvernon Way west to the Cabeza Prieta National Wildlife Refuge, would see 26 miles improved as part of the road-fix program.
Workers would provide the mill and thick overlay treatment for 6 miles of North Anway Road between West Manville to West Avra Valley roads, at an estimated cost of $1,263,378.
Another $1.2 million would be used on 3 miles of West Pima Mine Road from end to end, which the department has identified as a minor arterial road.
West Roger Road between North Fairview Avenue to North Flowing Wells Road is a major collector, with more than 8,000 vehicles using it on an average day.
District Four
District four, spanning from parts of Sahuarita to Tucson and north to the Coronado National Forest, would receive 20 miles of improvements.
The district, represented by Supervisor Steve Christy, has one of the busiest arterial roads in the county to be addressed. North Sabino Canyon Road, from the end of the road to East Cloud Road, would be improved to help out its 38,385 daily motorists.
The cost to fix about a mile of the road: $525,000.
The funds would also address North Houghton Road between East Flintlock Trail to East Fort Lowell Road that sees just over 6,000 motorists a day.
District Five
For County Supervisor Richard Elías' District 5, spanning from East Speedway near East Fifth Street to Valencia Road and the Saguaro National Park Tucson Mountain District, would receive 23 miles of repairs.
Road crews would continue to address West Speedway from North Camino De Oeste to North Painted Hills Road, which 8,379 motorists use daily. The area spans 1.6 miles; crews have already started a repaving project along the road.
The road fix plan allocates about $68,500 for South Cardinal Avenue from West Bilby Road to West Century Drive, which 10,314 motorists use daily. The micro sealing treatment would provide a thin coat of asphalt, which is expected to give another seven years of life to the road.
Down the Road
Overnight lane closures are set for Interstate10 near Ina Road.
Motorists should plan for possible delays as crews continue their final striping work on I-10 near Ina.
The work continues each night from 8 p.m. to 5 a.m. through Thursday morning. On Monday night, westbound I-10 will be reduced to one lane, while eastbound I-10 may see intermittent lane restrictions.
Eastbound I-10 will be reduced to one lane overnight Tuesday.
The eastbound and westbound roads will have intermittent closures Wednesday night.
Contact Star reporter Shaq Davis at 573-4218 or sdavis@tucson.com
On Twitter: @ShaqDavis1