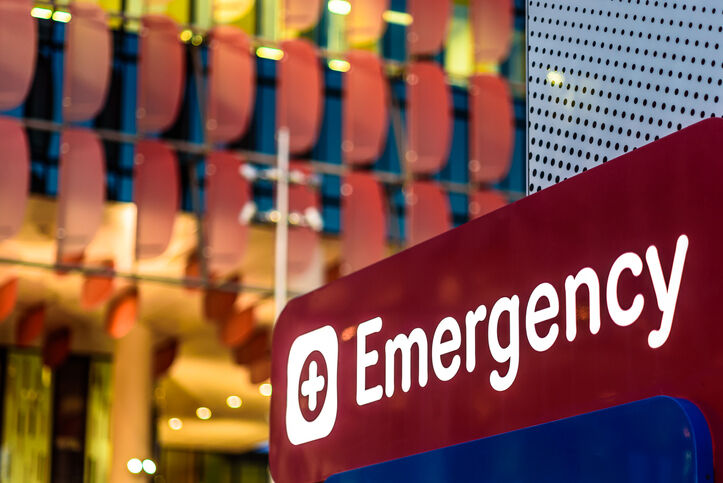 September had already been awful for Dr. Cristian Laguillo — one of his patients had died of a treatable condition while waiting for a hospital transfer, and he was regularly tending to very sick COVID-19 patients.
So when a woman's vital signs began tanking from blood loss on a Saturday morning two weeks ago, he desperately wanted to save her — even if it meant violating protocol.
Laguillo is a senior physician at Bisbee's Copper Queen Community Hospital. It's one of many small-town hospitals that have suffered in recent weeks, as Arizona's big-city hospitals have declined to accept patient transfers because of low staffing and patient overloads, largely due to a crush of nonvaccinated COVID-19 patients.
For Laguillo, the crisis peaked that Saturday when he nearly lost a patient — his second in just a few days, needlessly.
"Hemorrhagic shock"
Her condition was already very serious when the woman, named Courtney, arrived at Copper Queen Community Hospital on Friday, Sept. 10.
She'd recently miscarried in her first trimester. After things initially seemed OK, the bleeding started again and wouldn't stop.
By the time she arrived late that afternoon, she felt awful.
"I passed out in the waiting room," Courtney recalled later in an interview, asking that only her first name be used, to protect her medical privacy.
"They put me on some fluids but the problem was they didn't have (obstetric) staff in the hospital."
Hospital staffers made call after call trying to transfer her to another hospital with a higher level of care, but no one in Sierra Vista or Tucson said they could help. Courtney wasn't well enough to go home, so Copper Queen admitted her.
Toward dawn that Saturday morning, Courtney was told she needed a blood transfusion. She briefly resisted but then realized she had no choice.
"I was trying to hold off on getting a transfusion because it's not something that's very appealing to me. But then I was feeling so bad that I realized I had to get more blood," she said. "I could feel my body going downhill."
Laguillo first met her as the transfusion was getting underway.
"He walked in right as they were starting the blood," Courtney said, "and the concern and worry that was on his face, I could tell he was really scared for me."
Then her blood pressure plummeted.
"She was in hemorrhagic shock," Laguillo said, "blood pressure 40 over 20."
He gave her medication to increase her blood pressure and got more fluids going into her system, but with two units of blood used up, he didn't have more to give her. A patient in another room was also getting a blood transfusion, he said, and the hospital, which doesn't have an ICU and only carries a small supply, had run out.
"We don't carry blood in abundance," he said, "because typically it's not going to be utilized fast enough."
"Only possible way she could live"
Laguillo, desperate to help Courtney, called an obstetrician with Canyon Vista Medical Center in Sierra Vista and pleaded to have her transported there.
But there were still no beds available, so the procedure would have to be done in a room in the emergency department.
The problem was that the Emergency Medical Treatment and Labor Act — a federal law that governs, among other things, guidelines for transporting patients — prohibits moving patients from an inpatient level of care at one hospital to an emergency room, considered outpatient, at another. The reason is that it's essentially downgrading the level of care.
Laguillo knew this, and agrees the act is "written to protect patients," but felt he had no choice.
It was that, or let her die.
The procedure she needed, called a D&C — for dilation and curettage — involves expanding the cervix so the lining of the uterus can be scraped to remove abnormal or problematic tissue.
"She needed that procedure, 100%. The only possible way she could live is if she went to Sierra Vista," Laguillo said.
He said a doctor there agreed to receive her at the other end of an ambulance ride. "In this instance, in a pandemic, with no beds, no specialists, no help, he was gracious enough to give me a hand and pull me out of the water."
Courtney said she heard Laguillo on the phone during part of this, upset and saying he knew it wasn't following protocols but that he was sending her anyway.
"That guy is my hero," she said of Laguillo. "He broke the protocols to save my life. No one was going to take me, and he knew it."
"State of emergency"
During the state's current COVID-19 surge, some rural hospital doctors like Laguillo have not been able to transfer critically ill non-COVID patients to Tucson or Phoenix facilities. They recently asked the state for help.
More nurses will be arriving to work at the Copper Queen hospital in October, through state funding, but Laguillo said more than that is needed to save patients like Courtney.
Throughout the pandemic, hospitals across Arizona have relied on a call-in system, or "surge line," set up in spring 2020 by Gov. Doug Ducey's administration. It is designed to speed the transfer of the sickest COVID-19 patients to hospitals with more staffing, bed space or medical expertise.
Laguillo and his colleagues, as well as representatives from Arizona's four border counties, asked this month for there to be both a COVID surge line and a non-COVID surge line.
The Arizona Department of Health Services denied the request Tuesday, citing statewide nursing shortages.
Laguillo said he was very disappointed to hear that. With greater communication, he said, medical professionals across the state could figure out where a critically ill patient might be able to go at any given time. As it is, he said, they have to make countless phone calls and often waste crucial time doing so.
"We are in a state of emergency," he said, "and people are dying who shouldn't."
He said one of his patients — in need of cardiothoracic and pulmonary expertise and surgery — died days before Courtney's crisis, after Laguillo could not find anywhere to transfer him after calling every hospital with the speciality in Tucson and Phoenix.
"So be it"
After Courtney was treated in Sierra Vista, she went back to her home outside Bisbee.
Laguillo called her then, to see if she was OK.
"He didn't know if I had lived or not," she said.
In the last couple of days, she says, she's feeling back to normal. The anemia brought on by blood loss is better.
Laguillo said no officials have spoken to him since that transfer. But if he eventually does get in trouble for it, "so be it."
How can such guidelines be followed during this time, he asked, especially when someone is at risk of dying?
"Even if I need to get punished, it's worth it because that lady got to go home, that mom got to go home," he said. "Extreme times require extreme measures."
Contact reporter Patty Machelor at 806-7754 or