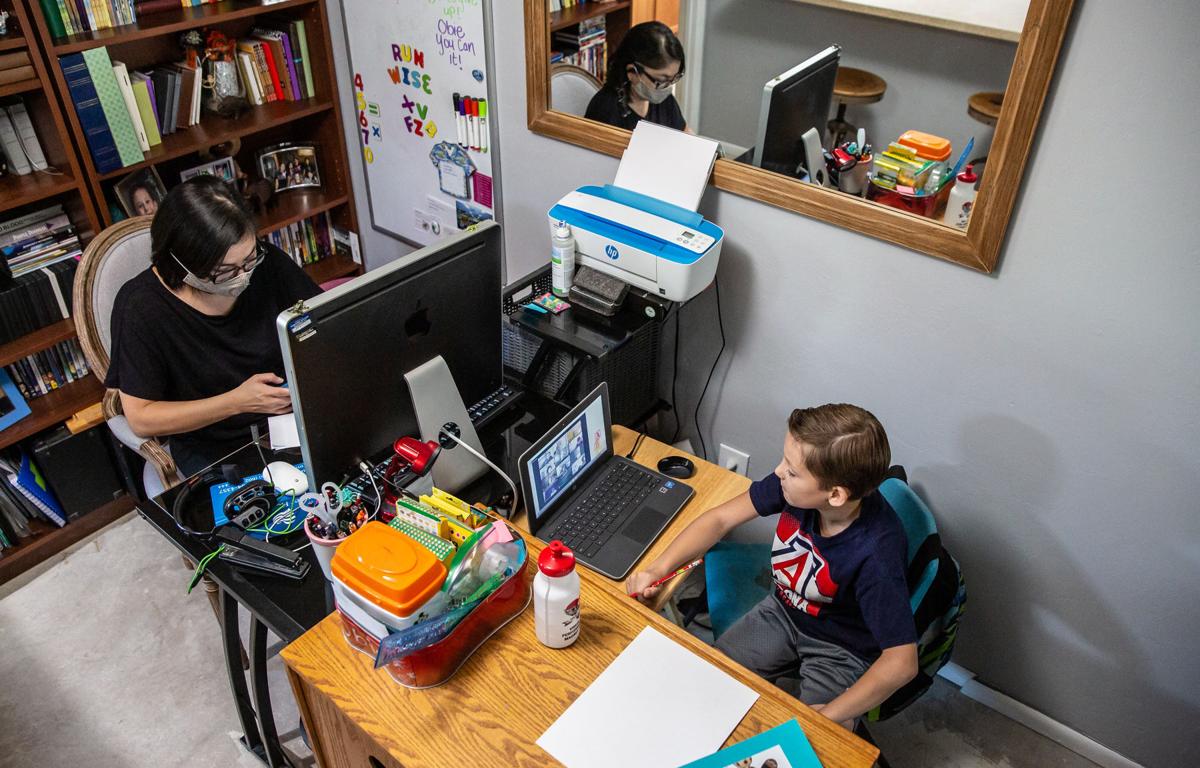 Eevee Rodriguez has two full-time jobs she's doing from home. One as a college adviser, the other, managing remote learning for her three young sons.
Her fourth grader, a traditional student at Carrillo K-5 Magnet, can do a lot of online classwork on his own. But remote learning for her first grade twins takes Rodriguez's full attention.
The twins both have severe developmental delays and mild cerebral palsy. One of them also has autism.
"They have high special needs," she says. "I can't log them on to the computer and expect them to sit there. They're not at that level cognitively."
Before the coronavirus pandemic closed Tucson schools in March, her sons were in general education inclusion classes with a one-on-one aide to support them.
Rodriguez isn't so concerned about the general education at this point. They've regressed so much in the five months they've been out of school, she's working on keeping basic life skills and a foundation for learning in place.
The first week of remote learning is going well, all things considered. Rodriguez feels supported by the school. She loves the twins' teacher, and speech and physical therapy sessions have been going well for being virtual. The school provides materials for hands-on activities, such as dice and stickers to practice counting.
"We're super-lucky that our team is able to provide that for them," Rodriguez says. "It's really tailored to them."
Although the Tucson Unified School District offered her twins two of the limited in-person learning spots, Rodriguez says it would have just been babysitting. The kids would have been alone with an aide while getting instruction and therapies online. Rodriguez declined the offer.
"If they weren't going to get any type of live instruction, I just didn't see the benefit," she says. "They wouldn't have cognitively understood why their brother wasn't going, and why they'd be the only ones there."
Children with high special needs is one of the student populations TUSD is prioritizing for in-person services. Of the 905 children who fall into this category, 297 have opted for in-person services.
"This is very out of my comfort zone, and I know for everyone it is," Rodriguez said. "I know for everyone this is challenging. I know for everyone this is new. This is not what anyone wants."
She opted for her twins to do a half day of schooling and had that flexibility because of their special needs. It was more practical for the kids and for her to get her own work done. Rodriguez's husband works out of the home all day, but at night he's there to help with the kids.
Rodriguez has flexibility with her job, and so she'll probably be working evenings and weekends.
"Thank God I have that capability to do that. A lot of people don't," she said. "We'll just figure it out as we go. We're kind of building the airplane while we're flying it, unfortunately. I think everyone is."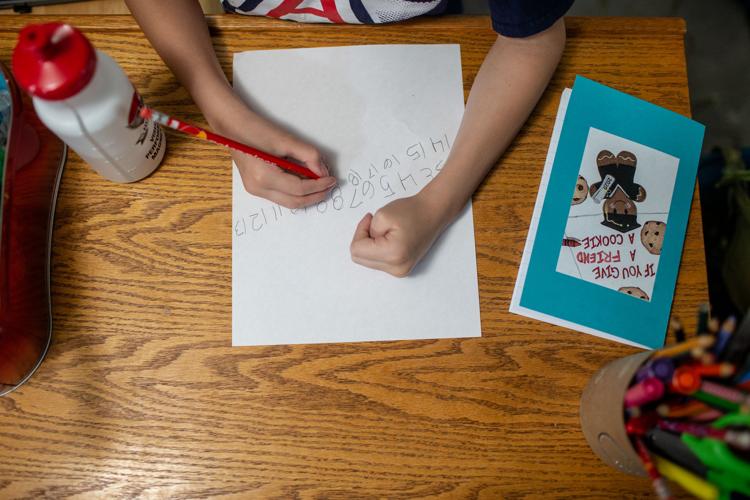 JUGGLING ACT
Stacey Hinzman has a second grader and fourth grader at Wright Elementary and a Catalina High senior. She's a full-time student herself, about to start online classes for an Associate of Science at Pima Community College.
Her husband is gone all day, working as a delivery driver for Domino's Pizza.
She on Cox's internet plan for low-income families, and with several children in remote classes at once, the internet can be very slow.
On top of that, learning the various platforms her kids are using for school has been difficult. And the younger kids need a lot of help navigating their classes and doing the work.
"Hopefully, in a couple of months they will be back," she says about schools reopening. "I told my husband by springtime they need to be back because I'm going to be in harder classes. Right now, it's OK, but hopefully it gets figured out."
Cullen says schools can consider hybrid learning, which would allow for fewer students on campus at once, when a certain level of the criteria had been achieved. However, that was not the case for four of the nine metrics as of Friday.
Paulina Dewoody has a second grader at Holladay Magnet Elementary, where she works as a monitor and library assistant. She's working remotely, helping families with technical difficulties and helping teachers with attendance, calling families whose students don't log in.
A licensed practical nurse at the Banner Surgery Center, Dewoody's husband goes in to work every day.
Multitasking has become a way of life. Her son needs help navigating online platforms, and Dewoody finds herself simultaneously signing her son on while helping a teacher with attendance in a virtual classroom.
Dewoody isn't sure what she'll do if she gets called to work in person before it's safe for her son to go back, but she'd have to feel much more comfortable before sending him back to school.
"It's just a lot of uncertainty, so if I'm able to stay with him and keep him home, I would definitely do that," she says. "I know a lot of families don't really have that option so as soon as school is available, they'll send them so they could continue to make a living. But if I don't have to, I wouldn't want to gamble with him that way."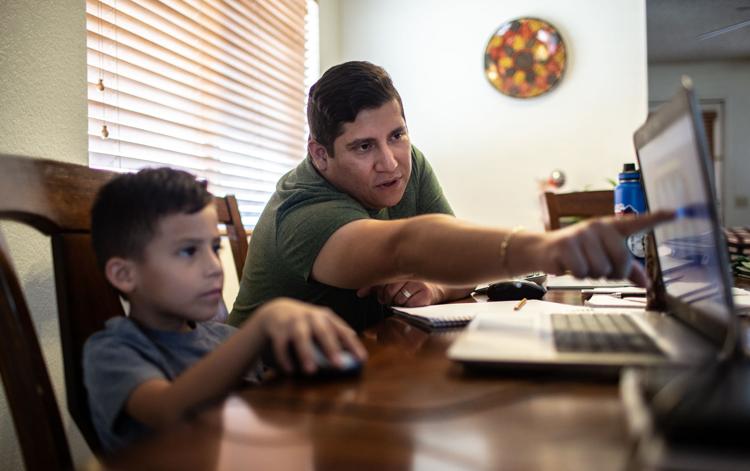 "ONE DAY AT A TIME"
For Ricky Hernandez, the first week of remote learning for his fifth grader and first grader, both at Drachman Montessori Magnet School, have been worlds apart.
His older son is almost entirely independent, and the teacher is handling the transition to remote learning well, guiding the children through the new technology, Hernandez says.
"But our first grader definitely had that experience that we all kind of feared," he says.
There were technology and class management issues. His younger child's teacher is great in person, but running a first grade class over Zoom is a whole new challenge, Hernandez said.
Many of the first graders in his son's class have parents sitting next to them, Hernandez says. And he can see the children's focus waning.
"They've got busy energy just kind of percolating," he says. "We're having to spend a lot of time with him during class to kind of help support the teacher in trying to keep him on task. … The parent almost becomes a teacher aide now."
Hernandez and his wife both work from home, with the exception of two days a week he goes in to his job as assistant vice president for the alumni development programs at the University of Arizona. His wife works in the finance department at TUSD.
All day they balance the push and pull between work and school.
"It's a lot of communication. It's a lot of time management. It's a lot of being flexible and being patient — it's definitely a test of patience," he says.
He hopes that things will start to run smoother as the weeks of remote learning progress.
"There's still 176 days left to the school year," he says. "We're trying not to think so much about after Labor Day or by Halloween or even by Christmas. We're trying not to think about it that far in advance. We're really trying to take it one day at a time."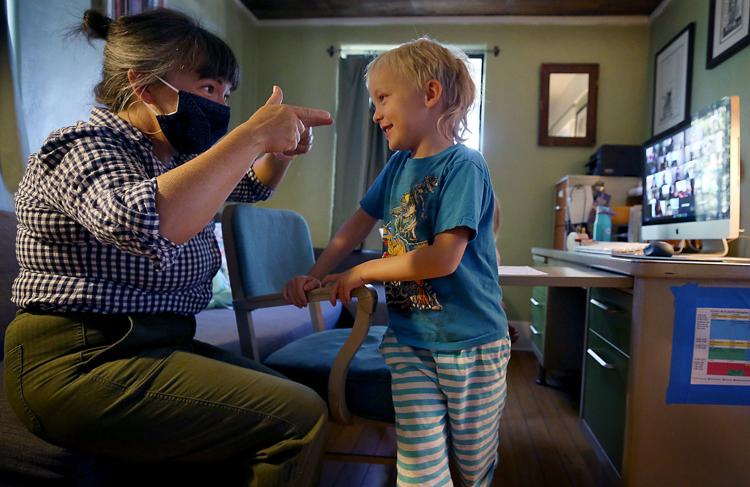 VILLAGE MENTALITY
Kylie Walzak's kindergartner is the only one who shows up to his virtual class next to a buddy. Rather than the 5-year-old's complete name showing up when they sign on, it says "Clyde y Sonora," the two children's first names.
Walzak does community engagement for the nonprofit Living Streets Alliance, and Clyde's father is a self-employed artist. They both cut their work hours back after Clyde's day care closed in March so they could take turns watching him — mommy day and daddy day, they call it.
Although they're living off less money now, they're no longer paying for child care, which at $650 a month is practically equivalent to one monthly mortgage payment, Walzak says.
The week before TUSD's school year began remotely on Aug. 10, Walzak reached out to a family she knew from the neighborhood community pool and whose daughter was in the same class at Davis Bilingual Elementary Magnet School.
The families formed a pod — a term used to describe when people who live in separate households come together socially, dropping some of the standard safety protocols such as physical distancing and wearing a mask in each other's presence. To get to that place, families generally first discuss the kinds of precautions each take and what their lifestyles are like.
"We had a really intense conversation about that," Walzak says. "We're talking about what our exposure is like or not like and if anyone's got anybody sensitive or fragile in their family pods."
Neither family lives with someone in a high-risk category, and Clyde and Sonora don't have any siblings. As a result they hadn't had interaction with other children for months, but now they have each other.
Walzak says she's privileged to have this option, not only because her job is such that she can stay at home with the kids, but also because none of the parents are essential workers, allowing them to limit how much they go out in public.
Even with the resources Walzak has, online kindergarten is still challenging, she says.
The blocks of screen time feel long and difficult for kids to stay focused. And the teachers have their own struggles with the technology, which creates downtime where they lose the students' attention.
Despite the difficulties, Walzak does not think it's safe to send her son to campus, even as some schools reopen for in-person instruction beginning Monday, Aug. 17.
Leah Langlais has also created a pod for her kindergartener, who attends Holladay. She and her husband both work remotely for the UA but will begin going in to work soon.
Langlais drops her daughter off for remote learning at a friend's house — another couple who both work and have one child, a kindergartner in the same class. The other child's two grandmothers, both former educators, are going to take turns watching the children in a room that's set up almost like an actual class.
Each of the four parents has one day a week where they take the kids to do an outdoor activity.
"We've just been pretty limited with our contacts externally, and we've really got this understanding that we want to make sure that we're able to maintain this level of schedule and consistency for our kids," Langlais said.
She plans on continuing remote learning at least through the end of 2020.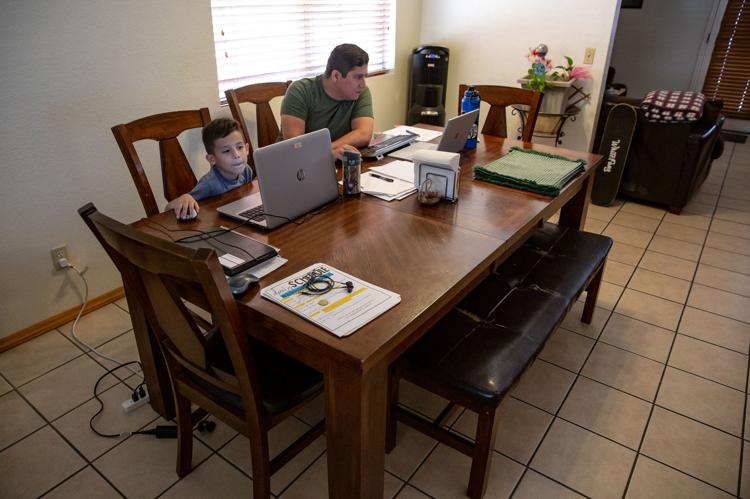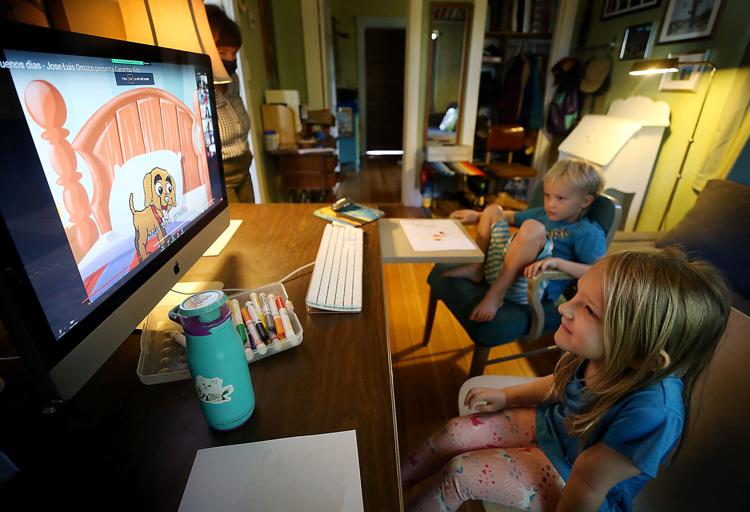 Contact reporter Danyelle Khmara at dkhmara@tucson.com or 573-4223. On Twitter: @DanyelleKhmara