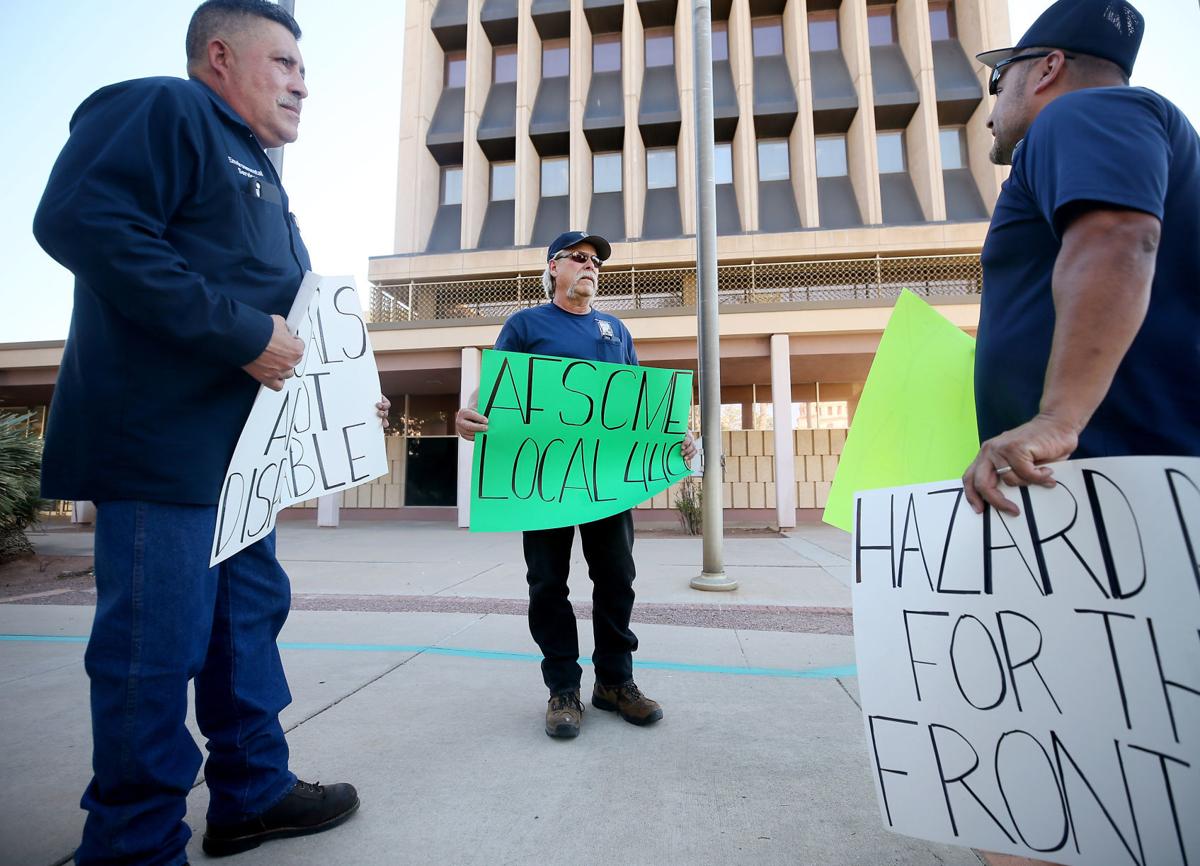 Members of the Tucson City Council on Tuesday "poked holes" in the city's budget for next year, expressing concern that it did not take into account federal funding that could overcome at least some of the initial revenue shortfalls caused by the coronavirus.
In their first look at the budget presented by city manager Michael Ortega, the councilmembers said they did not want to yet discuss any potential one-time funding sources to overcome the revenue shortage, saying that the budget did not take into account things like $95.6 million the city received through the federal CARES act, and $44.3 million from the U.S. Department of Transportation.
Ortega has implemented a 1% monthly cut for each city department, while also asking department heads to prepare what a 15% cut to their departments could look like should the economy not recover as experts expect it to by next calendar year. He recommended one-time funding sources, such as dipping into reserve funds, as a solution to "buy time" until revenues recover.
While city officials have acknowledged that they are limited in what they can do with that federal money, they've already identified upward of $9 million they can get reimbursed. The city does not have specifics on how much money the coronavirus has cost the city in revenue, primarily from things like drops in sales tax as a result of business closures, but Ortega is operating on a $24 million shortfall for this fiscal year.
"That is concerning because that is reality not the reality we have in front of us," Tucson Mayor Regina Romero said during the meeting. "The budget that we have in front of us is not our reality right now. We are receiving CARES act funds and we can fill these holes with some of these funds."
Other councilmembers expressed support for a 1% cut, while also addressing those potential 15% cuts.
Vice Mayor Paul Cunningham said the 15% exercise "really outlines all the different possibilities that we have."
"It lends some dose reality who I think don't understand the stuff we're moving around," he said, adding that he's weary to approve a one-time funding source because what was presented was a "contingency budget" considering they haven't used any of those funding sources yet this year.
"If it comes through great. That's a different conversation we're having," Cunningham said. "For now, as long as the CARES act reimbursement comes through, and the FTA not withstanding, we're probably going to be fine for Fiscal Year 20."
Councilman Steve Kozachik likened the "month-to-month" approach to what most households do except on a "larger scale."
Councilman Paul Durham, too, said he'd like to see the grants factored into the decision.
"This is not the agreed-upon course," he said. "I want more conversation about how to use the CARES act $95.6 million and how to use the FTA grant of $44M."
Ortega said he was grateful the council "poked holes" in how the budget was presented, that he'll "certainly do" what the council asked ahead of the next council meeting to discuss the budget.
That discussion, which was held as the council held its meeting electronically over video chat, came as four of the city's essential workers protested outside City Hall over a lack of hazard pay and personal protective equipment.
The city council had passed a $2 increase in premium during an April council meeting for those employees who do not have the capability to work from home. That money is set to retroactively start when the city moved many employees to work-from-home and last until the expiration of emergency orders issued by Romero and Gov. Doug Ducey set to expire on May 15.
But city employees have not yet seen that money, as the city has not signed the memorandum until getting word on whether they can get it reimbursed through the CARES act, Ortega said.
"It causes me great concern to increase those expenses right now when I don't have assurance I can get reimbursed," Ortega told the Star on Monday. "Part of the guidance that I've gotten, it does not look like I can get reimbursed for the vast majority of what we're going to put out there. What I told the council is it could put us in a tough spot."
"We certainly are exploring every opportunity," Ortega said, adding that they've provided those employees with things like personal protective equipment, extra paid sick leave, and a hotel for those employees who are concerned they were exposed to COVID-19. "I think that we're going to continue to provide them the environment to be safe as they're out and about."
He echoed those sentiments during the council meeting, as an item to implement that hazard pay was delayed. Ortega said that he will provide updates during every council meeting.
In response to questions about who would be eligible for the pay, Ortega said he'd like to see it for every employee who cannot work remotely or social distance, but he admitted that the definition is fluid. Some councilmembers also expressed a desire to cap that total amount given to workers.
"My preference is to give everyone the premium pay because I do think that those that have to work deserve it and so forth," Ortega said. "What we're really talking about here is the federal rule for reimbursement."
But James Garcia, a heavy equipment operator in the city's commercial department and one of the protestors, said they feel like they're being "nickel-and-dimed."
"They call us essential workers, they call us emergency responders, but we don't feel essential, we feel disposable," said Garcia, who is a steward for the local chapter of the American Federation of State, County and Municipal Employees union.
Garcia said he's experienced himself and heard from many employees that there have been inconsitenties regarding the city's efforts for those employees, especially the personal protective equipment, which he said have "just vanished."
For Garcia, he said "all we're asking for them to do is the right thing."
"The paperwork is done, just ratify it," he said.
He added that the protest, which was done with social distancing, was designed to put a little pressure on them to do just that.
"Throughout all this, we're the forgotten ones," he said. "Don't forget about us. We're out here on the front lines showing up to work every day. Do the right thing. Give us hazard pay."
Contact reporter Justin Sayers atjsayers1@tucson.comor 573-4192. Twitter: @_JustinSayers. Facebook: JustinSSayers.
Concerned about COVID-19?
Sign up now to get the most recent coronavirus headlines and other important local and national news sent to your email inbox daily.