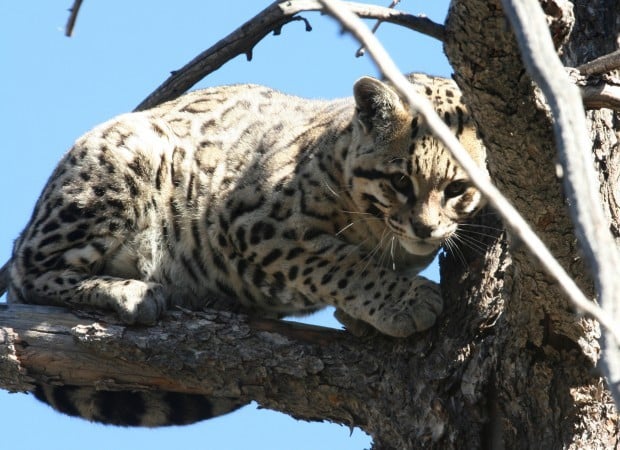 Arizona Game and Fish Department officials report that a rare ocelot was spotted Tuesday in the Huachuca Mountains.
An individual called Game and Fish officials after his dogs started barking at a cat-like animal which quickly climbed a tree. Ocelots are a rare and endangered species of cat.
An officer did a non-intrusive, visual inspection of the animal from the ground near the tree, and the animal appeared to be healthy. There was no indication that there had been any dog-to-cat direct interaction, as no wounds were visible on any animal, officials said in a news release.
Once the officer confirmed the ocelot was healthy, it was allowed to go on his way.
Ocelots are small to medium-sized spotted cats with a long tail. They have been listed as endangered since 1982 under the Federal Endangered Species Act. Since being listed, ocelots have only rarely been seen in Arizona.
Only one other ocelot, an animal run over near Globe in April 2010, has been confirmed in Arizona since the mid 1960s. One other ocelot was reportedly captured on film by the Sky Island Alliance in November of 2009; however, it has not been possible to fully verify the species or the animal's origin based on that photo, officials said.
Arizona Game and Fish will work together with the U. S. Fish and Wildlife Service to review materials from the site and the photos to attempt to determine if this was a naturally occurring ocelot. Some ocelots are known to be kept as pets, and occasionally, individual animals escape or are released into the wild.
If anyone encounters a cat believed to be an ocelot, officials request that all sightings and photos along with observation information be reported immediately to the department. The Tucson number is 628-5376.
Be the first to know
Get local news delivered to your inbox!