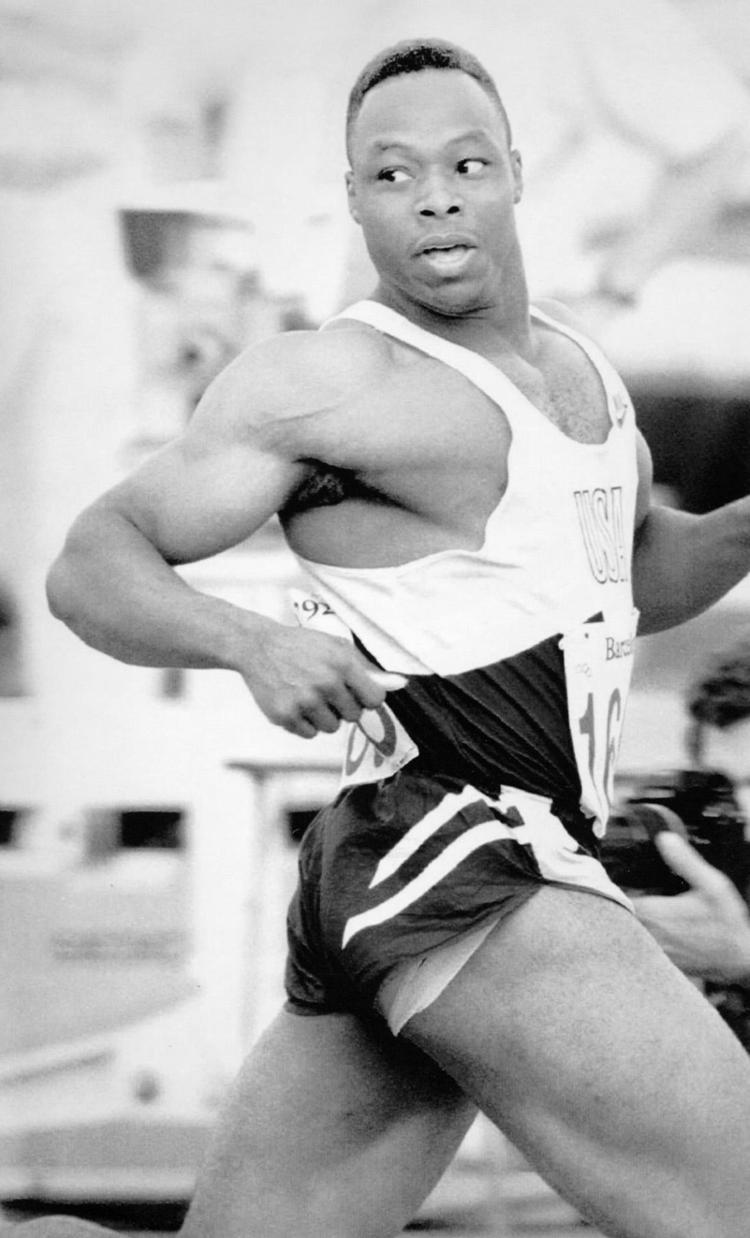 Aug. 5, 1992: Michael Bates wins bronze medal at Barcelona Olympics
The earliest I ever recall walking into the Arizona Daily Star newsroom was 7 a.m., on college football letter-of-intent day, 1989.
It would be the day Amphitheater High School running back and sprinter Michael Bates chose a school. Arizona? ASU? USC? Virtually every publication ranked Bates as the No. 1 prospect in the West.
The phone began to ring as soon as I took a seat.
"Where's Bates going?" the voice said.
It was like that all morning.
"Did Bates pick Arizona?"
Bates was such a talent — in my research and in my opinion, he is the leading athlete in Tucson history — that some people said he could win an Olympic medal and play in the NFL's Pro Bowl.
Yes and yes. He would do both.
Bates chose to play for Arizona coach Dick Tomey that February morning 27 years ago, and although he played just two seasons for the Wildcats, becoming an All-Pac-10 kick returner and the league's two-time track and field male athlete of the year, he was inscrutable, private and soft-spoken.
You could see it coming during his days at Amphi. Bates was probably the greatest sprinter in state history during his sophomore and junior years as a Panther, setting state records in the 100 meters (10.34) and 200 meters (20.68) and then choosing to bypass his senior year of competition, disputing some archaic scheduling rules by the Arizona Interscholastic Association.
By then, Bates had already made his mark.
He rushed for 1,557 yards in his senior football season even though injured. He played just eight games. The Panthers of that era, under Vern Friedli, were so dominant that Bates rarely played a full game. In the state playoff opener of '88, Bates played just the first half against Phoenix Trevor Browne and scored four touchdowns; he was tackled only twice.
The intrigue about Bates was always thick with the unknown: Would he choose football or track?
Arizona made him a receiver and kick returner — he scored on a 97-yard kickoff return against Washington State in 1990 — and Tomey referred to him as "the toughest fast guy I've ever coached."
That would be Bates' hallmark when he reached the NFL. He was five times (1996-2000) a Pro Bowl special-teams player, noted not just for his kickoff returns (9,110 career yards and five touchdowns in an 11-year career) but for being the top kickoff coverage man in the NFL.
Yet looking back, I suspect the greatest day of Bates' career had nothing to do with football. It was June 28,1993, on a hot and humid day in New Orleans. That's the day he beat six-time Olympic gold medalist Carl Lewis to get the final spot on the USA Olympic 200-meter team.
It was considered remarkable, if only because Bates had fully concentrated on being a sprinter for only one season since leaving the UA football program. His opponents had been full-time sprinters for years. Bates ran 20.14 seconds; Lewis was fourth by a whisker in 20.15.
"I made the right decision," Bates told reporters when asked about choosing track over football. "Look where I am now."
Six weeks later at the Barcelona Olympics, Bates and then-UA sprint coach Fred Harvey were stunned and disappointed when Bates was given Lane 1 for the 200-meter finals. Rarely does an Olympic sprinter win a medal unless running in the middle of the track, in lanes 3-4-5-6.
"Michael would've won the silver had he gotten a better lane assignment," Harvey told me. "He had the tightest turn. It's such a disadvantage. What he did was remarkable.
"The significance of this, is that Michael was a person on the outside of the track community. He was just trying to get into meets. He had the talent but not the, quote, titles, unquote. It's amazing because he finished sixth in two consecutive NCAA 200-meter races (in 1990 and 1991) and now, suddenly, here he is an Olympic medalist."
The payoff? Bates put on a Seattle Seahawks cap during the medal ceremony in Barcelona. The Seahawks had drafted him the sixth round a few months earlier, hopeful that he would return to football after the Olympics.
Bates skipped the 1992 NFL season, reshaped his body for football and reported to Seattle's training camp in 1993. By 1996, playing for Carolina, he made the first of five consecutive Pro Bowls.
Where is he now: Bates lives in Tucson and has worked mostly as a personal trainer. His youngest brother, Mario Bates, an All-Pac-10 running back at ASU in 1993, played seven NFL seasons and gained 3,048 yards.
How he did it: After winning the bronze medal in Barcelona, Bates pumped his fists in celebration. It was one of the few times he showed his emotions during a football game or a track meet.
"I told him, 'You said you wouldn't let Lane1 bother you, and you didn't,'" said Harvey. "He was as emotional as I've seen him. But that was really about the extent of it."
---
Photo: UA's Michael Bates in the 200 meter at the 1992 Barcelona Olympics. Handout photo