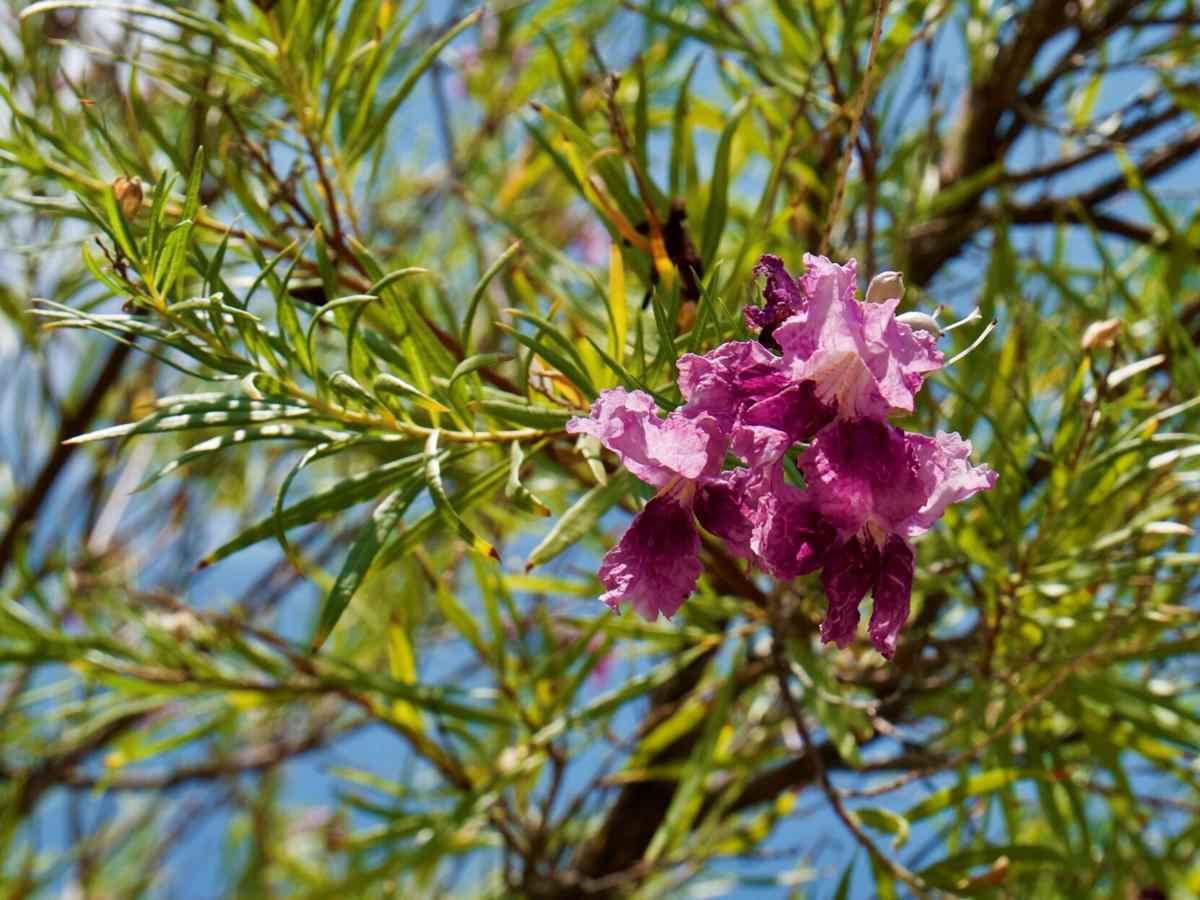 Many of us have favorite plants that we are reluctant to let go of. In addition, some non-native plants are overused by landscapers because they happen to be in stock and convenient. This makes for a lot of yards that look the same. It also means that fewer yards can host native wildlife, something that is becoming more important as natural landscapes get destroyed.
Here are six native alternatives to non-native plants, which will not only make your yard more interesting and lower maintenance, but will also make it friendlier to our local wildlife. Some of these plants may be a little harder to find, but local nurseries like Civano Nursery, Desert Survivors, Native Seed/SEARCH (during plant sales), or Spadefoot Nursery will usually have them or be able to obtain them for you. The more people ask for native plants, the more the horticulture industry will oblige them.
Plant Arizona rosewood (Vauquelinia californica), not oleander (Nerium oleander) for a large flowering evergreen shrub.  As you probably already know, oleander is extremely toxic — every part of the plant contains deadly glycosides which affect the cardiovascular and respiratory systems. Even dried plant components remain toxic and cannot be added to compost or burned (the smoke is toxic). A single leaf can be deadly to a small child, and it takes very low doses for animals such as horses, dogs and cats to be poisoned.
Besides the potential harm to domesticated animals and people, the plant is terrible for pollinators — its showy flowers attract them but the plant offers no nectar to reward them for their hard work. It also has invasive potential, and has been listed by the Bureau of Land Management and the U.S. Forest Service on their "Priority Noxious and Invasive Plant" list.
Arizona rosewood is a great native alternative. It has a leaf shape very similar to oleander, and grows to a similar size. Its beautiful creamy white flowers are great for pollinators. It's a great screening hedge. It uses less water than oleander, can be trained and pruned, and is completely non-toxic. It grows at a moderate rate, and, once established, the growth can be speeded up with more regular watering.
Plant native velvet mesquite (Prosopis velutina), not Chilean mesquite (Prosopis chilensis) for a tall shade tree. The Chilean mesquite's main selling point is the lack of thorns, but it has a number of drawbacks. For one thing, it has a shallower root system which makes it more likely to damage nearby structures like walls, driveways and sidewalks. It also makes the tree more likely to blow down in heavy storms. Chilean mesquites also require regular watering, while our native mesquites, once established, will do fine without any extra water. The velvet mesquite is one of the taller native mesquites, growing up to 50 feet tall. It is also an excellent habitat tree for a number of native and visiting birds. Because it loses its leaves for part of the winter, it can be planted in areas where you welcome winter sun but desire summer shade.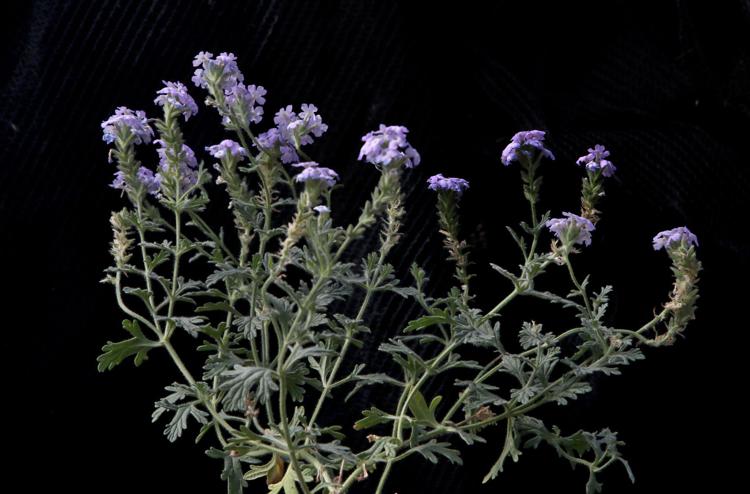 Plant Gooding's verbena (Glandularia goodingii), not purple lantana (Lantana montevidensis) for a low-growing groundcover. Gooding's verbena looks very similar to purple lantana, both in form and in color and in flower type. It's native to the Mojave and Sonoran deserts. It is short-lived, but will reseed in your garden. Gooding's verbena is very versatile, doing well in anything from full sun to part shade. It's hardy to 0 F and is drought-tolerant. Pollinators, especially butterflies, love it, and it is a larval food for some moths and butterflies.
While the lantana provides nectar, it does not provide any larval food for butterflies. In addition, other species of lantana have shown themselves to be easily invasive and very damaging to a number of regions. Lantana camara has become invasive in many climates and is threatening important ecosystems in India (including vital tiger habitat), Australia, Hawaii, California and parts of Texas. I have noted that L. camara is also invasive in my yard.
Plant desert willow (Chilopsis linearis) instead of chaste tree (Vitex agnus-castus) for a flowering deciduous tree. While the chaste tree is lovely, it has been found growing as a weed in the wild, particularly in washes. An equally beautiful native tree is the desert willow. It has tropical-looking pink to dark purple flowers. It is winter deciduous, like the chaste tree, so both create about the same amount of litter. The desert willow is adapted to our region, requires little or no maintenance, no additional watering once established, and is a marvelous tree for different types of birds, butterflies and other pollinators.
Plant Mexican fan palm (Washingtonia robusta) or a California fan palm (Washingtonia filifera) instead of date palms (Phoenix spp.) for a tall palm tree. The Washingtonia palms are native to our area and adapted to our desert climate. They require less water, less trimming, and no special fertilization. They are hardy to 18-20 F. For more information, check out this great handout on palm trees from the University of Arizona's extension office.
Plant the Arizona cypress (Hesperocyparis arizonica, Cupressus arizonica) instead of Mediterranean conifers such as Italian pine, Italian cypress, and others. Arizona cypress, once common in elevations 3,000-6,000 feet, have plummeted in number due to drought, climate change, and bark beetle infestation. In a managed landscape, the threat of bark beetles can be minimized by regular watering. Keep in mind that all of these factors, including bark beetles, threaten non-native conifers in our area as well, so you should probably consider carefully before planting any conifer. If you definitely want one in your yard, choose the native option, as it will be best adapted to our conditions and will provide habitat for wildlife.