LAS VEGAS — Sophomore Aari McDonald played another of her special games Friday, but it was not quite enough to counter the issues presented by a very special Oregon team.
With 34 points and five assists, McDonald accounted for more than two-thirds of the Wildcats' scoring in a 77-63 loss to the Ducks in the Pac-12 Tournament quarterfinals at the MGM Garden Grand Arena.
"She brought everything," Arizona coach Adia Barnes said.
"I don't know anybody in the country who can guard her one-on-one. So they don't. They guard her four-on-one. She made some shots where I was like, 'How in the heck did she make that.' She's special."
No. 6-ranked and top-seeded Oregon played both a 3-2 zone defense and a man-to-man to track McDonald, who despite that made 12 of 21 field goals while playing through a thicket of defenders.
"It's a little difficult," McDonald said. "They have length. But I was used to it. This is the third time we've played them. I was definitely finding their weakness in a zone, and my teammates did a good job finding me.
"My mentality was, I am not going to let my team lose. I thought we fought hard against the top team in the country and I couldn't be more proud. We are improving every day. We are definitely making noise."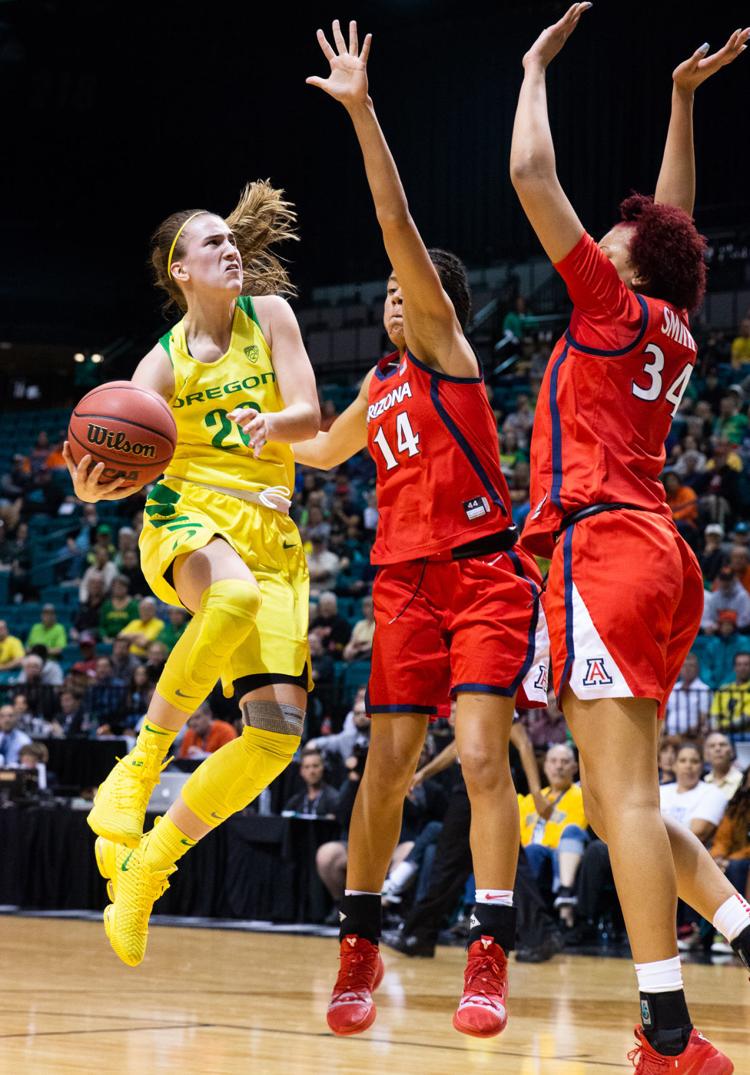 While an NCAA Tournament invitation seems unlikely, Arizona (18-13) appears to be a lock to participate in the WNIT. The tournament fields will be announced March 18.
"I remember as a player, the pivotal point in our program was going to the NIT and winning it (in 1996)," Barnes said.
"That started the avalanche."
Freshman Cate Reese had 12 points and five rebounds and Sam Thomas had nine points for the Wildcats. McDonald also had three steals, helping the Wildcats force the Ducks into 13 turnovers.
National player of the year candidate Sabrina Ionescu led a balanced Ducks attack with 18 points, 13 assists and eight rebounds, and she worked well with center Ruthy Hebard to create inside opportunities.
"We knew we had to stop her as a team, and that's what we tried to do," Ionescu said of McDonald. "But she did go off for 30-plus points, so we're going to learn from our mistakes."
Physical Hebard 21 points on 9-of-11 shooting and 10 rebounds. Erin Boley had 13 points and Satou Sabally had 11 points and seven rebounds.
"Ruthy is a great post player," Reece said. "She's strong, too.
The UA, which already has tied a program record with a gain of 12 victories from the previous season, will return all five starters.
"We're excited," Reese said. "We're not completely there, but we're getting there.
"We're looking forward with what's to come."