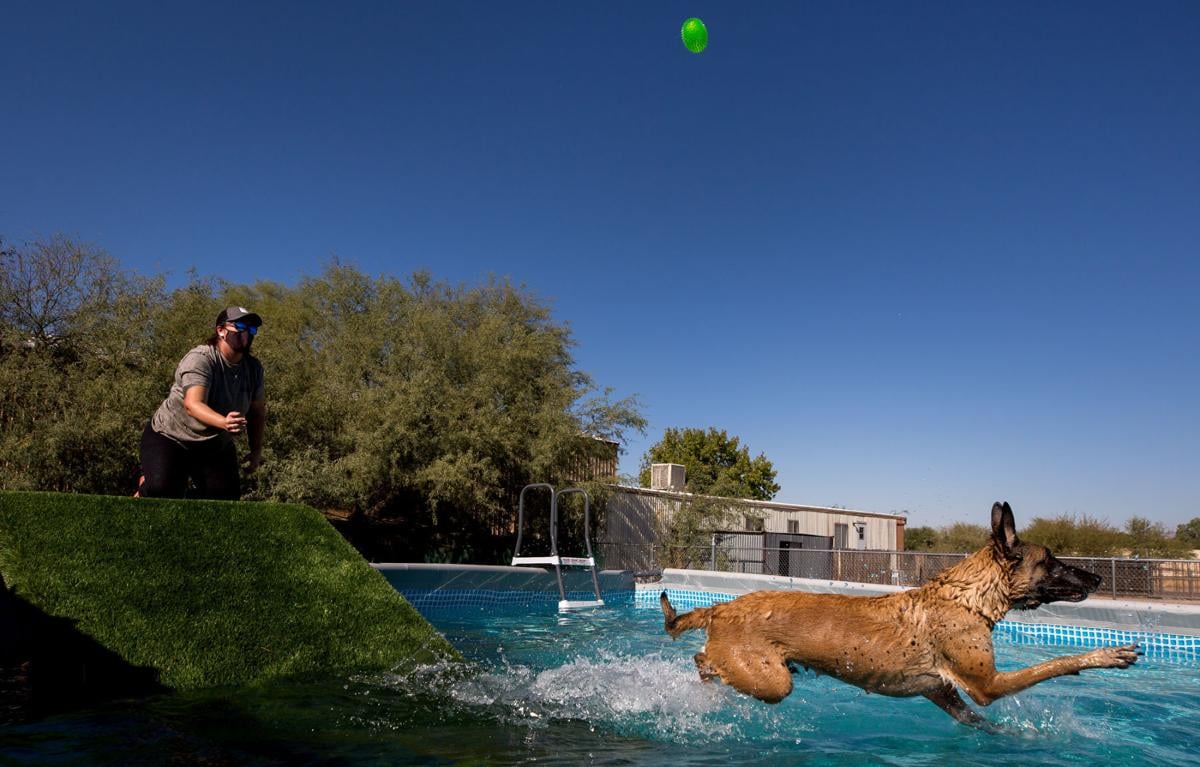 Seven-year-old Selene Rife wasn't the only Tucsonan whose parents helped her ride out the pandemic with the addition of a swimming pool. But hers might be the only one in town that required zoning for the addition of a 30-foot dock.
That's because Selene, a Belgian Malinois, is a dock diving champion who has excelled in the sport since she was 6 months old.
When it comes to the sport of dock diving, the name sums it up nicely. Dogs run the length of a dock and jump as far into the water as possible chasing after a toy. They compete for height and distance.
Selene learned to dock dive in Sierra Vista, as there are no Tucson locations suitable for dogs to learn the sport. People and their pets have had to travel to Sierra Vista, Tonopah, Cave Creek and beyond.
But thanks to Selene's owner and local business owner Tamison Rife, starting in 2021, Tucson pups and their owners won't have to travel far to learn the sport. Selene's pool at Elevate Dog Center is open to the public.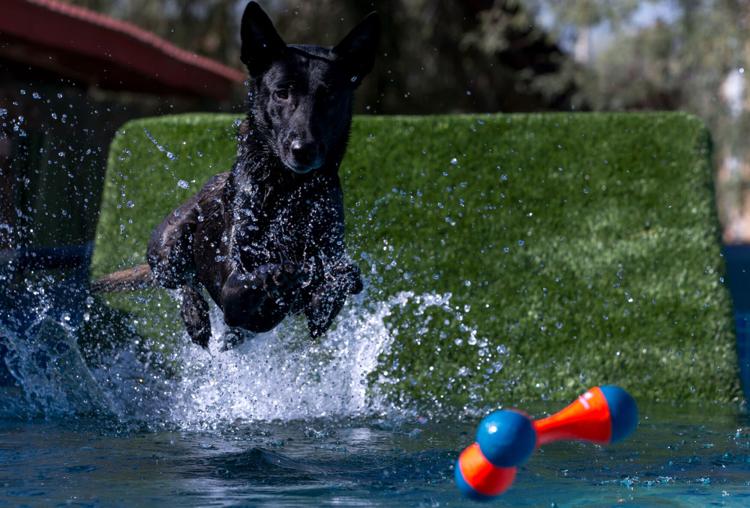 In October, Rife, 29, rebranded the 50-year-old Kennel Comfort Pet Motel and Dog Training on Tucson's north side to Elevate, with a name and logo to match her vision. She dreams of elevating the center's training programs to include more classes, private lessons, board-and-train options and dog sports, including dock diving. The boarding side of the business now comes with swim and field time, soothing music, enrichment and other comforts designed to make the facility feel like a second home.
"Instead of just being a boarding facility where we just take care of them and feed them, we do everything else, too," Rife said. "We try to really make it more about the brains of the dogs than just the basics of keeping them alive."
Rife and her husband Alan Woloscuk purchased Kennel Comfort from a friend in August 2019, and at the time the business was primarily focused on boarding. Rife's goal has always been to make the center more about training, and surprisingly enough, the pandemic helped her dreams come to fruition faster than they would have without it.
As people began traveling less and less — or not at all — boarding at Kennel Comfort slowed down.
"It was really hard for a while," Rife said. "I worked 109 days by myself here training dogs. But I'm so appreciative of the training and being able to fall back on that."
Despite fluctuating case numbers across the U.S., business and recreational travel has resumed and the boarding side of Rife's business has returned, with the center's board-and-train program also bolstered.
But the break gave Rife time to really think about her goals and how to integrate them into her business.
"We love boarding dogs and we love that we get to be a safe go-to for people with their dogs, but my real passion is training and dog sports," Rife said. "With COVID happening, I needed some light at the end of the tunnel type of thing, and thought, 'Let's just change it.' We really wanted to go above and beyond."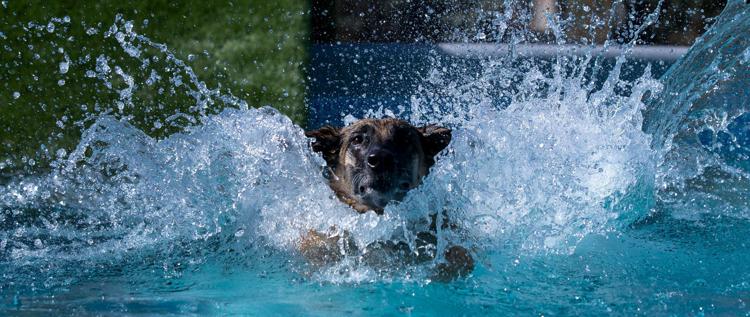 The rebrand seems to have done just that.
In the final days of September, Rife teased the changes on her business' Facebook page and announced the addition of the dock diving pool.
Temperatures were in the triple-digits at the time, making the pool a perfect addition. Elevate offers swim lessons and sessions and is integrating swimming into the center's puppy training packages. Dock diving isn't available yet due to the county permit process required to build the dock.
"We like to 'swim' dogs when they are smaller and younger. It's an easier fear period and when they're young, they trust a little bit quicker," Rife said.
That was certainly true of Selene, who was flying off docks at 6 months old and was crowned North American Dock Diving regional and world champion as a 2-year-old in 2015. A year later, Selene finished fifth on Purina's "Incredible Dog Challenge."
Selene's longest recorded dock dive is 28 feet. And while she won't be able to top that in Elevate's 34-foot pool, she still likes getting some air.
Rife says the dock will be up and functional by the start of 2021. She plans to eventually add a larger pool for dock diving trials and competitions.
Dock diving classes will start off with a dog swim lesson. Pups will wear vests and drag leashes with them. Their owners will be present as the dogs learn to get comfortable with the water and seek the ramp to exit rather than the side ("Safety is the biggest thing," according to Rife.)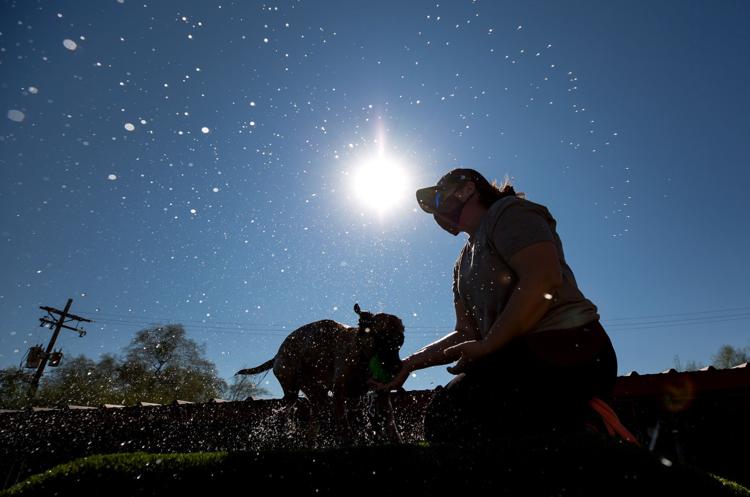 Dogs start by jumping in after a toy to get used to the drop and learn to track the toy, which is basically playing fetch in the water. Swimming and water sports are great for dogs, both mentally and physically.
"We have seen significant behavior changes in all of the dogs who have been able to swim and relieve that energy in a different way," Rife said. "And training helps everything in that long run. Builds confidence, really teaches them, and it gives them an outlet."
Rife says she's able to pick the dogs at Elevate out of a crowd, recognizing them easily even down to their barks. That extra level of attention translates well for the pets that stay at Elevate.
"We worked really hard in the last year to make it less of a kennel and more of a training environment, so that they're more successful and more confident here and it's less stressful being dropped off here," Rife said. "We had a client yesterday say, 'Why does (my dog) love coming here so much?' That's what we want. To be like a second home for them."
Contact reporter Caitlin Schmidt at cschmidt@tucson.com or 573-4191.
On Twitter: @caitlincschmidt.