The Tanque Verde Guest Ranch has broken ground on a new event barn at the historic site.
The Barn will be a 20,000-square-foot event venue for weddings, parties and corporate gatherings.
It will accommodate up to 300 guests and the barn doors will open onto a patio and spacious lawn.
The project is being constructed by Barker Contracting and the architect is Seaver Franks Architects.
It is expected to be complete this fall.
Other construction activity around town includes:
An $11.8 million permit was issued for HomeGoods' 196,000-square-foot mezzanine expansion at 7000 S. Alvernon Way.
Salpointe Catholic High School pulled a $7.5 million permit for improvements at the campus, 1545 E. Copper St.
Christ Lutheran Church is building an 8,660-square-foot sanctuary at 14600 E. Colossal Cave Road for $1.4 million.
A.F. Sterling is building two 5-plex apartments at 2848 N. Mountain Ave. The side-by-side complexes received a combined building permit of $1 million.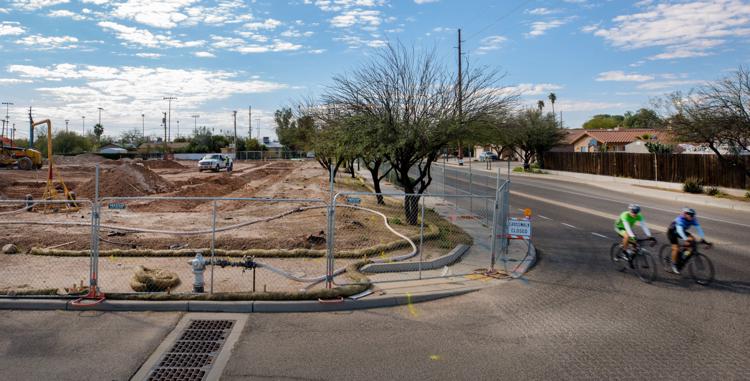 A $1 million permit was issued for a Family Dollar store at 210 W. Irvington Road.
Thoroughbred Auto Dealer got a $1 million permit for a 25,731-square-foot expansion at 5140 E. 22nd St.
A 14,000-square-foot warehouse project received a $733,880 permit at 4551 S. Alvernon Way.
A 6,624-square-foot retail shell building is under construction at 5590 E. River Road. The permit was for $699,441.
Rio Nuevo pulled a $498,680 permit for a parking garage on the Caterpillar site at 875 W. Cushing St.
An office building is under development at 910 W. Glenn St. The $495,000 permit is for 3,907 square feet.