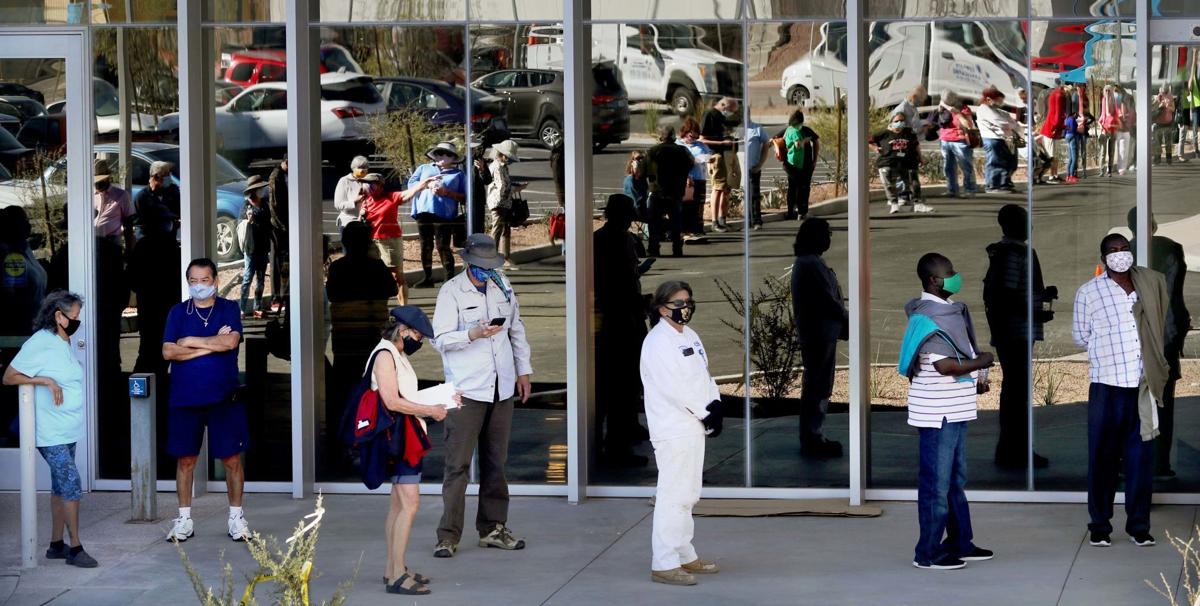 With only about 130 appointments scheduled in the computer system on both Wednesday and Thursday, the Tucson Convention Center COVID-19 vaccination site opened up to walk-ins for ineligible age groups.
The decision to allow first those ages 65-plus, which then changed to those 70-plus, was widely talked about Thursday on social media and through emails to the Arizona Daily Star from people confused about whether they should go to the TCC or take an aging parent.
Many were upset because they were waiting for their turn through the county process and felt offering it to those just lucky enough to hear about it through word of mouth was unfair. Only people 75 and older, or in certain jobs, were supposed to be currently eligible under county guidelines.
City of Tucson spokesman Andy Squire said although he understands there was some frustration, the workers did not want to waste resources, time or vaccines when there were far fewer than the 1,500 eligible people they could accommodate signed up early on.
"We have thrown away no doses. Zero. We have wasted nothing," Squire said.
Initially, the TCC, 260 S. Church Ave., was taking those age 65-plus in addition to eligible groups: K-12 and higher-education teachers, as well as protective service workers and licensed child care workers.
However, that was cut back to 70-plus before noon Thursday, when the line had become several hours long.
Under Pima County guidelines at the start of the day Thursday, people ages 65 to 75 were not eligible for COVID-19 vaccines unless they have one of the jobs that now qualify.
However, county officials announced later Thursday that it will start providing vaccines to those 70 and older on Monday, Feb. 8.
The TCC site will continue to take people 70-plus going forward, and Squire said no appointment is necessary for those who can come down as walk-ins Friday. After Friday, the TCC workers hope to have people show up by appointment only, but Squire said they are not sure how quickly that's going to happen.
If not enough people are registered early next week, he said TCC will still take walk-ins from those 70-plus, as well as K-12 and higher-education teachers, protective service workers and licensed child care workers.
Confusion attributable to
county's rules vs. state's
Squire and Mark Evans, communications director for the county, said no one from the county or the city sent out a notice to urge the otherwise ineligible age group to come to the TCC on Thursday, but word of the loophole there spread through social media sites.
Many people ages 65 and older have been showing up at the TCC because they were confused about the state rollout, Squire said.
The state-run drive-thru sites in Maricopa County, as well as some pharmacies in Tucson, are vaccinating those 65-plus now. That contrasts with the Pima County rollout, which still doesn't allow 65 and up, and just changed to 70 and up Thursday.
Gov. Doug Ducey in January moved up people 65 and older into the 1B priority group.
"Pima County, however, still restricted vaccinations to people 75 and older because they statistically have worse outcomes if they contract COVID-19, and because there are so many people in Pima County over age 65 (more than 212,000) allowing them all to register for appointments at once would have crashed the registration system," said a news release Thursday from Dr. Theresa Cullen, county health director.
County's rules are changing now
"We have made a lot of progress over the past six weeks in the 1A and 1B priority groups, vaccinating more than 130,000 people," Cullen said. "The pace of appointments for educators and protective services has slowed as we think we're nearing saturation of the people in those groups who want to be vaccinated, so we're opening appointments to 70 and older."
According to the 2019 Census estimate for Pima County, there are more than 54,400 people between the ages of 70 and 74 in Pima County, the news release said.
"We're only opening vaccination to 70-plus because we still have a lot of 75-plus people to vaccinate, and we don't want to overwhelm our registration system or create more demand than we have vaccine supply," Cullen said.
County will try to fill more TCC online slots
Squire said TCC staffers told attendees Wednesday that they would allow 65-plus again Thursday because they had so few appointments.
"We have never had a full slate of appointments," he said. "I have no idea why."
In a separate news release Thursday, county health officials said they are trying to handle the situation differently going forward, in order to get more of the TCC's appointment slots filled by people in the 1B priority group now eligible in Pima County for the vaccine, which includes the people in certain qualifying jobs.
The county Health Department's news release said:
"Despite the ability to register for ample appointments available at TCC, educators and protective services 1B priority qualifiers have not been choosing TCC that often, only a few hundred a day when the site can handle as many as 1,500 a day."
False impressions created, officials say
Another issue, the news release said, is that at the end of the day at the TCC, "there are occasionally 'leftover' doses in vaccine vials. To prevent wasting those doses, TCC has been vaccinating people who had learned from social media that they could hang around the TCC late in the day and they might be able to get vaccinated. That has ranged each day from a few dozen people to none.
"The TCC scheduling problem, combined with the end-of-the-day shots, has created the public impression that anyone can walk up at the TCC and get vaccinated," the news release says. "Social media also has played a prominent role in encouraging people to go to the TCC to get vaccinated, including those over 65 the past few days."
Lastly, the news release urged the public to "get its information about vaccinations in Pima County from the Pima County Vaccination webpage, www.pima.gov/covid19vaccine, and not from anecdotal information on social media. Or they can call 520-222-0119."
On Wednesday, the TCC site ended the day with 1,430 vaccines administered and was expected to reach at least 1,500 Thursday.
Word spread on social media
As an example of how word spread, a Tucson Racquet Club fitness instructor sent out an email Thursday saying those 65-plus could go to the TCC for shots without an appointment.
"A member in my 8 a.m. class (Thursday) said she got an email from her townhome association on Wednesday night telling the homeowners to go to the TCC for COVID vaccinations (Thursday). I passed it on to my class email list," explained Renee Sitter. "I had around 400 on the list because I included my instructors and my Racquetball League list."
The upshot? "I had many appreciative emails from members who were able to get the shot for either themselves, their spouses, fathers, mothers and friends," Sitter said.