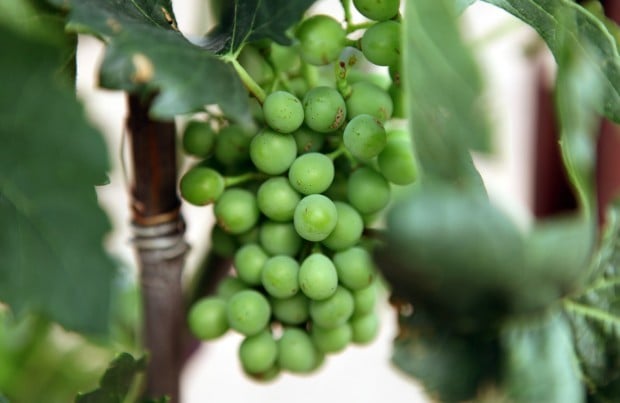 Q: I live in the Marana/Tucson area and would love to grow wine and table grapes. I have a wash behind me and I have a wall around my back yard. What my chances are of growing my own grapes on trellises?
A: Your chances are good. Probably the most abundant grape variety for Southern Arizona is Thompson seedless. It's one of the most popular grapes for eating fresh, with a sweet but mild flavor. The berries are medium-size and the clusters large with greenish white to golden berries. Thompson seedless is the variety most often used for making raisins. Other recommended table grape varieties include cardinal (dark red berries), perlette (pale green berries) and flame seedless (red berries).
If you're interested in making wine, several European wine grapes also grow and produce well in our area. Some of the best reds for our hot climate include shiraz, petite sirah, barbera, tempranillo and cabernet sauvignon. Recommended white wine grapes include sauvignon blanc, Viognier and pinot grigio.
Grapes should be planted in full-sun locations and well-drained soils. Test the drainage by digging a hole 12-inches wide and 18-inches deep. Fill the hole with water and let it drain. Fill it a second time and observe how long it takes for the water to drain from the hole. If the water drains out in 48 hours or less, the soil has adequate drainage for growing grapes.
Grapes can be purchased from local garden centers in containers or bare-root from mail-order nurseries. Container-grown grapes can be planted spring through fall. Bare-root grapes are ordered and planted during the winter months.
Regardless of the type, grapes should be planted directly in unamended soil. No organic amendments should be added at the time of planting. Just dig a hole large enough to accommodate the roots, removing any stones or caliche from the hole. Loosen the soil and fill in around the roots.
Grapes can be trained to grow on trellises, arbors or single posts. If you're planting several grape vines it's best to build a trellis using 4-by 4-inch wood posts or heavy metal T posts spaced 15 to 18 feet apart. Two heavy-gauge wires are attached to the posts, the first at 36 inches above the ground and the second at 60 inches above the ground. The first wire is used to train the fruiting cane, called the cordon. The upper wire is there to support the fruit-producing shoots.
The most effective method for training and grape production is the unilateral cordon system where grapes are planted 6 feet apart and trained to grow in one direction down the trellising wire. The first growing season, a single shoot is selected to grow up a small supporting stake to the trellising wire and then down the wire in one direction. The grape vine is attached to the support stake and wire with Velcro plant ties or plant tape. In the second season, fruiting spurs are developed every 4 to 6 inches along the vine.
Drip irrigation works best for grapes, with two 1-gallon drip emitters placed on either side of each grape plant. Grapes need ample water, especially during the first two or three seasons as they are becoming established. After establishment, grapes will need regular watering from two to four times weekly during the growing season and fertilization with a high nitrogen fertilizer in early spring and in the fall.
Be the first to know
Get local news delivered to your inbox!