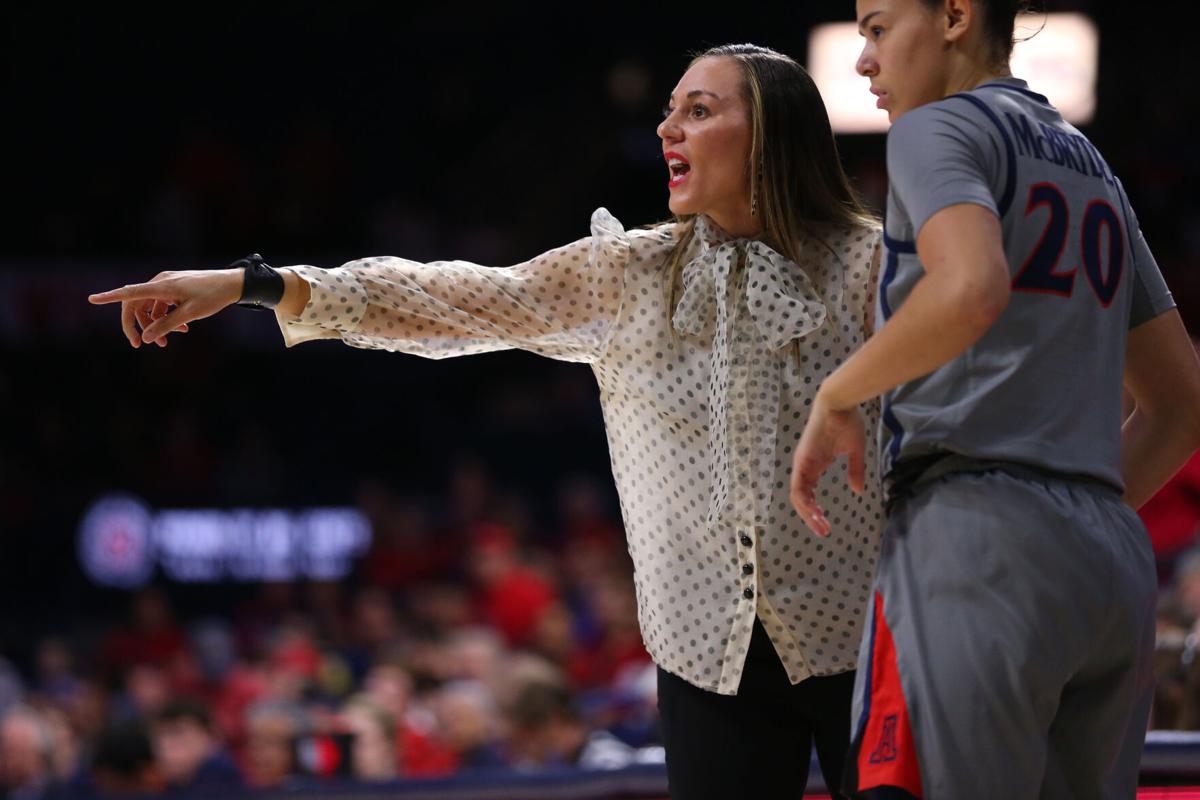 Arizona will vault women's basketball coach Adia Barnes into an elite club with a salary of $1 million next season, pending approval by the Arizona Board of Regents next week.
Her twice-reworked deal, the yearly terms of which were made public this week, puts Barnes near the top of the Pac-12 in terms of salary and makes her among the highest-paid women's basketball coaches in the country. Her five-year, $5.85-million contract will pay Barnes $1 million next season with relatively modest escalators that bring her to $1.3 million by 2025-26.
The Regents in April signed off on a five-year contract worth $3.35 million that would have paid her $580,000 next season. But Barnes' market value soared following UA's appearance in the NCAA championship game, and Arizona announced last month it wanted instead to give her a five-year deal worth 75% more.
The new deal will also make it tougher for Barnes to leave UA: She will have to pay $3 million if she does so before the end of the 2022-23 contract year, triple the amount her previous contract called for if she left in 2021-22.
The Regents are scheduled to vote on Barnes' new deal, and the five-year contract for new men's coach Tommy Lloyd, during their June 10 meeting. Lloyd is scheduled to receive a guaranteed $2.9 million next season, including $200,000 each from Nike and IMG — the same as former coach Sean Miller was scheduled to receive
Hired in 2016 for a salary of $235,000, Barnes earned $432,500 last season under the terms of a contract signed in 2019, after UA won the WNIT. The terms of the contract approved in April called for a 34% raise to $580,000. But that deal was negotiated before UA reached the NCAA tournament final — and before Barnes attracted attention from LSU and Baylor for their coaching vacancies.
On May 5, UA announced the new $5.85 million, five-year deal, though it would not say at the time how much Barnes would receive annually.
"The post-season achievements of the team served to further solidify Barnes' and the program's meteoric rise into the elite level of women's college basketball," UA's proposal to the Regents said. "This modification of financial terms demonstrates Barnes' and UArizona's commitment to each other and commitment to the success of the women's basketball program."
Barnes' new deal appears to put her among the Pac-12's three highest-paid women's basketball coaches, with Stanford's Tara VanDerveer making $2.29 million in total compensation as of 2015-16 — the last year that she was listed on Stanford's 990 tax filings — and Oregon's Kelly Graves scheduled to make $1.025 million next season.
USC hired Lindsay Gottlieb away from the NBA's Cleveland Cavaliers last month, but did not release the terms of her contract.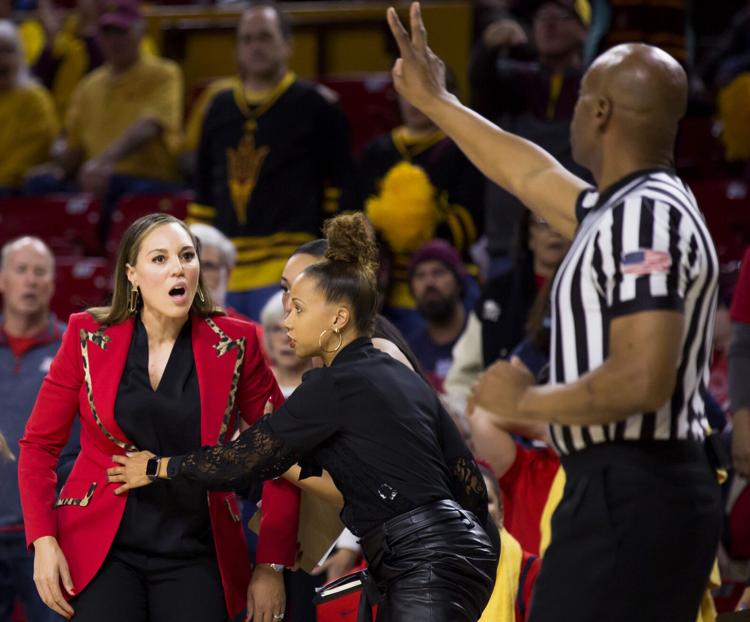 Nationally, UConn's Geno Auriemma made $2.8 million in 2020-21, while Kim Mulkey made $2.27 million at Baylor and is contracted to make $2.59 million at LSU next season. Other coaches making $1 million or more include South Carolina's Dawn Staley ($1.7 million), Texas' Vic Schaefer ($1.8 million), Louisville's Jeff Waltz ($1.48 million) and Rutgers' Vivian Stringer ($1.2 million, including a $200,000 retention bonus).
Meanwhile, UA is proposing a five-year deal for Lloyd that can expand to six or seven years if the men's basketball program is hit with sanctions resulting from its pending NCAA infractions case. Lloyd's proposed contract is exactly as announced after his April 14 hiring, except for a clause discussing how his contract could be extended in the event of NCAA sanctions.
In the offer letter released at Lloyd's introductory news conference on April 15, UA said his contract would be extended by a year if any of three scenarios were reached as a result of the NCAA and/or IARP's decision: A postseason ban, the loss or two or more scholarships, or "any other material restriction on recruiting visits or recruiting days." It also said Lloyd would receive two years extra if any of the three punishments were handed down for two or more years.
However, in the proposal sent to the Regents, UA said Lloyd would receive a one-year extension only if all the restrictions were handed down. Then the school said he would receive a second year if any restriction was imposed for two or more years.
It's also unclear whether a postseason ban refers to an extra ban on top of the one UA self-imposed in 2020-21. While that self-imposed ban was not ordered by the NCAA, it is possible the NCAA might later "accept" it and make it part of their formal sanctions.
UA's proposal to the Regents highlighted Lloyd's accomplishments at Gonzaga, where he served as an assistant coach for 20 years and developed a reputation for recruiting and player development.
"Lloyd's proficiency at Gonzaga, along with his strong reputation, align well with UArizona's goals and vision for the future of its men's basketball program," UA said in its proposal to the Regents. "Lloyd's passion, experience, knowledge, coaching and recruiting acumen, and drive will help re-establish the Program as one of the elite programs in the country.
"Lloyd is well-respected throughout college basketball, both for the performance of his teams on the court and the connection to and development of the players under his tutelage."
Contact sports reporter Bruce Pascoe at 573-4146 or bpascoe@tucson.com. On Twitter @brucepascoe