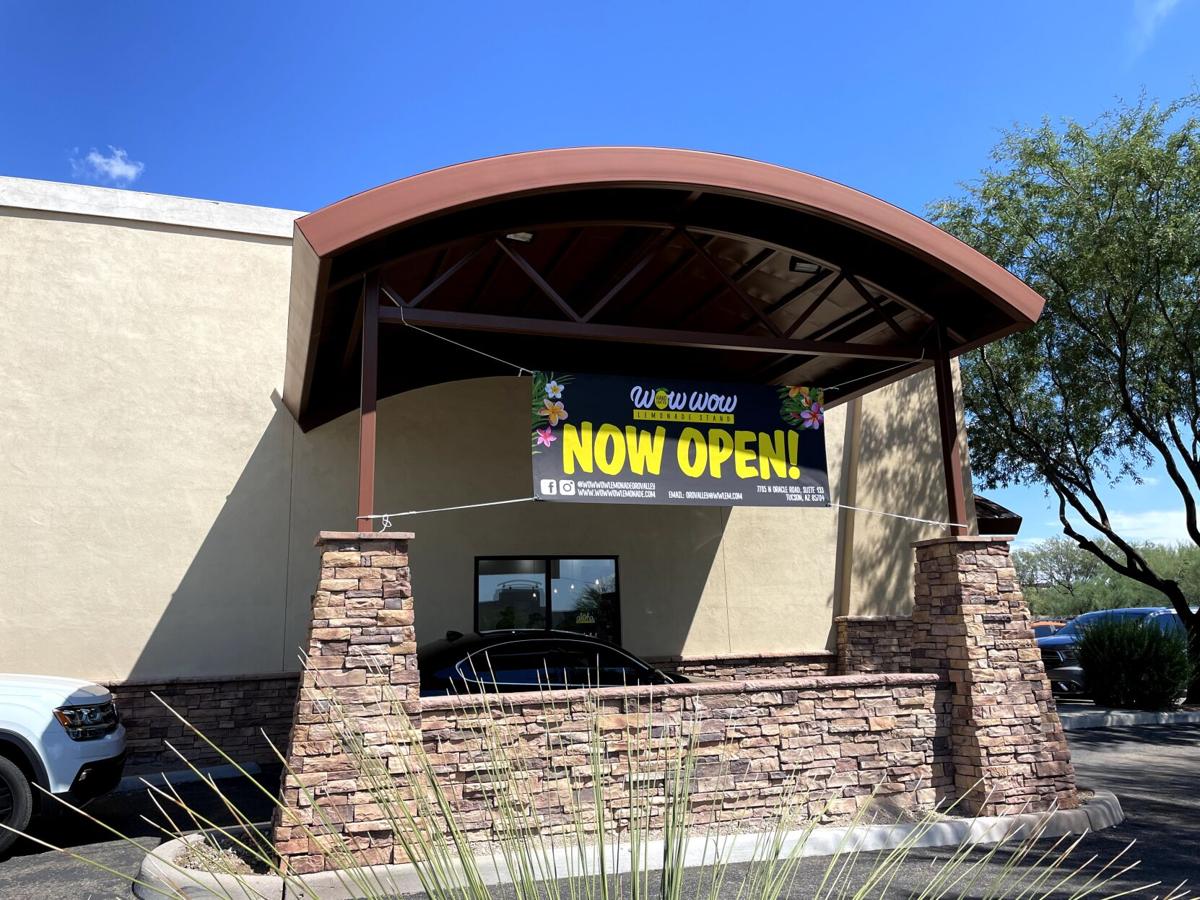 An all-natural lemonade stand that started in Maui in 2012 has come to the mainland.
Wow Wow Lemonade Stand leased 1,485 square feet with a drive-thru window at 7705 N. Oracle Road and opened this week.
Local owner Jeff Laird got his first taste of the tropical treats while vacationing in Hawaii.
"I knew immediately following my first Wow Wow experience in Hawaii that I needed to get involved with the brand further," he said. "My family and I saw a need for a healthy, high-quality food option in the greater Tucson area, and we could not be more thrilled to be able to bring this to our local community."
Wow Wow offers flavors from classic lemonade to strawberry pineapple, butterfly mojito and the lava flow lemonade.
Foods include Black Lava Flatbread sandwiches, Island Berry Grain bowls, Superfruit Pitaya bowls and Chili Lime Avocado toast.
Customers who buy their drinks in a reusable mason jar receive a discount on their next purchase if they bring it in for a refill.
The new Wow Wow is open every day from 8 a.m. to 8 p.m.
Founded in Maui in 2012 as a stand, it grew to a trailer and opened its first brick-and-mortar shop on the island in 2014.
Chris Ray, with Catalyst Commercial Group, represented Wow Wow in its lease with landlord Town West Realty.
Other recent commercial transactions include:
DIVISM LLC bought an 8,556-square-foot office building at 9302 E. 22nd St. from Tucson Portfolio 4 LLC for $2.1 million. Jon O'Shea of Vast Commercial Real Estate represented the seller, and Sean Westfall, with Echo West Capital Advisors, represented the buyer.
Ventana Canyon Investments LLC bought the 12-unit Brick Homes of Geronimo complex at 3449, 3471, 3473 N. Geronimo Ave. and 350 E. Yavapai Road from BRInc Financial LLC for $1 million. Allan Mendelsberg and Conrad Martinez, with Picor, represented both parties.
Biggan Properties LLC bought a 2,083-square-foot office building in Old Farm Executive Park, 6019 E. Grant Road, from Fox Hollow Enterprises LLC for $387,500. Thomas J. Nieman, with Picor, represented the seller, and Joseph Nehls, with Sunvest Commercial Inc., represented the buyer.
Cam Vo and Trung Truong bought 1,066 square feet of retail space in Jacinto Plaza, 2567 N. First Ave. for $117,260 to open Abstract Aquariums. Craig Finfrock of Commercial Retail Advisors LLC represented the seller, Lisa McCullough.
Starry Sky LLC, dba Cactus Quilt Shop, leased 5,466 square feet at Casa Blanca Plaza, 6032 N. Oracle Road. Isaac Figueroa, with Larsen Baker, represented the landlord, Casa Blanca Plaza LLC. Michael Coretz, with Commercial Real Estate Group of Tucson, represented the tenant.
Information for Tucson Real Estate is compiled from records at the Pima County Recorder's Office and from brokers. Send information to Gabriela Rico, grico@tucson.com