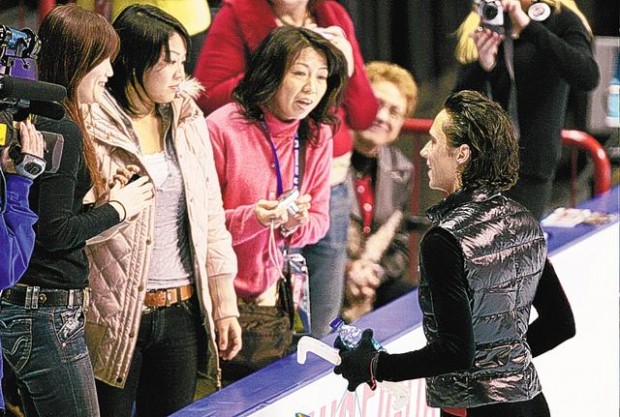 SPOKANE, Wash. — For a three-time national champion, Johnny Weir makes a pretty good underdog.
Weir is going for his fourth straight title at the U.S. Figure Skating Championships this week, a run that would put him on par with the likes of Brian Boitano and Scott Hamilton. But figure skating is all about "what have you done for me lately," and the guy making the noise these days is Evan Lysacek.
"Being an underdog coming in is natural," Weir said Wednesday. "I'm not always going to be invincible. I'm not always going to be top dog. Evan Lysacek has had a great season. I'm going to fight as hard as I can to be the four-time national champion.
"All the chatter … is just talk and is not something I take very seriously," Weir added. "It doesn't change the way I'm prepared for this competition."
The men's and women's short programs are today, and the free skates are Saturday.
Lysacek and Weir have had a good rivalry brewing the last few years. Weir is at his best at nationals, always finding a way to wind up on the top of the podium. But Lysacek has the edge internationally, winning medals at the last two world championships and finishing ahead of Weir at the Olympics.
Lysacek qualified for the Grand Prix final ahead of Weir, winning at Cup of China and finishing second at Skate America. Weir was second at Cup of Russia, and third at Skate Canada. Both had to withdraw from the final with hip injuries.
"I always came into events with the mentality of trying to learn from older competitors and soaking things up like a sponge," Lysacek said. "This year, a lot of those veteran skaters are either retired or have sort of fallen down the ranks. Now it's up to me and a few other skaters to set the bar.
"I really do feel like one of the top dogs in the men's event" as the skating begins, he said.
Weir is all about style — literally. His strength on the ice is his elegance and artistry. He can turn a program into a work of art like few others, and he's not afraid to step outside the box and try something new. Look at that swan costume he wore last season.
He's equally colorful off the ice. He invariably says at least one thing each event that raises eyebrows, and he doesn't really care what anyone thinks of him. He wants a career in fashion when he's finished skating, and did the costumes for Melissa Gregory and Denis Petukhov's free dance this year.
Lysacek is more into drama — but the good kind. He's interested in acting, and he's at his best when he's portraying characters on the ice. One of his best numbers was "Singin' in the Rain," and his portrayal of a matador is so realistic, you're looking for the bull.
He's the more athletic of the two, and taller at 6 feet 1 inch. While he's no slouch in the color and quote departments, he's so intense that there's little room to explore what he wants to do when he's done skating.